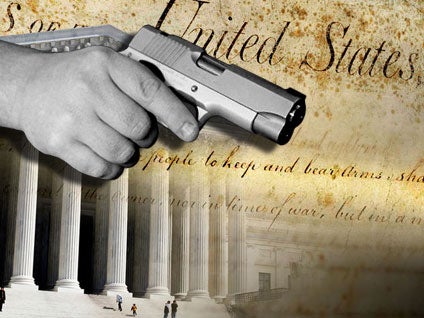 2nd Amendment Supreme Court case: Polls show public split on gun rights
In a narrow 5-4 decision, the Supreme Court ruled on Monday that the Second Amendment, the right for individuals to bear arms, extends to state and local laws, not just those at the federal level.
A survey conducted by the Pew Research Center for the People & the Press in March of this year shows Americans to be split on whether state and local governments should be able to pass laws banning handguns. Forty-five percent said they should be able to do so, but 50 percent said they should not.
The CBS News Poll has asked about gun laws generally over the years and recent polling shows the public divided in their views of gun control laws. A CBS News/New York Times Poll conducted in April found that 40 percent of Americans think gun control laws should be made more strict, while 42 percemt think those laws should be kept as they are. Few (16 percent) think laws covering guns should be made less strict.
Support for stricter gun control laws has declined over the years, and the April poll finds support to be at its lowest level since CBS News began asking the question in 1994. Back then, 59 percent of Americans wanted gun control laws to be more strict, compared to 40 percent today.
As might be expected, opinions differ by party affiliation. Nearly six in 10 Democrats favor stricter gun laws, while just 22 percent of Republicans hold that view. And geography matters too - 63 percent of those living in the Northeast want gun control laws to be made more strict - the only region where a majority has that opinion. Americans in other regions of the country are more inclined to keep gun control laws as they are.
Gender plays a role as well, with women (50 percent) more likely than men (29 percent) to favor stricter gun control laws.
Americans who live in a household where someone owns a gun are especially opposed to making gun control laws more strict. Just one in five want stricter gun laws, while 54 percent think gun laws should be kept as they are. Another 24 percent of gun owners want laws covering guns to be made less strict.
Supreme Court Upholds Broad Reach of Gun Rights
Supreme Court Gun Rights Decision: A Win or a Setback?
Jan Crawford: Decision Will Be Key in Kagan Confirmation Hearings
---
Jennifer De Pinto is manager of election and survey information for CBS News. Click here for more of her posts in Hotsheet.
Thanks for reading CBS NEWS.
Create your free account or log in
for more features.