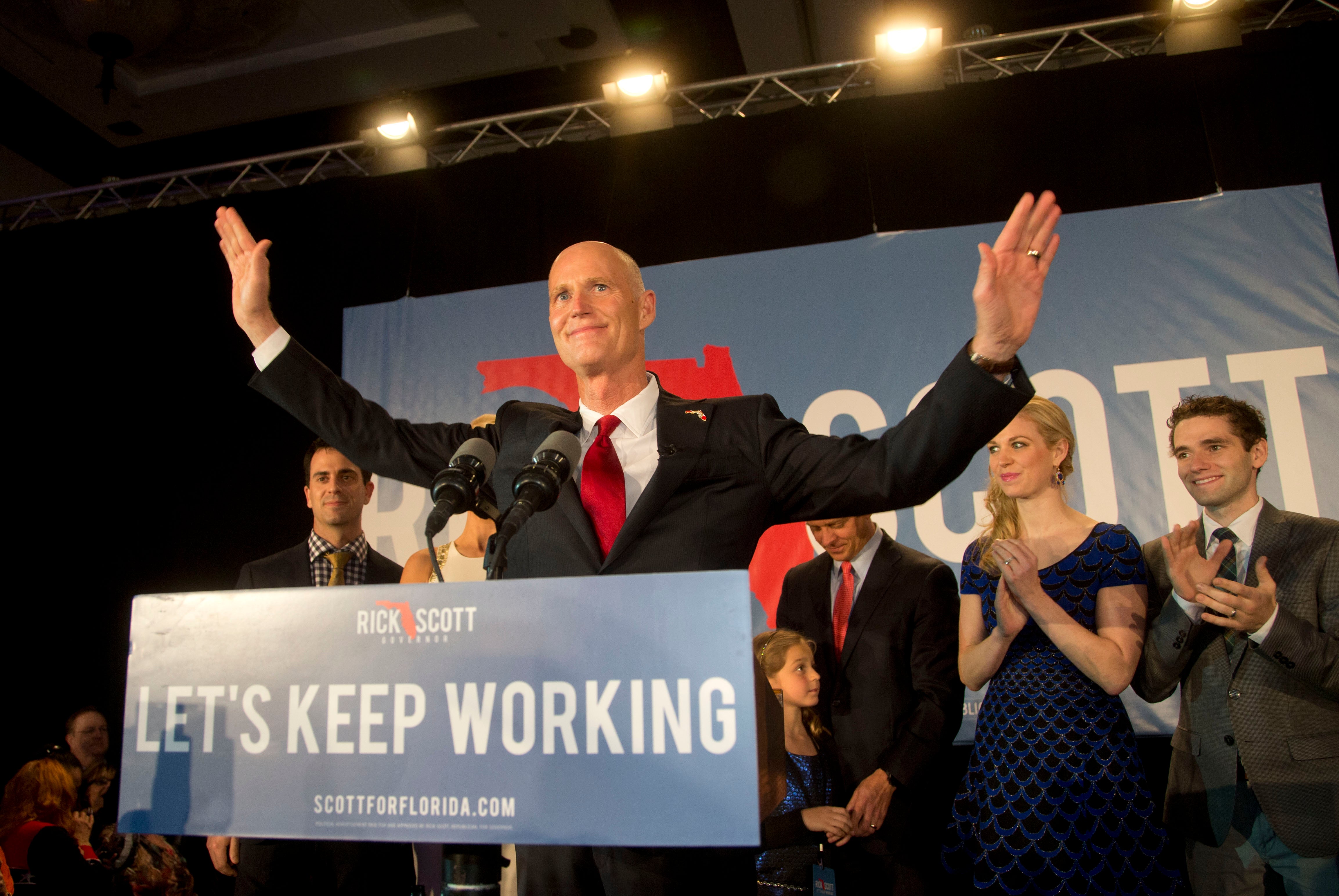 The GOP has a big night in the statehouses
Just about everyone was watching the Republicans' mounting gains in their Senate races on Election Day, but GOP candidates had an equally big night in gubernatorial races around the country.
About a dozen contests remained very close going into Tuesday. Republicans won nearly all of them, pulling off victories in Florida, Wisconsin, Michigan, Maine, Kansas, Illinois and Massachusetts. Georgia Gov. Nathan Deal, a Republican, had to win at least 50 percent of the vote to avoid a runoff, a mark he hit with relative ease.
The number of victories could grow as poll numbers continue to come in throughout the night. The Republican candidates were leading in Alaska and Colorado, but the races were too close to project. Connecticut Gov. Dannel Malloy, D-Connecticut, is leading in his race and could hang on to join Rhode Island Governor-elect Gina Raimondo as one of the few Democratic gubernatorial victories.
There were even a few surprises in states that were expected to be safe Democratic seats. Maryland's Lieutenant Gov. Anthony Brown, the Democratic candidate, lost to Republican Larry Hogan in a state that is so blue that President Obama won it with nearly 62 percent of the vote in 2012.
And in Vermont, Republican candidate Scott Milne managed to deny Gov. Peter Shumlin-the chairman of the Democratic Governors Association-the 50 percent of the vote he needed to avoid a runoff. The election will now be decided by the state legislature when it returns in January.
It was a particularly good night for the many Republican incumbents who looked like they might lose their jobs. While the GOP flipped at least four seats from Democratic to Republican control-and could flip two more if Democratic Govs. John Hickenlooper of California and Malloy are defeated-the sole Republican governor to be ousted by a Democrat was Pennsylvania's Tom Corbett, who was very unpopular by the time voters went to the polls on Nov. 4. The last CBS News/New York Times Battleground Tracker poll had him trailing Democrat Tom Wolf by 13 points.
But Florida Gov. Rick Scott, Wisconsin Gov. Scott Walker, Michigan Gov. Rick Snyder, Maine Gov. Paul LePage and Kansas Gov. Sam Brownback all managed to hang onto their seats, although they had each been considered vulnerable before the election. Brownback in particular had a tough battle after his aggressive conservative reforms in Kansas led to a drop in state revenue that had many voters and moderate Republicans seriously considering the Democratic candidate, House state Rep. Paul Davis.
Prior to Election Day, Republicans controlled 29 statehouses to Democrats' 21. The GOP now controls at least 31 governorships to the Democrats' 15, with four that were not yet decided as of the early morning of Nov. 5.
Thanks for reading CBS NEWS.
Create your free account or log in
for more features.