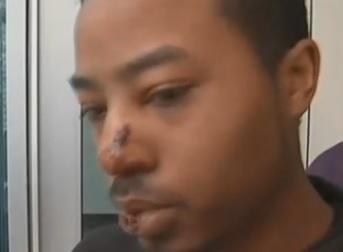 2 ex-cops indicted for allegedly stomping, hitting handcuffed man
GWINNETT COUNTY, Ga. -- Nearly a year after two Gwinnett County police officers were fired for allegedly beating a man while he was handcuffed, a grand jury has handed down almost a dozen criminal charges against them, reports CBS Atlanta affiliate WGCL-TV.
Demetrius Hollins' attorney says the indictment is a good start, but there's still a long way to go.
WGCL sources say Michael Bongiovanni and Robert McDonald will plead not guilty to the charges.
Hollins was bloodied and bruised when two men identified as the now-former officers were caught on video hitting and kicking him during a traffic stop.
According to the 10-count indictment, a blow to the face is the reason Bongiovanni was charged with battery. The former Gwinnett County sergeant is also accused of pointing a gun at Hollins, burning him with a taster and lying about Hollins resisting arrest.
Mike Puglise, Bongiovanni's attorney, says his client did nothing wrong. "Bongiovanni, in a split second, highly-intense situation of de-escalating the situation, did everything he was trained to," Puglise insists.
McDonald is seen in the video running up to Hollins and kicking him in the head while he was handcuffed. In the same indictment, he's charged with aggravated assault, battery, and false writings.
McDonald's lawyer says his client's actions were brief and have nothing to do with Bongiovanni. So he wants a separate trial.
Hollins' attorney, Justin Miller, says he just wants justice.
"We know at least these two are bad, and we don't know if there are others, so I'm happy there's a criminal investigation, and they're going to go to trial so we can see and they can testify to exactly what's going on," said Miller.
Attorneys say they're still waiting to find out when the arraignments will be.
Thanks for reading CBS NEWS.
Create your free account or log in
for more features.