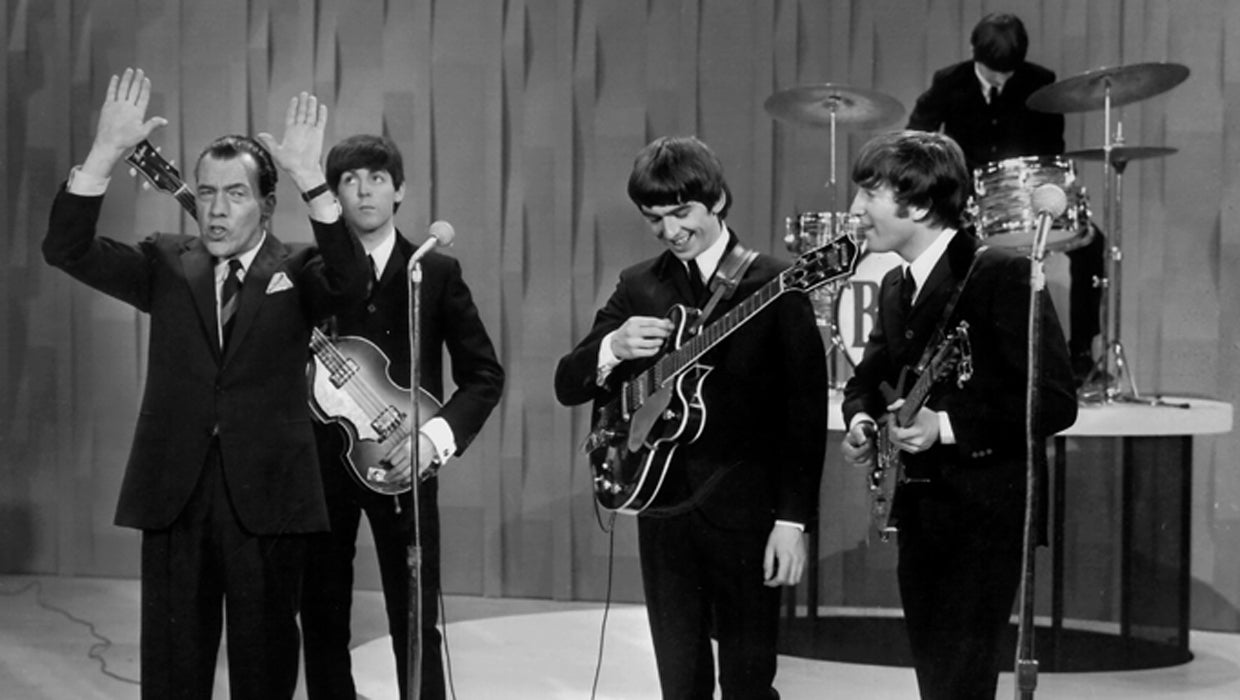 10 musicians who saw the Beatles standing there
This is part of a series of essays to mark the 50th anniversary of the Beatles' first American television appearance on CBS's "The Ed Sullivan Show." It culminates with CBS News, 50 Years Later...The Beatles at The Ed Sullivan Theater: Presented by Motown The Musical, a live, multimedia event at The Ed Sullivan Theater on Feb. 9.

Among the 73 million Americans who tuned into CBS on Feb. 9, 1964 to watch the Beatles perform on "The Ed Sullivan Show" were people who would spend the next few decades entertaining America playing their own music on television.

Here are some reactions from ten of the night's more notable viewers:

"This was different, shifted the lay of the land. Four guys, playing and singing, writing their own material ... Rock 'n' roll came to my house where there seemed to be no way out ... and opened up a whole world of possibilities."
"I remember exactly where I was sitting. It was amazing. It was like the axis shifted ... It was kind of like an alien invasion."

--Chrissie Hynde, the Pretenders

"The minute I saw The Beatles on The Ed Sullivan Show -- and it's true of thousands of guys -- there was the way out. There was the way to do it. You get your friends and you're a self-contained unit. And you make the music. And it looked like so much fun. It was something I identified with. I had never been hugely into sports. ... I had been a big fan of Elvis. But I really saw in The Beatles that here's something I could do. I knew I could do it. It wasn't long before there were groups springing up in garages all over the place. "

"That one performance changed my life ... Up to that moment I'd never considered playing rock as a career. And when I saw four guys who didn't look like they'd come out of the Hollywood star mill, who played their own songs and instruments, and especially because you could see this look in John Lennon's face -- and he looked like he was always saying: 'F--- you!' -- I said: 'I know these guys, I can relate to these guys, I am these guys.' This is what I'm going to do -- play in a rock band'."

"A big influence was seeing the Beatles on Ed Sullivan. They were a quartet and we said, wow, we can do that. If these guys from England can come out and play rock 'n' roll, we can do it ... We bought Beatle wigs. We went to the drama store, and I guess they were Three Stooges wigs at that time."
--Doug Clifford, Creedence Clearwater Revival

"The lightning bolt came out of the heavens and struck Ann and me the first time we saw the Beatles on 'The Ed Sullivan Show.' ... There'd been so much anticipation and hype about the Beatles that it was a huge event, like the lunar landing: that was the moment Ann and I heard the call to become rock musicians. I was seven or eight at the time. ... Right away, we started doing air guitar shows in the living room, faking English accents, and studying all the fanzines."

"There is no way I'd be doing what I do now if it wasn't for the Beatles. I was watching 'The Ed Sullivan Show' and I saw them. Those skinny little boys, kind of androgynous, with long hair like girls. It blew me away that these four boys [from] the middle of nowhere could make that music.

"The night The Beatles first played The Ed Sullivan Show, boy, that was something. Seeing them on TV was akin to a national holiday. Talk about an event. I never saw guys looking so cool. I had already heard some of their songs on the radio, but I wasn't prepared by how powerful and totally mesmerizing they were to watch. It changed me completely. I knew something was different in the world that night."
Just about every rock and roll musician my age can point to one cultural event that inspired him to take up music in the first place: the Beatles on Ed Sullivan. If you were a shy 14-year-old kid who already had a guitar, it was a life-altering event. ... In a single weekend everything had changed. I'd come home from school the previous Friday looking like Dion. I went back to class on Monday morning with my hair dry and brushed forward. That's how quickly it happened.
"One of my earliest memories was sitting cross-legged on the floor in the living room of the house I grew up in and looking up at the black-and-white TV set and watching the Beatles on The Ed Sullivan Show. I was five years old and I remember thinking, 'Wow! That's what I want to do.' I know it sounds absurd -- most five-year-old boys say they want to be firemen or policemen or baseball players, or even the president. Not me. I wanted to be one of the Beatles.
Thanks for reading CBS NEWS.
Create your free account or log in
for more features.