Norwegian Cruise Line To Transport Hurricane Dorian Aid From Miami To Bahamas
MIAMI (CBSMiami) – There has been an overwhelming response from South Florida residents donating supplies to the hurricane-ravaged Bahamas. Now Florida Senator Rick Scott is working with the City of Miami and Miami-Dade County in getting that aid to those who need it most.
Wednesday morning, Senator Scott and Miami Mayor Francis Suarez spoke to reporters about the City's growing efforts to assist victims.
Mayor Suarez announced that local and federal governments are working together to bring all of that aid over to the hardest hit areas.
Miami Mayor Francis Suarez with Sen. Rick Scott in Miami touring Bahamian relief locations. (CBS4)
Suarez said the goods will be taken over by Norwegian Cruise Line and delivered Thursday morning to Nassau. From there, FEMA will distribute it to the hardest hit areas of Freeport, Marsh Harbour and Grand Bahama.
"We are working in collaboration with Norwegian Cruise LIne," said Suarez. "Items that are needed included sanitary items, toilet paper, tents, first aid items and canned food and generators."
One of the lessons that was learned after Maria in September of 2017 was the need for generators, said Scott. "There are a lot of people who are going to be without power for awhile. People will be living in tents. Diapers are a big deal."
In addition, the City of Miami will be sending a small contingent of fire department first responders and medics who are embedded with the U.S. Coast Guard to help assist Bahamians in need.
That contingent of 15 firefighter paramedics is independent of Task Forces 1 and 2 Urban Search and Rescue from Miami-Dade and Miami.
"The storm has not cleared the U.S. so the priority is for the U.S. government to protect its U.S. citizens," said Suarez.
Miami City Commissioner Ken Russell said he felt Task Force 2 should be deployed right now to the Bahamas ands he appealed to the President and the Governor to allow FEMA to deploy Task Force 2 right now. "The City of MIami has one of the greatest urban search and rescue teams. I am not speaking for Miami I am speaking for myself. We need that team to be sent right now to help those in need. Our urban search and rescue team was sent to the U.S. Virgin Islands. They are very mobile and can turn around quickly if there were an emergency here."
Wednesday afternoon, Sen. Scott will joined Miami-Dade County Mayor Carlos Gimenez on a visit to one of the County's collection sites for Hurricane Dorian relief supplies at the Miami-Dade County Emergency Management Warehouse in Doral.
Scott said "With all the supplies I see going to those in need, we are blessed to have a beautiful county that cares about people."
Gimenez said he had asked his wife Lourdes to lead the volunteer effort and work with the United Way and he said she agreed to do so.
He also said relief efforts are expanding.
"Today we opened three more county donation sites and added dozens of municipal sites," he said.
Frank Rollason, Director Emergency Management for Miami-Dade, said "We are working on ways to get items to the Bahamas by air and sea and are working with the Bahamian government. We need non perishable food and diapers and chain saws and other types of those tools. With so many roofs gone, we may need help from a lot of contractors and tarps."
Miami is collecting items at 16 fire stations.
At Fire Station Number 8 at Oak Avenue and Virginia Street, people told CBS4's Peter D'Oench they felt compelled to help out.
Melissa Rospigliosi said "I am a nurse and I know how people need to have those necessities. I just love to help people."
Rene Soto said "I went through Hurricane Ivan on the Cayman Islands and it was devastating. Humanity. When you lose everything it is tough."
Valerie Ritter said "I am bringing kids Tylenol, diapers and little bottles. I wish I could bring more stuff."
Today, @SenRickScott joined us at Fire Station 8. We're unifying the local and federal governments to bring aid to the Bahamas. We're also partnering with @CruiseNorwegian to deliver goods and, tomorrow, we're deploying @CityofMiamiFire members with @uscoastguard. #BAHAMASTRONG pic.twitter.com/nTnTb8d38M

— Mayor Francis Suarez (@MiamiMayor) September 4, 2019
In addition, the City of Miami will be sending a small contingent of fire department first responders and medics who are embedded with the U.S. Coast Guard to help assist Bahamians in need.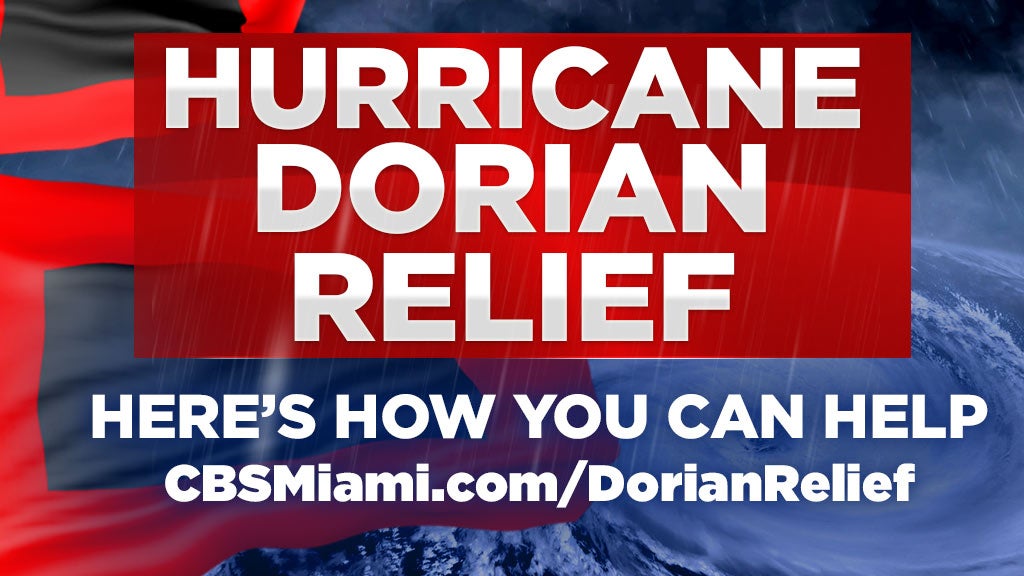 CLICK HERE to see a complete list of locations and links where you can make a monetary donation or drop off supplies.
Thanks for reading CBS NEWS.
Create your free account or log in
for more features.