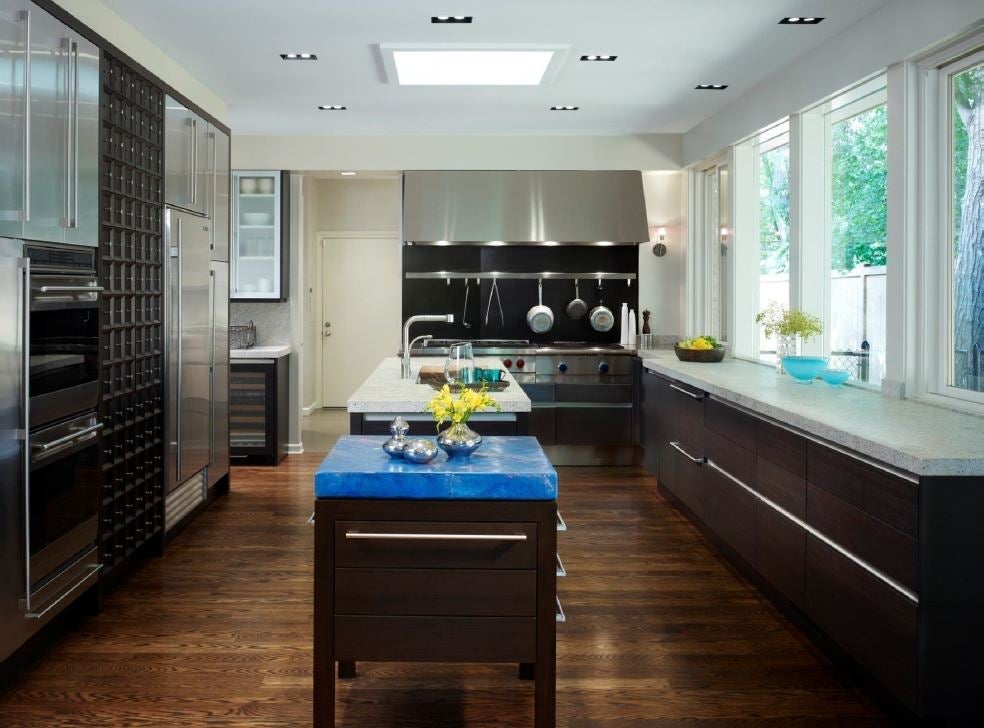 Top 10 kitchen remodeling trends
(MoneyWatch) Kitchens have gone from small rooms relegated to the back of the home to the focal point of family life. They connect to our largest living spaces and speak loudly from the center of the home, offering a central gathering point for family and guests.
So it's no wonder that Americans invest a lot of time and money into remodeling, updating and modernizing these spaces to their exact specifications. Houzz commissioned a survey of its members, most of whom turn to the site looking for inspiration while building or renovating their homes, and found a few trends along the way.
Countertops are the biggest change homeowners will make in their kitchens -- 94 percent of survey respondents planned to change them -- and more than half want to upgrade their appliances.
Those kind of more minor remodels can recoup as much as 75 percent of the cost when the owners resell -- one of the best ways to add value to your home, according to Remodeling Magazine's 2013 Cost V. Value report. Even a gut rehab will fetch up to 70 percent of the cost in added value.
The key to remodeling in a way that adds value is to make choices that will appeal to a broad number of buyers, so these kind of on-trend remodels will go a long way when reselling. If you know that nearly two-thirds of homeowners want stainless steel appliances, it's easy to assume that buyers will have very similar desires.
So what's looking good if you're looking to remodel? Check out these 10 trends:
Top 10 kitchen remodeling trends
Granite is still the favorite countertop, but another option is catching up
Quartz is rapidly growing in popularity, with 36 percent of remodelers looking to add the part-stone, part-manmade countertop. While that trails the 50 percent that want granite, quartz is gaining traction with homeowners in the maintenance department. The stone doesn't need to be sealed, typically won't crack or stain and is easier to clean. The only drawback: Quartz tends to be more expensive.
Top 10 kitchen remodeling trends
Mix-and-match is popular for countertops
Homeowners report mixing materials between an island and the rest of their countertops, alternating between the more typical granite options and some more unique choices such as wood or marble.
Top 10 kitchen remodeling trends
You still can't go wrong with stainless steel
Sixty-five percent of remodelers are incorporating stainless steel appliances, so it would appear that this long-standing trend isn't going anywhere.
Top 10 kitchen remodeling trends
Neutrals are popular in the kitchen
While cheery kitchens with splashes of color may be popular in the magazines, muted tones are more popular in the American home. Three-quarters of those surveyed said they preferred "soft and neutral" color schemes over "bright and colorful" or "bold and dramatic."
Top 10 kitchen remodeling trends
Bigger isn't always better
Only 37 percent of remodelers are trying to increase the size of their kitchen, while the rest will make do with what they have.
Top 10 kitchen remodeling trends
Open kitchen plans are still attractive
There's been a bit of a backlash recently against the open kitchen plans, with writers and bloggers in the home design fields rallying against the loud, super-connected plans that put kitchens in the middle of family space. But homeowners are still digging them: 77 percent of those remodeling will have kitchens open to other rooms and 61 percent are incorporating the open plan's key element, a kitchen island.
Top 10 kitchen remodeling trends
Cooktops are the most popular appliances
A chef's stove was the most popular of remodelers' dream appliances, with 32 percent saying they wanted a chef-ready six-burner with all the bells and whistles of a more commercial stovetop. Eighteen percent want double ovens while 9 percent want an induction cooktop, which is a flat surface that only transfers heat to cookware while the surface stays cool.
Top 10 kitchen remodeling trends
Going green isn't an overwhelming objective
Only 49 percent of homeowners consider this important in redesigning their kitchen and only 19 percent cite energy-efficiency as a reason motivating them to renovate.
Top 10 kitchen remodeling trends
Functionality is big...
Fifty-nine percent of respondents want to improve the function of their kitchen, while 48 percent want to improve storage. One big motivator behind this could actually be changes in the way we eat: More people are making homemade, unprocessed, whole foods and that means an organized cooking area.
Top 10 kitchen remodeling trends
...but looks still rule the day
Ultimately, 79 percent of respondents said they were remodeling to improve the look and feel of their kitchens. Only 38 percent of respondents said they were remodeling to increase their home's value. If you stay on-trend with your remodel, chances are good you can achieve both.