Only On 2: LAPD Stops 'Flash Scooter Mob' Takeover Of DTLA
LOS ANGELES (CBSLA) — The Los Angeles Police Department stopped what it calls a "flash scooter mob" takeover of downtown and possibly the 101 Freeway late Saturday night.
LAPD is cracking down on street takeovers by groups of people riding electric scooters.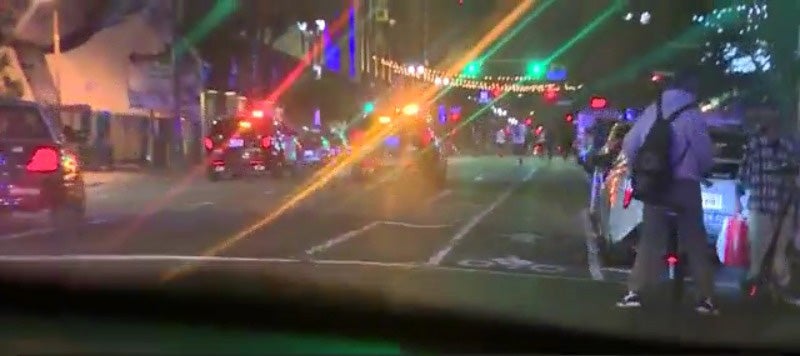 CBSLA's Cristy Fajardo talked to some of the scooter riders who said the gathering was just a meet-up and denied they were planning a takeover on the 101 Freeway or in downtown.
The LAPD and CHP said the group -- including people coming to Los Angeles from all over the state -- was planning just that before Fajardo says the takeover became a takedown.
"Flash scooter mobs" have been taking over streets in cities all over and most recently a highway in San Jose. Groups get the word out on social media - hence the flash mob label.
The LAPD teamed up with some of the scooter companies and used new technology to disable many of the scooters. Officers and CHP helped break up the rest.
Officials declined to specify just what the technology was.
But LAPD Sgt. Jesse Garcia says, "When their activity turns into unlawful behavior, illegal behavior, we're going to take enforcement action."
Police say the scooter riders are dangerous to pedestrians, motorists, and themselves.
"I mean, it doesn't seem kinda fair," says scooter rider Gary Winthorp,"we're paying money to ride the scooter."
The issue of fairness didn't come up.
"The tech over all did work," said officer Garcia, "obviously we're going to have to fine tune it a little bit. but over all, this was a win."
The organizer of the would-be flash mob agreed, perhaps reluctantly posting "We lost, cops won today."
In spite of the technology, some scooters and brands did keep working but because they were able to limit the number from growing and allow police the chance to manage the crowd.
Thanks for reading CBS NEWS.
Create your free account or log in
for more features.