Grand Opening Of Long-Awaited Academy Museum Arrives Thursday
LOS ANGELES (CBSLA) – After nearly a decade of planning and construction, the Academy Museum of Motion Pictures on the Miracle Mile, with an estimated cost of $482 million, is finally opening to the public Thursday.
"The Academy Museum represents something much greater than ourselves. This is the museum of filmmakers everywhere, for audiences everywhere now and into the future," Dawn Hudson, Academy Museum Of Motion Pictures CEO, said at the opening.
The 300,000 square-foot museum located at the intersection of Wilshire Boulevard and Fairfax Avenue endured an array of planning pitfalls that typically face large-scale projects with big budgets. Project costs ballooned. Fundraising efforts struggled amid economic doldrums. Planners got cold feet. Architects changed.
Then came the COVID-19 pandemic that further delayed the project's timeline and opening date, which was originally envisioned to occur four years ago.
The Academy, however, persisted. And its visionary complex has come to fruition, highlighted by an eye-catching glass-and-concrete sphere, affectionately dubbed the "Death Star," designed by architect Renzo Piano. The museum spans two buildings, based largely in the restored May Co. building. The museum features 50,000 square feet of exhibition space, two theaters, an educational studio, a restaurant and other amenities.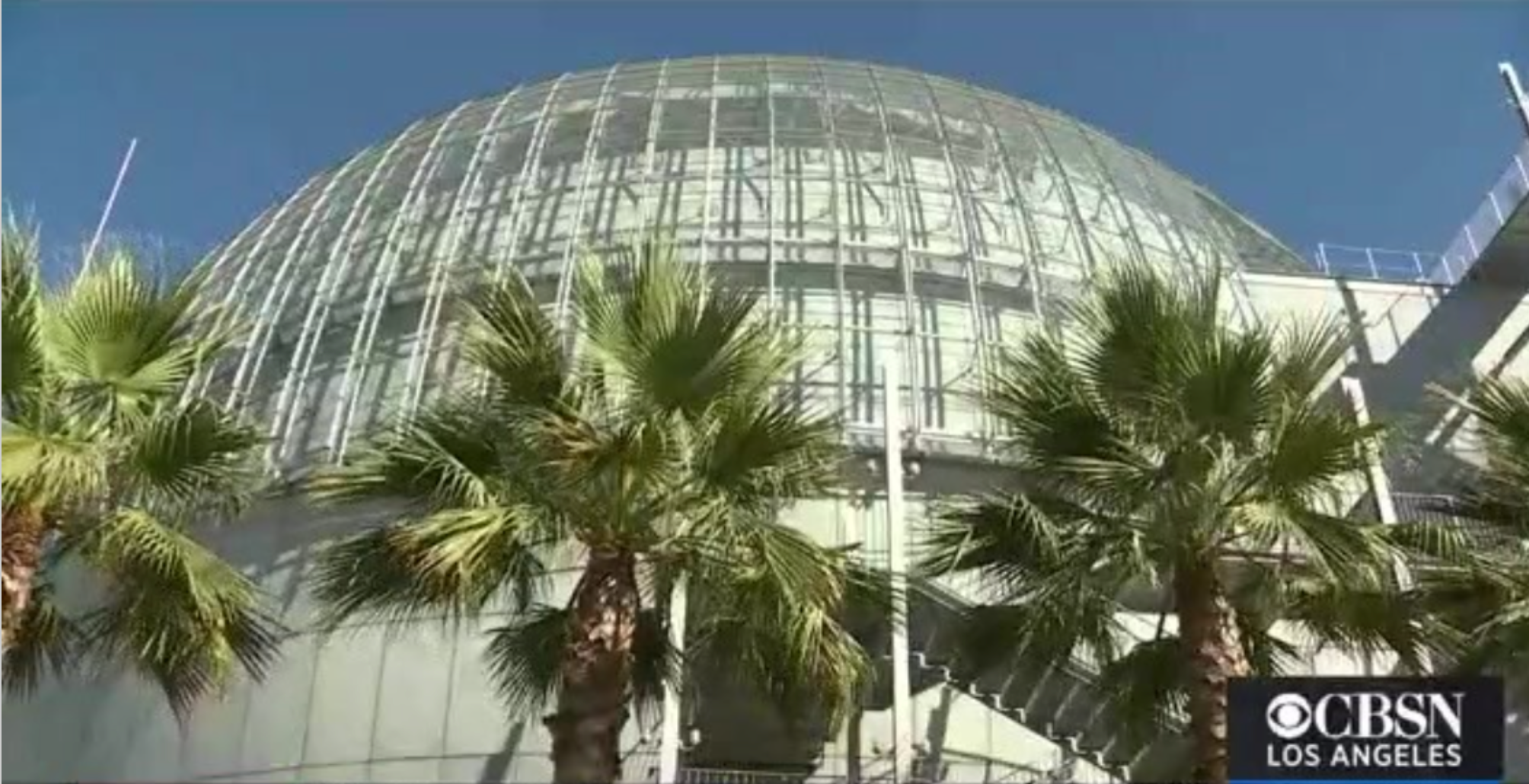 The inside, however, is even more dramatic, enveloping visitors in an homage to the art of cinema, the people and technology that who brought the industry to life and impact it has had on society as a whole.
Visiting LA from France, Sherilyn Chen said she had to make a stop at the museum.
"I looked at the maps and there's some really cool expos that I'm interested in seeing. It looks really nice, brand new," she said.
The increased crowds are expected to bring an uptick in business to the Mid-Wilshire area. Just down the street at Blazin' Birds, the restaurant has been busy making food for museum staff and expect even more business now that the facility is open.
"We've seen a lot of their team members come in and visit our restaurants here in this shopping center and we're really glad that something is coming back to this corridor here in LA to, you know, bring additional business and traffic and we're really excited to see new folks come to our area," Andrew Matzkin, who owns Blazin' Birds, said.
"People are coming because of Hollywood and the movies. So, this is a plus, a big time plus," said Blazin' Birds customer Martina Tassius said.
For its opening night Thursday, the museum will also present a screening of "The Wizard of Oz," with live musical accompaniment by the American Youth Symphony, conducted by Oscar-nominated David Newman.
Tickets for the museum can be purchased at academymuseum.org and the through the Academy's mobile phone app.
General admission tickets to the museum will be $25 for adults, $19 for seniors aged 62 and up, and $15 for students. Access to "The Oscars Experience," an interactive simulation enabling visitors to feel as if they're walking on stage at the Dolby Theatre to accept an Oscar, costs an additional $15.
Admission for visitors aged 17 and younger, and for California residents with an EBT card, is free.
Museum hours will be 10 a.m. to 6 p.m. Sunday through Thursday and 10 a.m. to 8 p.m. Fridays and Saturdays.
(© Copyright 2021 CBS Broadcasting Inc. All Rights Reserved. City News Service contributed to this report.)
Thanks for reading CBS NEWS.
Create your free account or log in
for more features.