Getty Fire Erupts In Sepulveda Pass, Thousands Ordered To Evacuate: 'Get The Hell Out'
LATEST CLOSURES AND EVACUATIONS | UPDATES | WEATHER COVERAGE |REAL-TIME EVACUATION MAP
BRENTWOOD (CBSLA) — A fast-moving wildfire which broke out on a hillside on the west side of the 405 Freeway in the Sepulveda Pass — near the Getty Center museum — in the early morning hours Monday exploded to 618 acres and was moving southwest, forcing thousands of people to flee their homes.
The blaze sparked on the west side of the 405 Freeway just before 1:34 a.m. and then spread rapidly west. Mandatory evacuations were issued for an area with at least 10,000 homes and commercial buildings. There was five percent containment as of 9 p.m. At least eight homes have been destroyed and five more damaged.
"We received a 911 call at about 1:34 this morning of a reported brush fire adjacent to the 405 Freeway ... The wind is coming out of the northeast, typical Santa Ana direction, and within the hour, we had multiple companies on scene," Los Angeles Fire Department Chief Ralph Terrazas told reporters at an early-morning briefing.
The mandatory evacuations were initially placed for the area bordered by Mulholland Boulevard to the north, the 405 Freeway to the east, Sunset Boulevard to the south and Temescal Canyon Road to the west.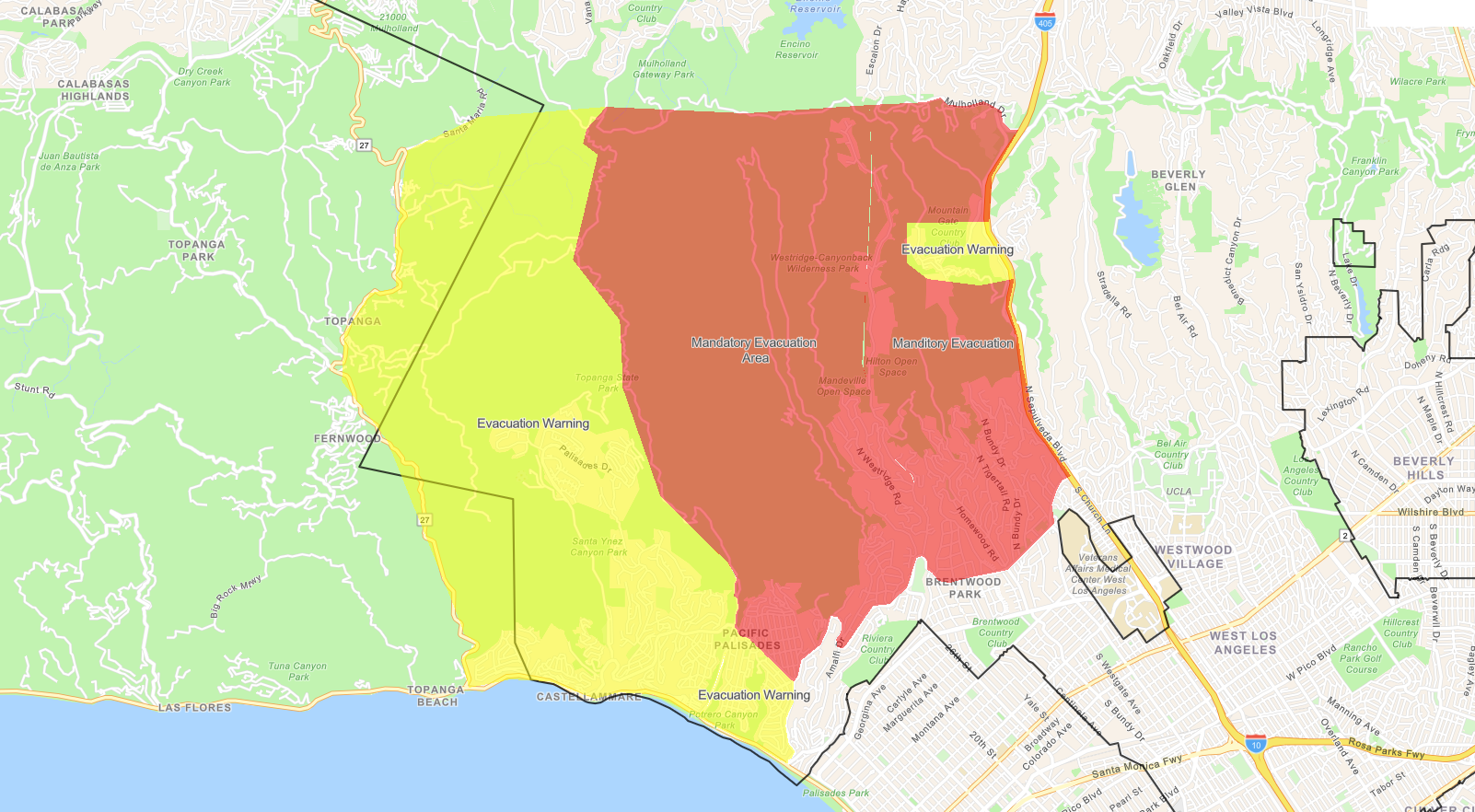 However, at around noon, mandatory evacuations were downgraded to voluntary for the area bordered by Sunset Boulevard to the Pacific Coast Highway, and between Temescal Canyon Road and Chautauqua Boulevard.
In a 5 p.m. press conference, officials alerted residents of the MountainGate community they could return home Monday evening as the area was retracted to voluntary evacuations.
"If you're in the mandatory evacuation zone, and you're still there watching this, you're an idiot, get the hell out," L.A. City Councilman Paul Koretz told residents.
There were no injuries. More than 1,100 firefighters were battling the blaze from the ground and in the air.
"We want people to now enact their predetermined plan to grab their belongings, their medication, take care of their pets and be able to get out of that area in a safe and calm manner," LAFD Capt. Erik Scott said.
The southbound 405 Freeway was completely shut down between the 101 Freeway and Sunset Boulevard for the most of the day. It did not reopen until just after 7 p.m. However, off-ramps in that section remained shut down as of Tuesday morning.
"Part of the reason that the incident commanders are shutting down the southbound freeway...is because of the potential of bringing in the large fixed-wing aircraft that also will drop that retardant. We don't that to spread over to people's vehicles as they're driving," Scott told CBS2.
The Getty Center itself was not threatened at this time, Scott said. However, both the Getty Center and the Getty Villa would be closed Monday.
About 2,600 L.A. Department of Water and Power customers were without electricity in BelAir, Westwood and Brentwood.
A red flag warning was in effect through 6 p.m. Monday in the area where the fire was burning. However, crews appeared to be making progress as the morning went along.
"The winds have started being a little more favorable for us, and we're starting to make some progress on knocking down this fire," LAFD Capt. Branden Silverman told CBS2.
At around 11:30 a.m., a portion of the fire flared up near the MountainGate Country Club.
"As our temperatures are rising, as we get later into the afternoon, we are going to experience some flare-ups like these, as the fire reaches some heavy pockets of fuel, we'll also see these flare-ups," Silverman said.
The cause of the fire was not known. However, Mayor Eric Garcetti said the fire was not believed to have started in a homeless encampment.
"We have some initial information we'll be sharing later in the day," Garcetti said.
Dozens of schools were closed Monday. All schools in the Santa Monica-Malibu Unified School District were closed, along with 16 in the Los Angeles Unified School District and several other private and charter schools. Mount Saint Mary's University, a private liberal arts college, reported that it had evacuated its Chalon campus in Brentwood. Just before 9:30 a.m., UCLA announced that it had canceled classes for the day.
SMMUSD schools and district offices were expected to reopen Tuesday. LAUSD schools that were closed on Monday will remain closed on Tuesday. Transportation services to and from these schools will also be cancelled. School officials say absences will not be counted against a student's record, officials stated.
Among those who were forced to evacuate was L.A. Lakers superstar LeBron James and his family, along with former Calif. Gov. Arnold Schwarzenegger.
"Man these LA fires aren't no joke," James tweeted. "Had to emergency evacuate my house and I've been driving around with my family trying to get rooms. No luck so far!"
This is the latest in a series of blazes which have broken out across the Southland. Last week, the Tick Fire burned more than 4,600 acres in Santa Clarita, destroying 24 homes and damaging another 38. That fire was 78 percent contained Monday.
Thanks for reading CBS NEWS.
Create your free account or log in
for more features.