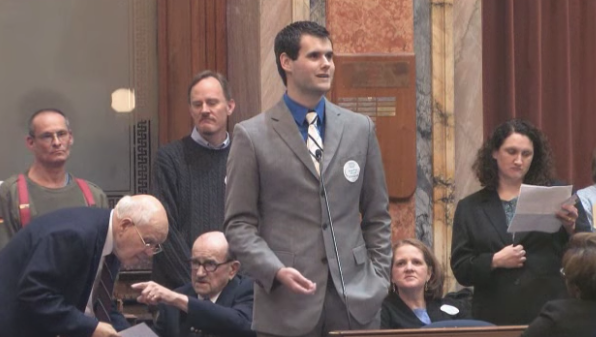 Zach Wahls, who went viral defending his lesbian moms in speech, wins Iowa state Senate seat
Zach Wahls went viral in 2011 when he delivered an impassioned speech defending his lesbian moms. Soon he'll be delivering a lot more speeches — this time, as an Iowa state senator.
Wahls, who is a Democrat, won his race in Iowa's Senate District 37 by a huge margin, defeating Libertarian opponent Carl Krambeck with 78.5-percent of the vote.
The 27-year-old who will be one of the youngest people to serve as a state senator in Iowa focused his campaign on lowering the cost of healthcare, heightened gun reform legislation, education and the rights of workers, among other issues.
Wahls first entered politics when he was an engineering student at the University of Iowa, when he delivered a speech in the Iowa House of Representatives against House Joint Resolution 6, aimed to end civil unions in the state.
"Our family really isn't so different from any other Iowa family. You know, when I'm home we go to church together, we eat dinner, we go on vacations," said Wahls in 2011. "The sexual orientation of my parents has had zero effect on the content of my character."
The speech went viral, amassing millions of views becoming YouTube's most watched political video of the year, according to the video sharing platform.
Since his speech, Wahls has been politically active as an advocate for LGBTQ rights. He co-founded Scouts for Equality, a nonprofit that successfully worked end to the Boy Scouts' ban on gay leaders and Scouts.
He also authored the book, "My Two Moms: Lessons of Love, Strength, and What Makes a Family," in 2013.
Wahls issued a statement Wednesday on Twitter after his win, promising as a state Senator to fight for families who have been marginalized.
"As a state senator, I will fight for everyone who, like my family, has been left out or left behind or used as a political target," said Wahls." I will never forget how hard our family had to work to get a seat at the table, and I will never stop fighting for you or your family."
Thanks for reading CBS NEWS.
Create your free account or log in
for more features.