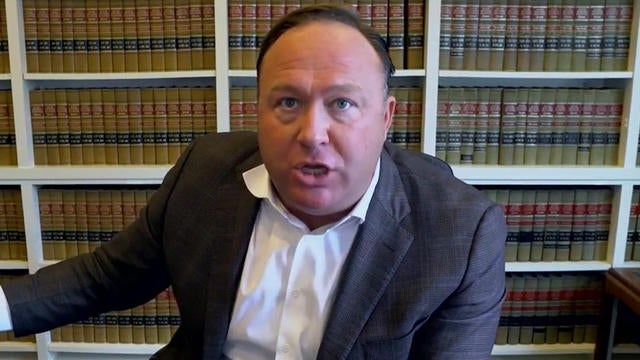 YouTube pulls 4 videos from right-wing Infowars
In an effort to slow a surge of graphic content on its platform, Youtube has reportedly pulled down four videos posted by Infowars, the ultra right-wing site run by Alex Jones, according to Variety.
"We have long-standing policies against child endangerment and hate speech," YouTube said in a statement to Variety. "We apply our policies consistently according to the content in the videos, regardless of the speaker or the channel."
YouTube has been cracking down on conspiracy-theory videos in an effort to stop misinformation from being spread.
In two of the videos posted by InfoWars, Jones rails against Muslims and claims they're taking over control of European countries. Another, "How To Prevent Liberalism – A Public Service Announcement" depicts a man shoving a young child to the ground. A fourth video, "Shocking 'Drag Tots' Cartoon Sparks Outrage" compared the creators behind an animated show with children dressed as drag queens to Satanists. All four videos are still featured prominently on Infowars' site.
An InfoWars post titled "SHARIA-COMPLIANT YOUTUBE REMOVES VIDEOS CRITICIZING ISLAMIC IMMIGRATION" suggested the removal of its videos violated YouTube's own policies. The move by YouTube means Infowars is unable to use live broadcast capabilities on its main channel and runs the risk of being banned altogether.
Infowars author Paul Joseph Watson writes, "the strike goes against Youtube's own policy, which explains that it is permissible to post graphic content 'in a news, documentary scientific or artistic context' so long as it is not gratuitous." Watson goes on to say that YouTube "could have simply slapped an age restriction on the videos but instead leapt straight to copyright strike, further illustrating how this is a part of a wider assault to remove the Alex Jones Channel."
The author claims that outlets like CNN and Buzzfeed have been lobbying for social media sites to shut down Infowars, adding that the platform is being "policed by an arbitrary electronic lynch mob."
Jones had previously claimed on Twitter that YouTube was leading a campaign to take down his channel as part of an "internet purge," which YouTube disputed back in March. The site confirmed to CBS News at the time that advertisers had asked to be removed form running ads on Jones' branded channels.
Thanks for reading CBS NEWS.
Create your free account or log in
for more features.