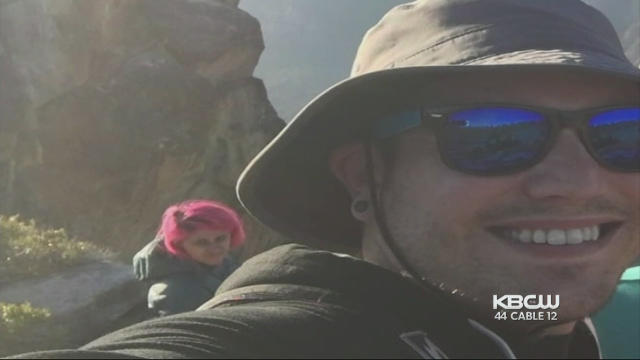 Selfie appears to show woman before she and husband fell to their deaths at Yosemite
SAN JOSE – An East Bay man who was recently visiting Yosemite National Park was shocked to discover he might have taken the last known photo of the woman who died with her husband after a horrific fall from the park's popular Taft Point last week. The couple – Vishnu Viswanath and his wife Meenakshi Moorthy — were popular travel bloggers who recently moved to San Jose and loved to explore the world.
CBS San Francisco found a man who may have been one of the last people to see the couple alive.
When Oakland resident Sean Matteson snapped a selfie just feet from Taft Point, he had no idea it may have been moments before Moorthy and Viswanath plunged to their death. Moorthy can be seen behind Matteson's shoulder, her distinctive dyed pink hair plainly visible in the photo.
"It gave me goosebumps to be honest," said Matteson. "I got the chills. It was very eerie."
Park rangers recovered the bodies of the couple last Thursday about 800 feet below Taft Point after hikers spotted them the day before.
Matteson said his selfie was taken on Sunday just after 5 p.m.
"It seemed like a lot of stories out there, of speculation of when and how and all this stuff," explained Matteson. "And I guess we just felt that it was incumbent upon us to share our impression of that day and the fact that we saw her in person."
Matteson said Moorthy appeared to enjoy the scenery from the popular view point. The 30-year-old was no stranger to the risk she was taking.
Moorthy and her husband had posted risky photos on their popular travel blog.
Just this past spring, she posted a picture of herself at the Grand Canyon that acknowledge the danger. The caption of the photo read, "A lot of us including yours truly is a fan of daredevilry attempts of standing at the edge of cliffs. But did you know that wind gusts can be fatal? Is our life worth one photo?"
Matteson said he saw Moorthy standing on a lower ledge closer to the edge than he and his girlfriend were standing.
"But yeah, no railings. I mean, it's very treacherous out there," said Matteson. "It could be very easy to make one wrong step and be in trouble."
Moorthy's husband Viswanath worked for Cisco. They were new to California, having relocated recently from New York.
On her travel blog, Moorthy wrote "live every moment" and called her husband "an amazing guy."
"Nothing seemed like anything was wrong or anything like that," remembered Matteson. "It seemed like they were there doing what they loved to do. That was my impression."
CBS San Francisco reached out to Cisco, which released the following statement: "It is with great sadness that we learned of the passing of a Cisco employee, Vishnu Viswanath. As always, we will pull together to extend our support to the employee's family and our fellow colleagues during this difficult time."
Thanks for reading CBS NEWS.
Create your free account or log in
for more features.