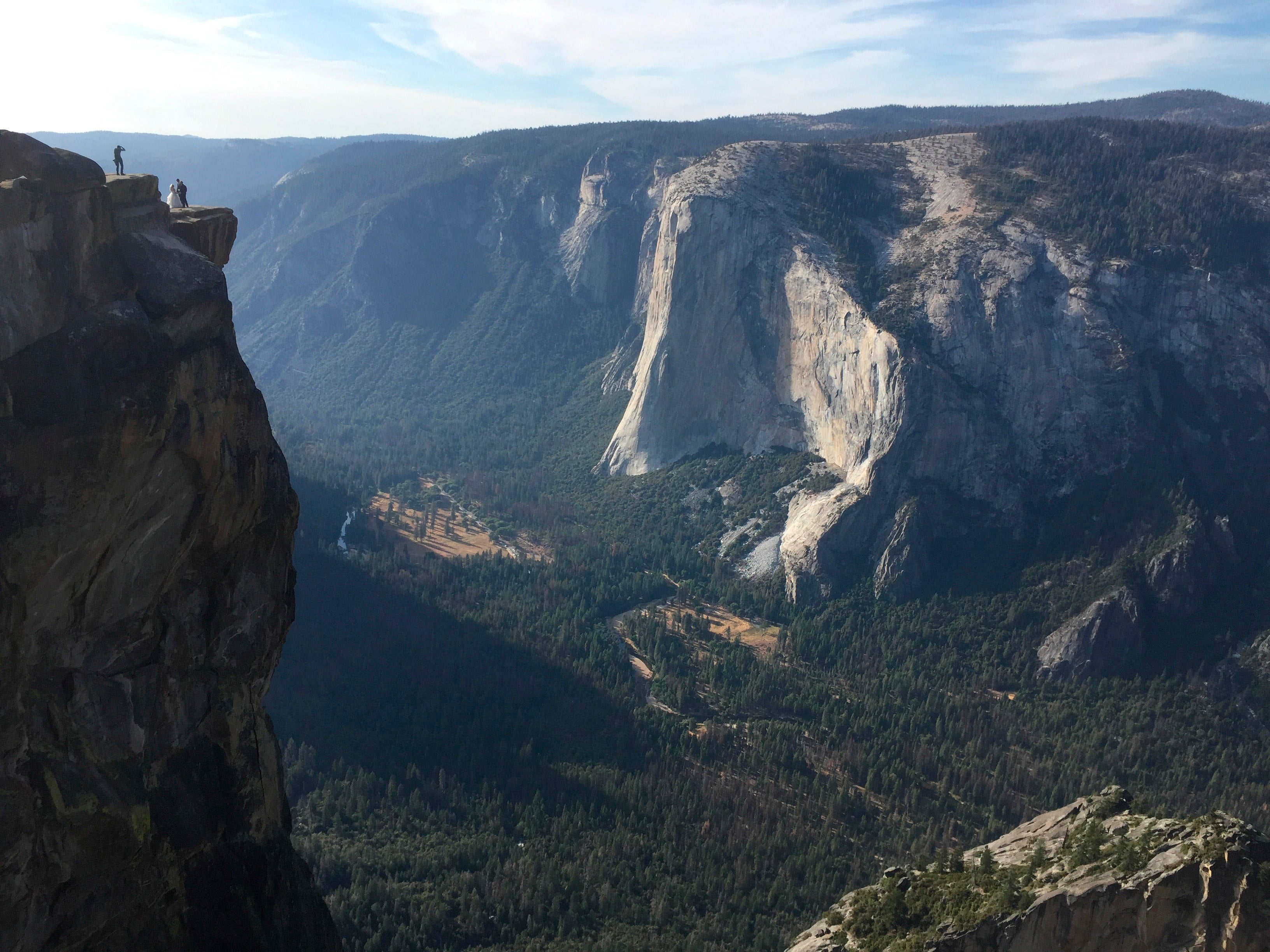 Two dead in apparent plunge from Yosemite cliff that was seen in viral photo
YOSEMITE NATIONAL PARK, Calif. — Two people have died in an apparent fall from Yosemite National Park's Taft Point a week after a picture taken of the cliff became a social media sensation, CBS San Francisco Bay Area reports.
The National Park Service said rangers were recovering the bodies of the man and the woman Thursday morning. It released few details of the incident, which remains under investigation.
Just last week, freelance photographer Matt Dippel turned to social media in search of two people he inadvertently captured on the cliff. Dippel was waiting to take a picture of his friend when a couple walked out onto the cliff and the man dropped to one knee.
"It's a super-popular place in Yosemite. Really popular for engagements, proposals, weddings," Dippel told CNN. "There were at least three or four different brides and grooms up there doing their post-wedding photos, so it's definitely not an uncommon thing to see up there."
In the photo, it looks like they were really far away, but Dippel said it was only about a two-minute walk.
"I ran over to that point after I took the photo to try to figure out who they were and I asked maybe 20 or 25 people and no one came forward."
Dippel and Josh had spent a few days in Yosemite earlier this month during a road trip down the West Coast from Seattle to Los Angeles. When Dippel got home to Grand Rapids, Michigan, he posted the picture on Facebook and asked the internet to help find them.
"Alright Internet I need your help. Help me find these two," he wrote. "This was taken at Taft Point, in Yosemite National Park on October 6th, 2018. I took this photo and would love for them to find it."
The post has been shared thousands of times and folks have been trying to help Dippel locate the couple.
Taft Point is also where world-famous wingsuit flier Dean Potter and his partner, Graham Hunt, died after leaping from the cliff in 2015. The pair, experienced at flying in wingsuits, the most extreme form of BASE jumping, crashed after attempting to clear a V-shaped notch in a ridgeline. BASE jumping, which stands for jumping off buildings, antennas, spans (such as bridges) and Earth, is illegal in the park.
An investigation concluded that the deaths were accidental. Despite video and photos of the jump, officials consider the specific reason why Potter and Hunt died a mystery.
Thanks for reading CBS NEWS.
Create your free account or log in
for more features.