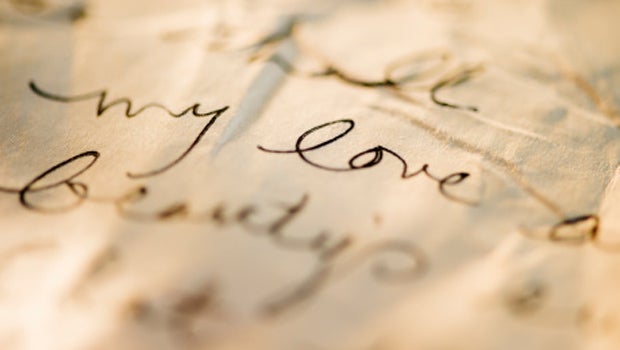 ​XOXO: Is writing love letters a lost art?
X's and O's are the marks of a football play, a game of tic tac toe -- or a love letter. And as Serena Altschul now tells us, keeping the love letter alive is the goal of a play with a uniquely-qualified cast:
"My father says everyone should write letters as much as they can. It's a dying art. He says letters are a way of presenting yourself in the best possible light to another person. I think that, too."
Forget about texts and tweets. The old-fashioned love letter is having its moment again in a national tour of A.R. Gurney's 1989 play, "Love Letters":
Audiences around the country have been lining up to see Ali MacGraw and Ryan O'Neal, cleverly cast as the show's star-crossed lovers Melissa and Andy.
It's the first time the two have worked together since the legendary 1970 tearjerker, "Love Story," that was a box office smash.
"As we step out, the audience murmurs," O'Neal said. "They murmur because they know us. They remember us. Their lives changed in many ways when they saw that movie. They married or they had children or they named their children after us."
"I really believe that the audiences, whether it's conscious or subconscious, are throwing themselves back those 40 years," said MacGraw, "which for most of us was so much more innocent, so much more romantic, so much more full of hope than it is right now," MacGraw said.
Nostalgia is in the air as O'Neil and MacGraw play characters reading the letters they sent one another over the course of 50 years.
"'Much love'? God, Andy, how sexy!"
Could Andy and Melissa's relationship exist today the same way over text and email? Playwright A.R. Gurney doesn't think so. "Because it doesn't have the personal nature of the penmanship. It doesn't have the sense of thought, since when you're writing with a pen, you're thinking about what you're doing."
"The handwriting, even the smell of the page, are very powerful essences for me," said O'Neal.
"Right, like poetry," said Altschul.
"And truth, and guts about feelings, real courage, not just platitudes," added MacGraw.
From "The Notebook" to "Cyrano de Bergerac," who understood the power of words ("The dear foolish words, that was you"), love letters have long had a special place in our hearts.
But in this era of always-on, instant communication, are love letters destined to go the way of the rotary phone?
Dennis Depcik worries they are. He and his wife, Maggie, were married for 41 years. Shortly after she died, Dennis found a mysterious box in the closet.
"I brought the box down and put it on the bed, and opened it, and stood there absolutely stunned," Depcik said. "In that box were all the letters that Maggie and I had written to each other when I was in the Army."
There were 119 letters.
"And just seeing that handwriting, and knowing that it was always there through our entire married life, just brought her back to me," he said. "It just, I mean, my hands were shaking, tears were rolling down my eyes. It was just amazing."
Patrick Geraghty and Kristie Damell never wrote letters to one another, but that didn't stop their romance from blossoming. When it came time to find a gift for the couple's first anniversary, Geraghty got creative.
"We had a whole history by text," he said. So Geraghty printed those text messages and had them bound in a hardcover album: Thousands of messages chronicling their entire relationship, from the day they first met through their first anniversary.
Two weeks in, Damell read what she had written, two weeks into their relationship: "I can't believe how happy I am. You're amazing. How did we manage this? This is so unreal."
"And then it was, you know, 'You can repay me in kisses and snuggles.' Oh, God, we said that! That's so embarrassing!"
Altschul asked, "Is that something important to you, that you have this concrete thing now?"
"I think so," Damell said. "I think it's a nice, little history, especially one day, when we're not here, our kids have this, that they can kind of look back at how mom and dad met, and the conversations that they had."
"Maybe not all of 'em," interjected Geraghty.
Even if writing love letters is going out of style, "Love Letters" the play seems as popular as ever. In the 25 years since it first appeared on Broadway, it's been staged hundreds of times in more than 40 countries.
When the show came to Boston this month, O'Neal and MacGraw returned to Harvard, where that other couple they're famous for playing first met and fell in love.
Speaking to students, some still glued to their smartphones, they made the case for the old-fashioned way. "Only with letter writing could it be communicated. I don't see how you could text this story to each other," MacGraw said.
"Andy: "This letter, which I'm writing with my own hand, with my own pen, in my own penmanship, comes from me and no one else, and is a present of myself to you. ... You can tear me up and throw me out, or keep me and read me, today, tomorrow, any time you want until you die."
Melissa: "Oh, boy, Andy. Love, Melissa."
"Altschul asked, "Do you think people are writing love letters, handwritten love letters anymore?"
"Romantics are," MacGraw replied. "I don't think they're going to go away. But I don't think as the decades accrue that there are a lot of people who really are going to put that time in. But there are some of us!"

For more info:
"Love Letters" starring Ryan O'Neal and Ali MacGraw - Tour dates and tickets (Hartford, Conn., Feb. 14; Fort Myers, Fla., Feb. 23-28; Dallas, March 22-April 3; Detroit, April 12-17; Buffalo, N.Y., May 11-22; and Baltimore, June 7-12.
Thanks for reading CBS NEWS.
Create your free account or log in
for more features.