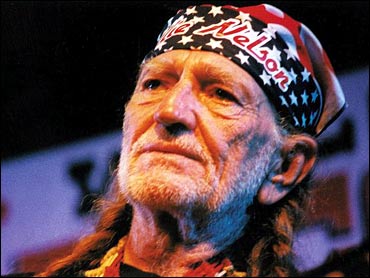 Wrist Pain Stops Willie Nelson
Willie Nelson has canceled concerts for the next two months to have surgery for carpal tunnel syndrome, a promoter said.
The 71-year-old country-western star, whose hits include "Whiskey River" and "On the Road Again," was apparently in so much pain he couldn't finish a show Saturday in Las Vegas.
"Willie Nelson will have surgery to relieve extreme pain caused by carpal tunnel syndrome," Carlos Larraz, a promoter with National Artists Corp., said Monday.
Nelson had ten concerts scheduled for the remainder of May and June, including an appearance at the three-day Bonnaroo Music Festival in Manchester, Tenn., beginning June 11.
The star is scheduled to hold his famed 4th of July Picnic at the Fort Worth Stockyards this year.
He has homes in Austin, Texas and Hawaii and occasionally spends time in his hometown of Abbott, Texas.
According to the National Institute of Neurological Disorders and Stroke, carpal tunnel syndrome occurs when tendons or ligaments in the wrist become enlarged, often from inflammation, after being aggravated. Only a small percentage of patients choose surgery, which involves opening the wrist and cutting the ligament at the bottom of the wrist to relieve the pressure.
While carpal tunnel can and does strike people in a wide variety of occupations involving repetitive motions of the hand, it has affected many musicians - including Nelson's old "Highwaymen" bandmate, the late Waylon Jennings, who had carpal tunnel surgery on both hands a decade ago.
Thanks for reading CBS NEWS.
Create your free account or log in
for more features.