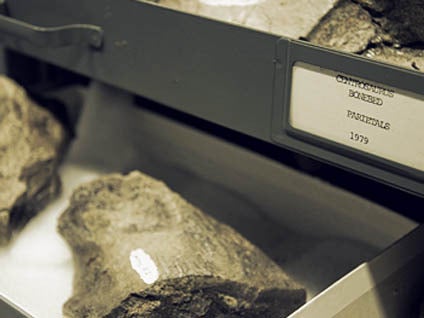 World's Biggest Dinosaur Graveyard Uncovered in Canada
Scientists have uncovered what they say is the largest dinosaur graveyard in the world.
The 2.3-square-kilometer area - roughly the size of 280 soccer fields - near the town of Hilda, Alta. in northern Alberta contains thousands of bones belonging to a horned dinosaur called the centrosaurus.Technically, it's not a brand new discovery as researchers came across the site more than a decade ago. But the official confirmation of the graveyard will be published in the book, New Perspectives On Horned Dinosaurs, this month. The findings were announced by the Royal Tyrrell Museum.

Museum researchers said that the site offered the first solid evidence that certain horned dinosaur herds were bigger than earlier thought, and that their populations reached into the high hundreds to low thousands. "Data from this mega bonebed provide pretty clear evidence that these, and other dinosaurs, were routinely wiped out by catastrophic tropical storms that flooded what was once a coastal lowland here in Alberta, 76 million years ago," says David Eberth, Senior Research Scientist at the Royal Tyrrell Museum, the lead author on the study.

He suggested that the animals' lack of awareness of its surroundings would have made them vulnerable as frequent tropical storms that buffeted the region during prehistoric times.

The centrosaurus was a grass-eating dinosaur, and with its horny head plate bore a resemblance to the triceratops. It was also slow-witted and would have found it challenging to survive the frequent flooding that would inundate a generally flat region.

"It's unlikely that these animals could tread water for very long, so the scale of the carnage must have been breathtaking," says Eberth. "The evidence suggests that after the flood, dinosaur scavengers trampled and smashed bones in their attempt to feast on the rotting remains."
Thanks for reading CBS NEWS.
Create your free account or log in
for more features.