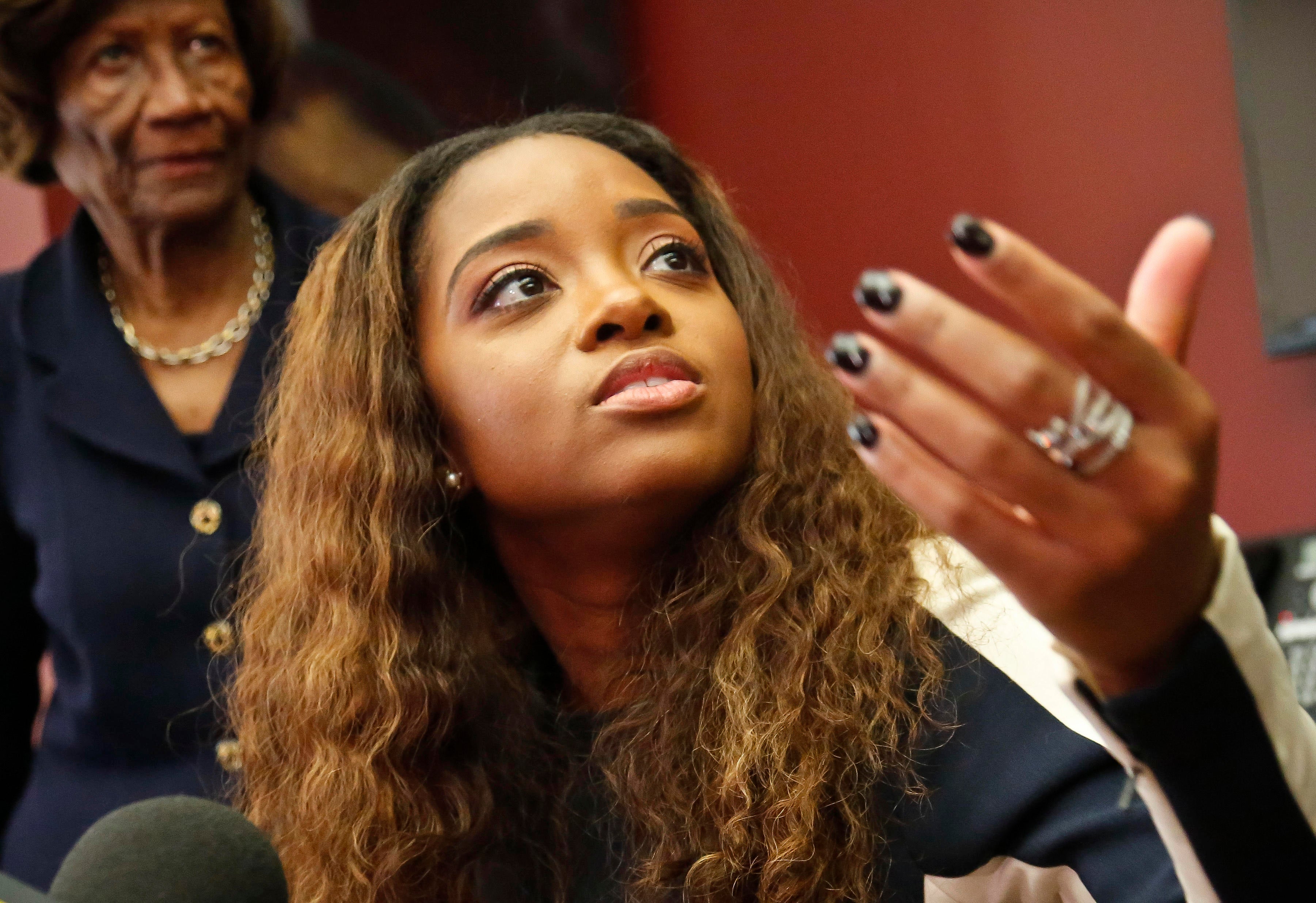 Women's March leader Tamika Mallory defends relationship with Farrakhan
A prominent activist and central organizer of the Women's March is refusing to condemn Louis Farrakhan, the anti-Semitic leader of the Nation of Islam.
Tamika Mallory, one of the four main organizers of the Women's March, is a regular attendee at the Nation of Islam's annual "Saviour's Day" event. She has also repeatedly and lavishly praised Farrakhan on social media, and Farrakhan has returned the favor, complimenting her during his February Saviour's Day speech.
In that same speech, Farrakhan also said that Jews control the media, Hollywood, the FBI, most of Europe, and Mexico, according to the Anti-Defamation League. The "white people running Mexico are Mexican-Jews," Farrakhan told the crowd.
In a Wednesday post for Newsone, Mallory defended her association with Farrakhan. "I didn't expect my presence at Saviour's Day to lead anyone to question my beliefs, especially considering that I have been going to this event regularly for over 30 years," she wrote.
"I first went with my parents when I was just a little girl, and would begin attending on my own after my son's father was murdered nearly 17 years ago. In that most difficult period of my life, it was the women of the Nation of Islam who supported me and I have always held them close to my heart for that reason."
Also on Wednesday, Farrakhan tweeted, "The FBI has been the worst enemy of Black advancement. The Jews have control over those agencies of government."
Farrakhan is a controversial figure due to his comments about Jews, gays, and others, as well as allegations that he was involved in the assassination of Malcolm X. Supporters see him as a civil rights champion and religious leader. Critics say that he is a hate-driven false prophet of a sometimes-violent cult. He has called Nazi dictator Adolf Hitler "a great man" and said, in reference to Jews, "When it's God who puts you in the ovens, it's forever!"
"White folks are going down. And Satan is going down. And Farrakhan, by God's grace, has pulled the cover off of that Satanic Jew and I'm here to say your time is up, your world is through," he said at last month's Saviour's Day speech in a characteristic comment.
Yet despite Farrakhan's lengthy record of anti-Semitic comments, his following also gives him a degree of political clout. In 2005, for example, then Sen. Barack Obama took a photo where he and Farrakhan smiled after a Congressional Black Caucus event. The photo was published by Talking Points Memo in January.
Minnesota Democratic Rep. Keith Ellison, who has since denounced Farrakhan, was involved with the Nation of Islam for roughly a decade between the late 1980s and 1990s. California Democratic Rep. Maxine Waters has reportedly attended Farrakhan's speeches. And Illinois Democratic Rep. Danny Davis recently defended Farrakhan in an interview with The Daily Caller.
"The world is so much bigger than Farrakhan and the Jewish question and his position on that and so forth," he told the website. Davis has also called Farrakhan an "outstanding human being."
Mallory has repeatedly refrained from criticizing Farrakhan or his views while still insisting she is not a bigot.
"I have heard the pain and concerns of my LGBTQAI siblings, my Jewish friends and Black women (including those who do and those who don't check off either of those other boxes.) I affirm the validity of those feelings, and as I continue to grow and learn as both an activist and as a woman, I will continue to grapple with the complicated nature of working across ideological lines and the question of how to do so without causing harm to vulnerable people," she wrote at Newsone. She signs the article "Tamika D. Mallory, Freedom Fighter."
Mallory has become a high-profile progressive activist since the first Women's March in 2017. "The Women's March was the most inspiring and transformational moment I've ever witnessed in politics," Sen. Kirsten Gillibrand wrote at the time. "And it happened because four extraordinary women — Tamika Mallory, Bob Bland, Carmen Perez and Linda Sarsour — had the courage to take on something big, important and urgent, and never gave up."
Since then, Mallory, Perez, and Sarsour have come under scrutiny for views that critics say are extreme. Sarsour, for example, has praised Assata Shakur, a convicted murderer and would-be revolutionary believed to be hiding in Cuba.
Perez, like Mallory, is also an outspoken fan of Farrakhan, who she says speaks "truth to power." In 2016, she posted a photo of her holding hands with Farrakhan on her Instagram page.
"There are many times when I sit with elders or individuals where I think, I just wish I could package this and share this moment with others," Perez wrote on the post.
Thanks for reading CBS NEWS.
Create your free account or log in
for more features.