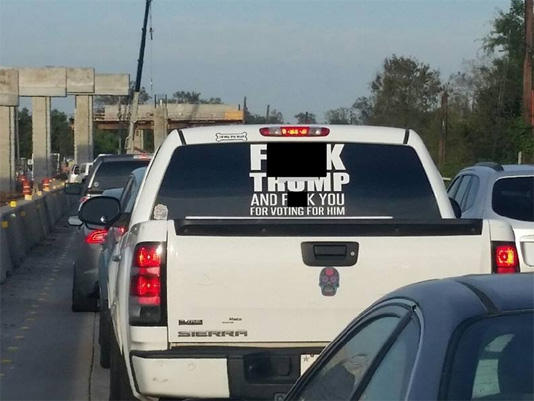 Woman with crude anti-Trump truck decal arrested for fraud
DALLAS -- The driver of a pickup displaying an expletive-filled message to President Donald Trump and his supporters in the Houston area was arrested Thursday on an outstanding warrant.
Fort Bend County Sheriff's Office records show Karen Fonseca was arrested about 2 p.m. Thursday on an outstanding fraud warrant issued in August by the Rosenberg Police Department. She was in the county jail Thursday night with bond set at $1,500.
Fonseca was released from jail Thursday night after her husband posted her bond, CBS affiliate KHOU reported.
"I'm almost certain it does have to do with (the truck decal)," she said after her release. "People abuse the badge, and in my opinion, money talks. When you're in politics, people know how to work the system."
A sheriff's spokesman has not answered a message seeking details behind the warrant.
Fort Bend County Sheriff Troy Nehls had threatened Fonseca with a disorderly conduct charge over the decal. However, District Attorney John Healey said he didn't think it would have been a prosecutable case.
Fonseca had said she would not remove the decal. She said she had been stopped by law officers, but that they have no grounds to issue a citation.
"It's not to cause hate or animosity," the 46-year-old Fonseca told the Houston Chronicle. "It's just our freedom of speech and we're exercising it."
Nehls on Wednesday posted a photo of the truck message on Facebook alongside a request to speak with the driver.
Nehls in his post said that a county prosecutor told him the message could warrant a misdemeanor charge of disorderly conduct. But at a news conference later Wednesday, he seemed to back away from that idea. Nehls said he supports freedom of speech but worried that profane messages could incite others and lead to confrontations that would disturb the peace he's pledged to keep.
A spokeswoman for the sheriff's office, which covers the county just southwest of Houston, said Thursday that Nehls' post was removed once the pickup driver was identified.
"Due to the hate messages he has been receiving toward his wife and children, the sheriff will not be commenting on the matter further," spokeswoman Caitilin Espinosa said by email.
The American Civil Liberties Union of Texas posted on Facebook that Fonseca's message is protected speech and urged her to reach out to the organization. The ACLU noted a 1971 U.S. Supreme Court case that overturned the conviction of a man for disturbing the peace for wearing a jacket with an expletive as part of an effort to protest the military draft and the Vietnam War.
A woman who raised her middle finger in October to Trump's motorcade as it passed her in Virginia was fired from a government contracting firm for violating the "code of conduct policy." But the Texas case differs in that a government entity threatened punitive action for vulgar material directed at the president.
Lynne Rambo, a law professor at Texas A&M University specializing in the First Amendment, said Thursday that the 1971 Supreme Court case made two points clear: the state's attempt to regulate profanity or civil discourse is not a sufficient reason to justify restricting speech, and profane language directed at a specific person is different from vulgar content that's broadly disseminated.
"It's state action to threaten as (Nehls) did and he really ought to know First Amendment law better than that," Rambo said.
Fonseca says the message has been on the rear window of the pickup for nearly a year and it'll stay there for the time-being.
"There's no law against freedom of speech, nothing in the law book here in Texas," she told KHOU. "I've been stopped numerous times, but they can't write me a ticket."
Thanks for reading CBS NEWS.
Create your free account or log in
for more features.