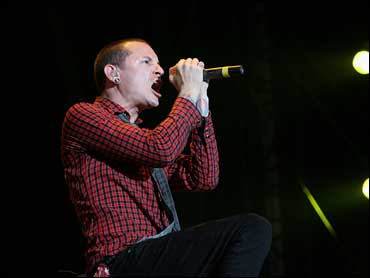 Woman Used Govt. Computers To Stalk Singer
A former national laboratory worker has admitted that she used government computers to access the e-mail account of Linkin Park lead singer Chester Bennington and hacked into a cell phone company's Web site to obtain his phone number.
Devon Townsend, 28, appeared Friday before U.S. Magistrate Judge Robert Scott and pleaded guilty to charges including stalking and unlawful access to stored communications.
Townsend faces up to five years in prison and fines up to $250,000 for each count. A sentencing date has not been scheduled. Townsend's lawyer, Ray Twohig, did not return messages Friday.
Townsend, who worked in Sandia National Laboratories' technology and manufacturing group, used lab computers to access private information about Bennington and his wife, Talinda, from January 2006 to November 2006.
According to a plea agreement filed Friday, Townsend said she was able to access family photos, information about a new home bought by the Benningtons, the couple's travel plans, and correspondence between Warner Bros. Records and Linkin Park's business attorney — including a copy of a check made to Bennington from the record company and a copy of the band's recording contract.
Townsend also accessed the couple's cell phone accounts online and was able to download digital phone pictures and monitor voice messages.
"On at least one occasion, knowing that Chester Bennington was in Arizona, I traveled to Arizona solely for the purpose of trying to see him," Townsend said in the plea agreement. "While I was there, I monitored Chester Bennington's voice mails as a means of trying to locate where he might be eating dinner or lunch."
Investigators said Townsend also hacked into the e-mail of Bennington's wife and at one point called the former Playboy model and threatened her.
Court documents also said investigators searched Townsend's home in Albuquerque and found Linkin Park posters, autographed band memorabilia, pictures of Townsend with Chester Bennington, bootlegged Linkin Park music, and copies of messages and photographs intercepted from the Bennington family's e-mail accounts.

Thanks for reading CBS NEWS.
Create your free account or log in
for more features.