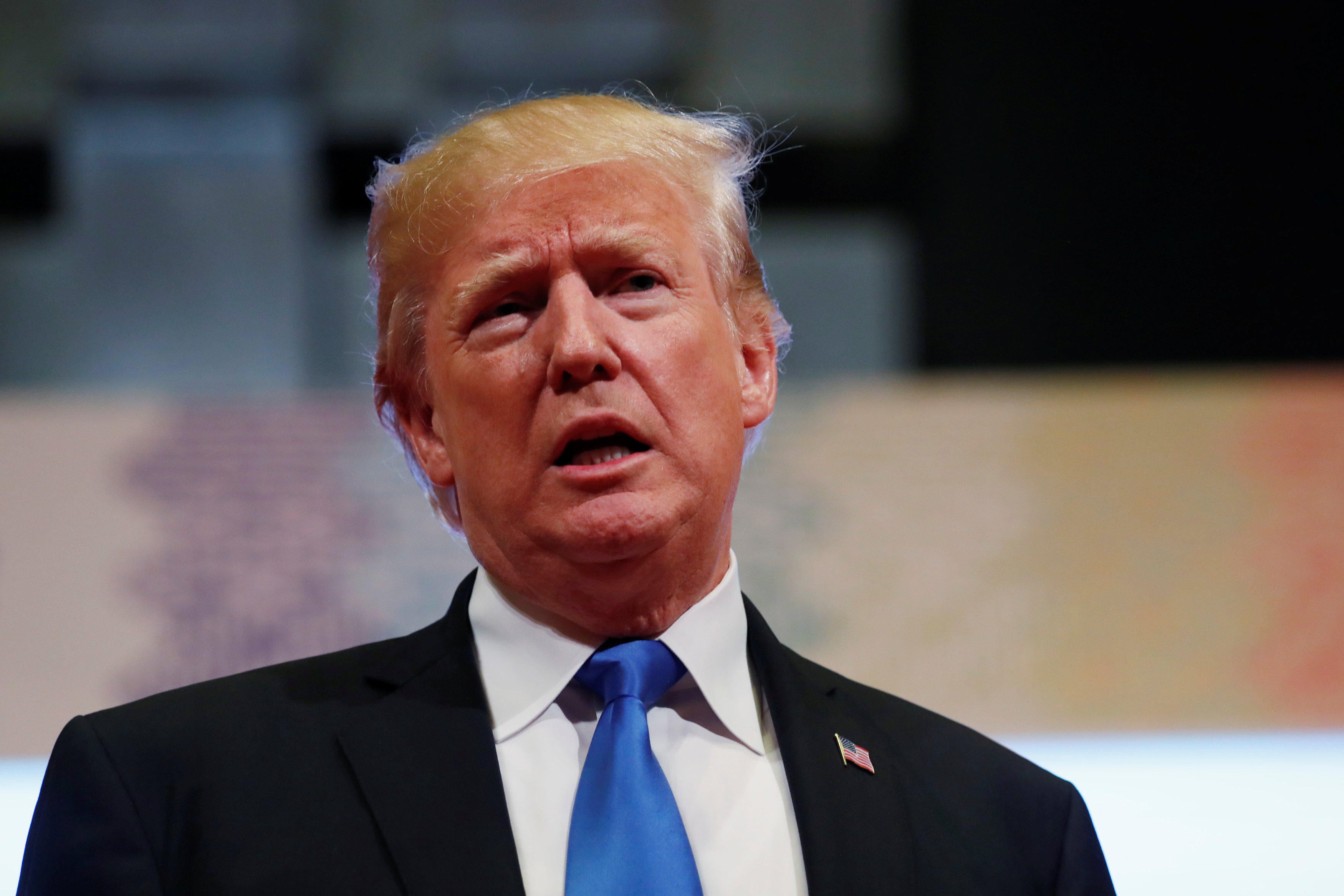 Will Trump try to push Roy Moore out of Alabama Senate race?
WASHINGTON — President Donald Trump spent five days in Asia largely keeping the Alabama Senate scandal at bay. He won't be so lucky on U.S. soil.
The president returned to Washington on Tuesday night and walked straight into a party panic over the sexual misconduct accusations dogging GOP Senate candidate Roy Moore. Having pushed publicly and privately for Moore to get out of the race, Republicans believe their last best shot is Trump, who they hope can persuade his fellow political rebel to fall in line.
"Obviously, I have made a few people mad. I am the only one who can unite Democrats and Republicans because I seem to be opposed by both," Moore said at an event Tuesday night in Alabama. "They've spent over $30 million dollars trying to take me out. They've done everything they could and now they are together to try and keep me from going to Washington and why?"
Trump has given little indication of whether he's interested in playing the role of party heavy. Press secretary Sarah Huckabee Sanders has echoed other Republican leaders, saying last Friday that Moore should step aside if the allegations are true. But as other Republicans began to call for Moore to quit the race, Trump was notably silent in public. On Tuesday, he didn't address the issue when he spoke with reporters aboard Air Force One as he flew back to Washington, nor did he respond to shouted questions about Moore as he entered the White House that night.
For Trump and Republicans, there are no good options. If Moore wins, they can either spend an already harrowing midterm election cycle defending their new colleague, or overturn the will of Alabama voters by casting him out of the Senate. If Moore loses and the seat flips to Democratic control, the party loses a critical vote in its razor-thin Senate majority, with issues like tax reform and immigration set to be considered in the coming months.
"I have to get back into the country to see what's happening," Trump told reporters over the weekend as he flew from Danang, Vietnam to Hanoi during his five-nation tour of Asia.
But behind the scenes, he was vexed by the issue. In an interview with the Wall Street Journal on Tuesday, Senate Majority Leader Mitch McConnell said Trump had been involved in dealing with the Moore situation "in great detail" during the trip. McConnell said he and Trump discussed the question on Friday, with chief of staff John Kelly and Vice President Mike Pence weighing in on subsequent days.
Trump's 12-day trip, the longest of his presidency, was quickly overshadowed at home by the shocking accusations of sexual assault on minors by Moore, who was embraced publicly by the White House last month after winning the state's GOP primary.
The revelations dominated cable news for days, as Moore denied the allegations and pledged to stay in the race.
Even Chinese President Xi Jinping was drawn in. "Who is Roy Moore?" Xi asked Trump privately after they delivered joint statements to reporters, in a moment described by two White House officials not authorized to speak publicly about private conversations.
GOP officials cautioned that the actions of Washington Republicans, including the president, were unlikely to affect Moore's decision-making — and that any moves against him could backfire in an anti-establishment political environment.
The president backed Moore's unsuccessful rival, Sen. Luther Strange, in the Republican primary. Moore has the backing of Trump's former chief strategist, Steve Bannon. And Bannon's conservative news site, Breitbart, has led the charge in trying to discredit the allegations against Moore.
Bannon is revisiting his support for Moore, the candidate he has championed for the Alabama U.S. Senate seat, CBS News confirmed Tuesday, citing a source close to Bannon.
One person familiar with the president's thinking said Trump has been slow to call for Moore to exit the race in part because he risked embarrassment if, as expected, Moore defied him.
On Tuesday, the Republican National Committee halted its efforts on Moore's behalf, following similar action by the National Republican Senatorial Committee on Friday. Three Republicans familiar with the RNC's decision, but not authorized to discuss it publicly, said Trump signed off on the move to cut Moore loose
Fox News' Sean Hannity, who endorsed Moore in September, is now questioning Moore's explanations. On "Hannity" Tuesday, Hannity questioned inconsistencies in Moore's answers to his accusers.
"He denied knowing this fifth accuser, but this accuser has brought forth a yearbook that Moore appeared to sign, 'To a sweeter, more beautiful girl, I could not say Merry Christmas. Love, Roy Moore, DA.'"
And then, Hannity delivered an ultimatum to Roy Moore:
"Here's where I am tonight, between this interview that I did and the inconsistent answers, between him saying I never knew this girl and then that yearbook comes out," he said. "For me, the judge has 24 hours. You must immediately and fully come up with a satisfactory explanation for your inconsistencies that I just showed. You must remove any doubt. If you can't do this, then Judge Moore needs to get out of this race."
Moore was already a pariah among national Republicans even before the recent allegations of inappropriate contact with minors. A twice-removed state judge, Moore's anti-gay and anti-Muslim rhetoric have long repelled the GOP mainstream.
McConnell has openly floated the possibility of having Attorney General Jeff Sessions, whose move from the Senate to the Cabinet necessitated the special election, run for his old seat as a write-in candidate.
A source close to Sessions says he has told friends he is not interested in returning to the Senate.
CBS News' Alan He and Musadiq Bidar contributed to this report.
Thanks for reading CBS NEWS.
Create your free account or log in
for more features.