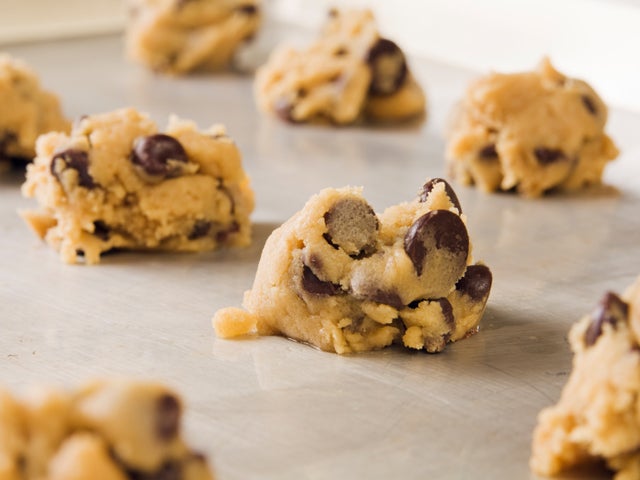 Why the FDA is warning you not to eat raw cookie dough
Do you ever polish off a spoonful of raw cookie dough while baking, or let your kids lick the last bit of batter out of the bowl?
If you answered yes, you should definitely stop, the U.S. Food and Drug Administration warns.
Eating raw dough or batter, whether it's for cookies, bread, or pizza, could make you and your family sick. The reason is because flour, no matter which brand, can contain disease-causing bacteria.
"Flour is derived from a grain that comes directly from the field and typically is not treated to kill bacteria," Leslie Smoot, Ph.D., a senior advisor in FDA's Office of Food Safety and a specialist in the microbiological safety of processed foods, said in a statement.
The FDA, CDC, and state and local officials are currently investigating an outbreak tied to flour that sickened dozens of people across the country. Inspectors found that some of the patients had eaten or handled raw dough made with General Mills flour produced in a Kansas City, Missouri, facility. Tests confirmed the link between the presence of a strain of bacteria called Shiga toxin-producing E. coli O121 in a flour sample to the people who became ill.
General Mills voluntarily recalled 10 million pounds of flour sold under the brand names Gold Medal, Signature Kitchen's, and Gold Medal Wondra. The products include unbleached, all-purpose, and self-rising flours.
Flour has a long shelf-life and consumers are urged to throw these items away if they're present in their home.
Some of the recalled flours had been distributed to restaurants that give children raw dough to play with while waiting for meals. The FDA advises restaurants not to give customers raw dough and consumers should refuse if offered.
While most people understand there's a risk of Salmonella associated with consuming dough due to raw eggs, many may not realize there are additional bacterial contamination risks, the FDA says.
If farm animals produce waste, for example, bacteria from their feces could contaminate the grain in the field, which is then harvested and milled into flour.
Raw dough could transmit these pathogens if eaten. But cooking the dough -- including baking, roasting, boiling, microwaving or frying -- kills the bacteria.
Symptoms of E. coli include diarrhea, which is often bloody, and abdominal cramps, although most people recover within a week. Some illnesses last longer and can be more severe, potentially resulting in kidney failure called hemolytic uremic syndrome (HUS).
The FDA offers the following tips for safe handling of raw dough:
Do not eat any raw cookie dough, cake mix, batter, or any other raw dough or batter product that is supposed to be cooked or baked.
Follow package directions for cooking products containing flour at proper temperatures and for specified times.
Wash hands, work surfaces, and utensils thoroughly after contact with flour and raw dough products.
Keep raw foods separate from other foods while preparing them to prevent any contamination that may be present from spreading. Be aware that flour may spread easily due to its powdery nature.
Follow label directions to chill products containing raw dough promptly after purchase until baked.
Thanks for reading CBS NEWS.
Create your free account or log in
for more features.