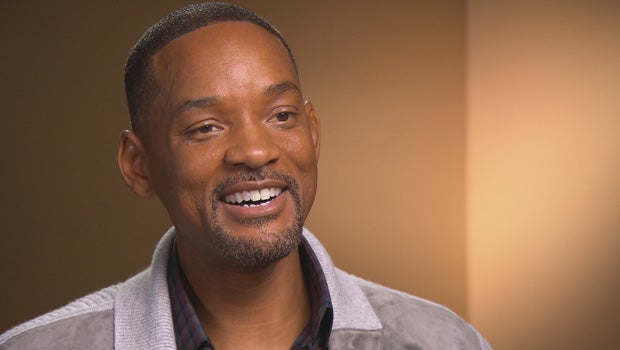 ​Why Will Smith tackled "Concussion"
We posed questions this morning to Will Smith, whose latest movie is about the risk of concussion from playing football. He'll be directing his answers to our Tracy Smith:
What bothered Will Smith most about taking on the role in his new film, "Concussion"?
"I'm a football dad. And my son, Trey, played for four years at Oaks Christian, which is a football powerhouse. And it was just one of the most beautiful times in my life, as a parent -- the bonding, the excitement for the family, the Friday night lights, all that. I loved it.
"So, you know, when I received this screenplay, I was really conflicted. I really don't want to be that guy, the guy who reveals that playing football could potentially cause brain damage."
In "Concussion," Smith is Dr. Bennet Omalu, the Nigerian-born pathologist who found out what kind of damage those repeated hits can do to a football player's brain, and -- in the film anyway -- made some people in the NFL very angry indeed.
Dr. Cyril Wecht (Albert Books): "They're terrified of you. The NFL owns a day of the week -- the same day that church used to own. Now it's theirs!"
Was Smith worried about taking on the National Football League?
"I'm not expecting to be invited to the Super Bowl next year!" he said. "Denzel will probably get my tickets this year. But after meeting Dr. Omalu and after getting up to speed on the science, I felt solid that I'd be willing to take whatever I had to take to deliver the information."
Truth is, he's been up for a challenge all of his life.
Will Smith was already a successful recording artist when he was tapped to star in a TV series, "The Fresh Prince of Bel Air." He had zero acting experience, but it wasn't much of a stretch to see him play a wisecracking teenager.
But "Six Degrees of Separation" WAS a stretch. Smith played a social-climbing street hustler, and he got so into the role he had a tough time getting out of it.
"So my character was in love with Stockard Channing," he recalled. "So the movie ended and all that. And I go home and I'm a newlywed and I have a six-month-old baby. And I sit there. And my mind is drifting, thinking about Stockard. I was like, (GASP), and I realized that I had fallen in love with Stockard Channing! Me, Will, had fallen in love with Stockard. And I'm, like, dying and yearnin'. I'm a be outside a hotel room, 'Hey, hey, Stockard, hey! Hey, girl what you doin'?!'"
"But that's good acting," said Tracy Smith.
"Nooooo, that's terrible acting," he replied. "That's not acting at all!"
His goal back then: to be the biggest movie star in the world.
Did the star of "Men in Black" think it was a little audacious to say that? "Yes. But I think it's as audacious as saying, 'Hey, what if we take this metal and wrap it and put some stuff out on the sides and fly it over the ocean?'"
"So you have to be audacious, you have to dream big, in order for it to happen?"
"Yeah, I feel like, I made up what I call 'a new old saying': being realistic is the most commonly-traveled road to mediocrity."
There must be something to that: Smith has two Academy Award nominations for Best Actor (for "Ali" and "The Pursuit of Happyness").
And for most of the past 20 years, few other actors have packed a bigger box office punch. 1996's "Independence Day" alone grossed more than a quarter-billion dollars. In fact, Will Smith is the only actor ever to star in eight consecutive number-one films.
Did that track record make him feel infallible?
"Yes," he said. "Definitely felt that I couldn't miss. And that perspective got corrected a little bit! It got corrected. Like, 'Ooh, shoot, I can miss when I shoot!'"
And 2013's "After Earth," which also starred his son, Jaden, was one of those misses.
"It's one thing [if] it doesn't go right with you. But then when it doesn't go how you want with your kids, I was devastated."
"So did you get into a funk?"
"I was in a funk for those three days," he said. "And then that Monday morning I got a call that my father had been diagnosed with cancer. And it was, like, 'Got it. I understand.' Perspective. Crystal clear."
And maybe that explains why the 47-year old Smith wanted to do "Concussion." In the movie, Smith's character is vilified after he went public with his research.
The real Dr. Bennet Omalu says it's all true.
"I was bruised, battered, marginalized, ridiculed, dismissed, pretty much asked to shut up," said Dr. Omalu. "They wanted to exterminate me professionally by requesting that my paper be retracted."
"They wanted to exterminate you professionally, just wipe out your career basically?" asked Tracy Smith.
"Yes. If your scientific paper is retracted, you're finished."
Dr. Omalu says the film is true to every detail, down to the way he talks.
Smith says he listened to Omalu's voice: "It's a lot more round."
"This is not just a film about football; this is not just a film about concussions. This is your life story. What do you want people to take away from that?"
"What people want to take away is that we are one family," said Dr. Omalu. "We are one love. We are one hope. We all need to be joyful people, 'cause life can be wonderful if we choose to make it wonderful."
"Nicely put."
"I don't think I'm gonna try to top that!" Will Smith laughed.
But he may try to top himself: for Will Smith, being a huge movie star just might not be enough.
"There's a contribution to the world inside of me that I can't reach," he said. "There's a thing that I'm supposed to be doing. There's a person that I want to be that I always saw the reflection in my grandmother's eyes, you know, of what it is, but I can't reach that thing. There's so much more that I feel that I have to offer that I can't access in myself," he said.
"Still now?"
"Still now. Absolutely."
"Any idea how that's gonna come out?"
"If people keep saying all the crazy kind of stuff they've been saying on the news lately about walls and Muslims, they're going to force me into the political arena."
"What are you gonna run for?"
"I mean, I gotta be the president, you know?" said Smith. "Come on! Keep it real. How you gonna ask me that? You know, what else would I run for?"
Audacious? Sure. But leave it to Will Smith to think big.
To watch a trailer for "Concussion," click on the video player below.
For more info:
Thanks for reading CBS NEWS.
Create your free account or log in
for more features.