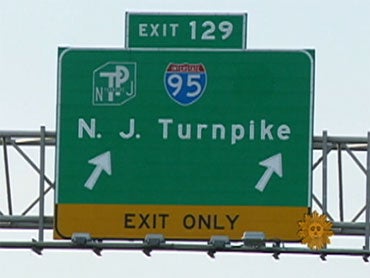 Why does New Jersey get no respect?
MTV's "Jersey Shore" is a show audiences love, but critics - not so much. Sometimes it seems the same goes for New Jersey itself: It's a Rodney Dangerfield State that gets no respect . . . a state of affairs Mo Rocca means now to correct:
In "Sleeper," Woody Allen declaimed, "I believe there's an intelligence to the universe, with the exception of certain parts of New Jersey."
George Carlin directed attention to the state's nickname: "I say let them put it right on the license plate, 'NJ, the Tollbooth State.' What does it say now, the Garden State? Sure if you're growing smokestacks, yes."
The "Jersey joke" has been around at least a hundred years, even in song. ("I could say some nasty things about New Jersey. But once my darling mother said, 'Don't speak unkindly of the dead.'")
But even the grittiest Garden Stater must be taken aback by the latest superfund of sleaze to get dumped on the state - reality shows "Real Housewives of New Jersey," and most toxic of all, MTV's "Jersey Shore," starring Snooki and The Situation.
So what did New Jersey do to deserve this?
"Benjamin Franklin said, 'New Jersey is like a barrel tapped at both ends,'" said Michael Rockland, a professor of Jerseyana at New Jersey's Rutgers University.
"New Jersey's caught between two major cities, New York and Philadelphia," said Rockland, "and it's always been fashionable in both of those places to put down New Jersey. We're their country cousins, if you will."
So what is New Jersey's actual "situation"?
For starters, New Jersey is an economic powerhouse - the second richest state in the U.S., a leader in pharmaceuticals, telecom and . . . agriculture.
In fact, 15% of the Garden State is working farmland, ranking 10th in sweet corn production, 8th in tomatoes, 4th in bell peppers, 3rd in cranberries, 2nd in blueberries . . .
. . . and 1st in this unenviable category: New Jersey gets less back for every dollar in federal taxes paid than any state in the union.
Now THAT'S a joke.
And what about that stereotype that Jersey's a state of knuckleheads?
If you don't think any bright ideas came out of New Jersey, think again. Thomas Edison patented his famous light bulb right here. And Meryl Streep's a Jersey girl.
New Jersey certainly has poverty, most of it isolated in cities like Camden and Newark. But for the most part, life in New Jersey is good . . . very good.
"New Jersey's a great place for the middle class, it really is," said Rockland.
This explains the miles and miles of car dealerships and strip malls.
Yes, New Jersey IS our most densely populated state; no surprise, it also has the most diners.
But it's also got mountains and lakes and lots of pretty things. And a full 22% of the state is the Pine Barrens - virtually unpopulated forest, with some of the purest water in the U.S.
John Ekdahl is the mayor of Rumson, a historic town nestled on the Navesink River that's a far cry from TV's picture of Jersey.
We visited a horse farm. Rocca wondered if the horses knew where they were.
"I think they know they're in New Jersey," said Mayor Ekdahl.
"And they're not trying to leave?"
"No, they like it here!"
"It's very, very pretty," said Rocca, incredulously. "This is New Jersey, right?"
Now, the Jersey shore of MTV is shot in Seaside Heights, which in actuality is pretty much like the "Jersey Shore" of MTV - where people "get tattoos, get drunk, go out, go to the bars."
But the shore is 127 miles long, most of it with nary a trace of honky-tonk.
So why do people think New Jersey's so ugly?
Maybe we should blame the Turnpike, the highway that provides millions just passing through with views of Jersey's gray side.
David Chase, creator of "The Sopranos," the landmark television series set in New Jersey, grew up in the state, only 16 miles from Manhattan's skyline.
"See, I love all that," he told Rocca. "That's what I love about New Jersey, is all that stuff: The Meadowlands, the trucks, the factories. To me, I like it. I used to come back with my parents, through that on those roads and all those lights and big refineries and stuff, dark water gleaming and reflecting it all. To me it was like whoosh! I thought that was so powerful and pretty."
"Used to be, we were defensive," said Rockland. "Now, people thump their chest and say, 'I live in New Jersey. You don't like it? Lump it.'
"Yeah, we are the tollbooth capital of the world - so what?"
Just listen to the state's unofficial poet laureate, Bruce Springsteen.
Chase said, "I think he made something very extremely American and mythical American. And people knew he was from New Jersey. And it felt like New Jersey. You know, 'Born to Run' is hard to beat. It's a funny song, because it's about getting out, and yet it makes life there sound so appealing in a way, if you're a kid, you know?
The amusement park rises bold and stark,
Kids are huddled on the beach in a mist.
"Who wouldn't want to be there?" said Chase.
Could be that all this attention on New Jersey is a tribute - to a state that's unfiltered, that doesn't care what others think.
. . . that's proud of its tollbooths.
For more info:
Thanks for reading CBS NEWS.
Create your free account or log in
for more features.