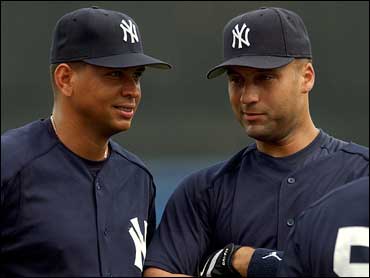 Why Do Baseball Players Make So Much?
Baseball plays out from one end of the country to the other — from one end of the lifespan to the other. It's a game, a sport and a pastime.
But at the highest levels, it is a $6 billion a year business where the extraordinary skill and talent of the best reaps once unimaginable rewards. The minimum wage in major league baseball is almost $400,000 more than half the players make $1 million or more. New York Yankees' third baseman Alex Rodriguez takes in $25 million — some 500 times what a teacher or a cop or a paramedic makes.
"My wife's a school teacher, and she works 12 hours a day, 10 months a yearand she doesn't make a whole lot of money," baseball fan Tom Nighe told CBS News correspondent Jeff Greenfield. "And it is sort of disheartening to see a ballplayers make the kind of salary they do when a teacher doesn't make what they really deserve."
The force behind many of the most lucrative baseball contracts is sports agent Scott Boras who works at a high-tech ultra-contemporary fortress in Newport Beach, Calif.
Boras never made it past the middle reaches of the minor leagues. But, at 54, he arguably does more to shape the outcome of a major league season than a dozen all stars with far more firepower than the negotiators he's up against. He says his staff of 40 people crunches numbers with a multimillion dollar database that teams just don't have.
"This is something actually we did back in 2000 with Alex Rodriguez, where we create these treatises where we try to give people an idea about the talent of a player," he said.
---

Photos: Baseball's Richest Players

---
Boras is more appropriately called a baseball agent — baseball players are the only athletes he represents. His office is festooned with celebrations of his clients—best pitchers, best fielders and most valuable players. His profession — or craft — or calling — has been portrayed on the big screen, in "Jerry Maguire", with one of the best known lines in modern movie history: "Show me the money!" But Boras says no player has actually ever done that.

Maybe it's because they don't have to. When Oakland A's pitching ace Barry Sito went across the bay to the San Francisco giants for $126 million; when Red Sox idol Johnny Damon left for the hated New York Yankees for $52 million; when the Red Sox signed Japanese pitching star Daisuke Matsuzaka for $52 million — those were all Scott Boras deals.

And — most famously, or infamously — when Alex Rodriguez — who is making a $250 million over 10 years — joined the New York Yankees — Boras was the man pulling the strings.

"He has the most important quantity going into the negotiation," New York Post sports columnist Joel Sherman said. "He has a finite talent. And then, better than anyone else, he knows how to use time. He's willing to draw out the negotiating process. He has a steel gut and he knows it's musical chairs. Somebody's gonna be left without star players at the end, and money in their pockets."

But for most of Major League Baseball's history, players were paid a small fraction of their worth. They were indentured servants, bound for the length of their careers to the teams that signed them.

"My average salary for eight years in the big leagues came out to $19,500," said former Yankee pitcher Jim Bouton. "We weren't making enough to pay our bills year round. That's why during the off-season, guys had to get jobs. So to show you how desperate we were a bunch of us got together—a basketball team and we would play high school faculties in the New York area for $50 a man. "

But in the mid-1970s, decisions by courts and labor arbitrators freed ballplayers to bargain for their value in the marketplace. And one team, more than any other, has been defined by its willingness — at times its eagerness to play big spender.

Yankee stadium is ground zero of the idea that money can buy success — where it's utterly appropriate that the general manager of the New York Yankees Brian Cashman is called "cash-man." No team spends more, year after year, buying up the best — or at least, the most costly — talent in the game.

"They've had the highest payroll in baseball for however many years," Bouton said. "They haven't won a world series in what? Six or seven yeas now?"

Not since the 2000 season to be exact, despite a yearly payroll nearing — at times exceeding — $200 million. But Boras says money doesn't buy world championships.

"The probability of being in the payoffs is greater if you spend money. That's proven," he said. "But other than that the game is — the game has a great mystery to it."

But if you want another side to the story, you need to leave baseball's Fort Knox, and head west 3,000 miles, and $120 million a year away to Oakland, Calif, where a baseball executive has become something of a legend by turning his cash-starved team into a consistent contender."

Billy Beane, 45, like Boras, is a former ballplayer. But for the last decade, as general manager of the Oakland A's, he has defied the idea that money guarantees on-field success. His $80 million payroll is less than half of the Yankees,' but his team is almost always in the hunt.

"There's an optimum amount of dollars that you can spend or maybe need to spend to get to the playoffs," he said. "Anything you spend over that is, you know, you're really gaining very little."

Instead, as the best-selling book "Moneyball" described it, Beane ploughs through overlooked statistics to find undervalued players. He gets help from unlikely sources.

"I've got a young man working for me who holds a Ph.D. in behavioral economics from Cal Berkeley and was an MIT undergrad," Beane said.

Sherman says Beane doesn't fall in love with players as people but rather sees them as stocks which will rise and fall in value. But despite their on-field achievements, the A's are lucky to draw 2 million fans a year. By contrast, the Yankees, for all their struggles this season, are still by far the most dominant baseball franchise and not just because they are the only team to have made the playoffs for a dozen years straight.

"For the first time in their history they've dawn over 4 million fans," Sherman said. "They're gonna draw 4 million fans again this year. They started their own network. Their marketing arm is tremendous."

Still, among those who play ball for free and who work day jobs for much smaller paychecks, there is a larger question: is there something off-kilter about a society where a ballplayer makes 500 times what a teacher or cop or paramedic makes?

"Does anybody go to a movie and go 'Man, Tom Cruise is making $25 million for this movie and this is his performance? Al Pacino's making this? Julia Roberts is making this? Cameron Diaz is making this?'" Sherman said. "What is it about baseball players? If you're asking me 'Is society messed up?' Yeah, society's messed up. We put a lot into celebrity, fame and sports. But we've decided as a culture that we like our leisure time. We like our free time, and we're willing to pay those people and pay a lot to go see those people."

Sooner or later, Boras said the ballplayers will be making even more money. He expects the $30 million player is on his way.

"And in years to come there'll be 40," he said.
Thanks for reading CBS NEWS.
Create your free account or log in
for more features.