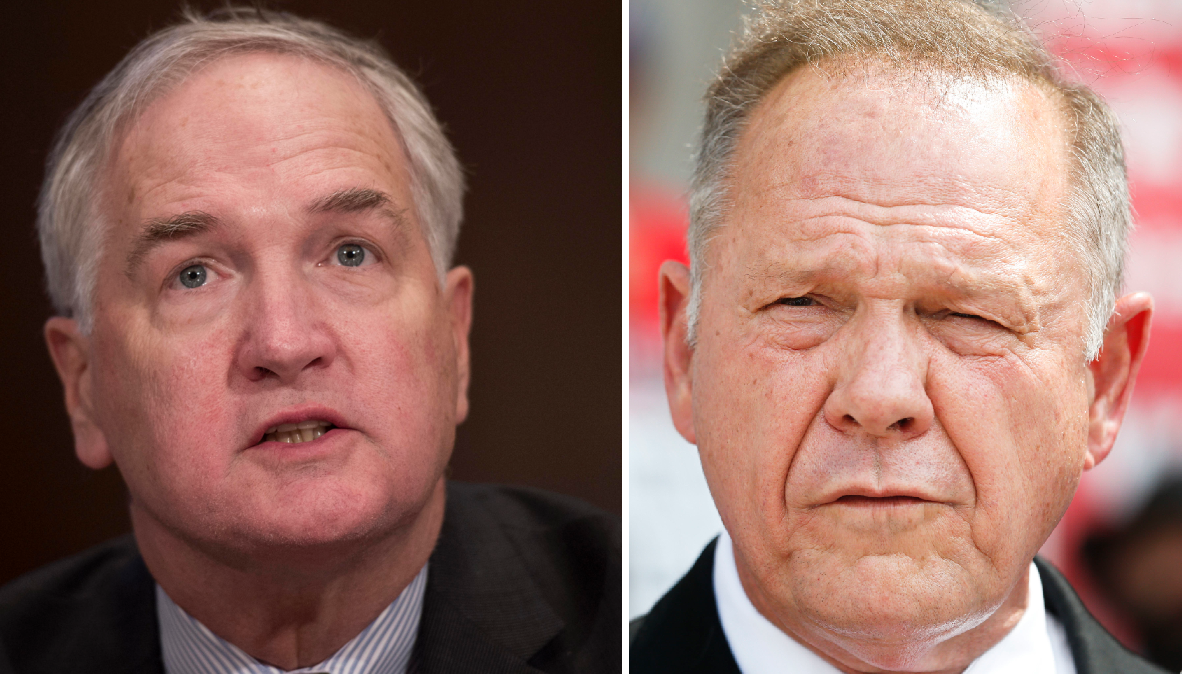 Who's endorsed whom in the Alabama Senate race?
The runoff special election for the U.S. Senate seat in Alabama is Tuesday night and President Trump will head to Alabama to rally for GOP incumbent Sen. Luther Strange on Friday evening.
Strange has served in the Senate, since early February after then-Gov. Robert Bentley appointed him to the seat that was previously held by Jeff Sessions, who went on to become Mr. Trump's attorney general. Strange has also served as Alabama's attorney general from 2011 until he was sworn into Congress.
Roy Moore, a former chief justice of Alabama's Supreme Court, is challenging Strange in the runoff Tuesday. Neither Strange nor Moore managed to get 50 percent of the vote during the special election in mid-August.
While Strange is the incumbent and has endorsements from the president, Vice President Mike Pence, Senate Majority Leader Mitch McConnell, R-Kentucky, and the state's other sitting senator, Richard Shelby, Moore has many more endorsements. Some of them include Fox News host Sean Hannity, former White House aide Sebastian Gorka and former Alaska Gov. Sarah Palin.
Here are the lists of endorsements:
LUTHER STRANGE
President Trump
The president endorsed Strange in August, just a few days before the original primary election. "Senator Luther Strange has done a great job representing the people of the Great State of Alabama. He has my complete and total endorsement!"
NRA
The NRA's political victory fund endorsed Strange in May, in which it gave him an A+ for his record on Second Amendment issues.
"Throughout his career, Sen. Strange has shown tremendous leadership in protecting our fundamental right to self-defense," said Chris Cox, chairman of fund."As a champion for gun owners in Alabama and across the country, Sen. Strange is the right person to succeed Jeff Sessions as U.S. senator."
National Right to Life Committee
The committee endorsed Strange in early August, according to his campaign website.
Senate Leadership Fund
The super PAC aligned with McConnell has aired TV and radio ads in recent days in favor of Strange and noting the president's endorsement.
Sen. Richard Shelby
The other sitting GOP senator in Alabama endorsed Strange last weekend, saying he's the "right person" to serve as senator.
ROY MOORE
Mo Brooks
The Alabama Republican congressman won 20 percent of the vote in the first round of the Republican primary. And earlier this month, he threw his support behind Moore.
Brooks has said he backed Moore in an effort to stand up to "the Washington Swamp." The impulse is understandable, as Brooks bore the brunt of the attacks from groups loyal to Mitch McConnell in the early days of the primary. Now he's returning the favor: "The Strange/ McConnell forces care not one twit about truth," Brooks told Politico earlier this month, "They freely use malicious lies in their non-stop, scorched earth, campaign of personal destruction."
Sarah Palin
"Glad he's running and am honored to endorse Judge Roy Moore for the U.S. Senate," the former GOP vice presidential candidate told Breitbart News in August. "Judge Moore has shown he has what it takes to stand up to the out-of-touch political establishment. The Judge has proven he's not afraid of a fight for what is right, and he's ready to take on DC's swamp monsters and help make America great again.
Sebastian Gorka
The former Trump White House aide is co-headlining a rally for Moore on Thursday night. "Donald Trump was the quintessential anti-establishment candidate," Gorka told Breitbart earlier this week. "The right- and left-wing elite are trying to undermine the people's choice for president. We will work with any American who has had enough of the Swamp's 'business as usual' attitude and their elitist policies."
Mike Huckabee
The former Arkansas governor and two-time GOP presidential hopeful threw his support behind Moore in early September. "Luther Strange is probably a fine man, and I hear that from those who know him," Huckabee, the father of White House Press Secretary Sarah Sanders, said on his website. "My support of Roy Moore has nothing to do with specific displeasure with the appointed Senator Luther Strange, but because if the 'power brokers' in D.C. are as desperate as they seem to be to keep Judge Moore from joining them, then they must fear that he can't be counted on to "join the club."
Ann Coulter
The firebrand conservative author called Mr. Trump's endorsement of Strange "idiotic" back in August and originally endorsed Mo Brooks. According to Roy Moore's website, she has since endorsed him.
Laura Ingraham
Ingraham, an influential conservative talk radio host and Trump backer, endorsed Mo Brooks before switching to Moore.
Sean Hannity
"I definitely go for the biggest underdog possible sometimes to make a point," the Fox News host, who originally endorsed Mo Brooks, said in early September. "I think I'm going to do that in Alabama because I think Judge Moore is not going to be somebody who is going to bend to Mitch McConnell and the leadership."
Chuck Norris
"Judge Roy Moore is the real deal," the "Walker, Texas Ranger" star said in a August statement. "He's tough, tested, and has a spine of steel.
Tony Perkins
The Family Research Council founder endorsed Moore earlier this month. "Over the years Judge Moore has proven he is willing to stand up for our Constitution and fight for the rights of the people," Perkins said, according to a statement released by Moore's campaign.
Thanks for reading CBS NEWS.
Create your free account or log in
for more features.