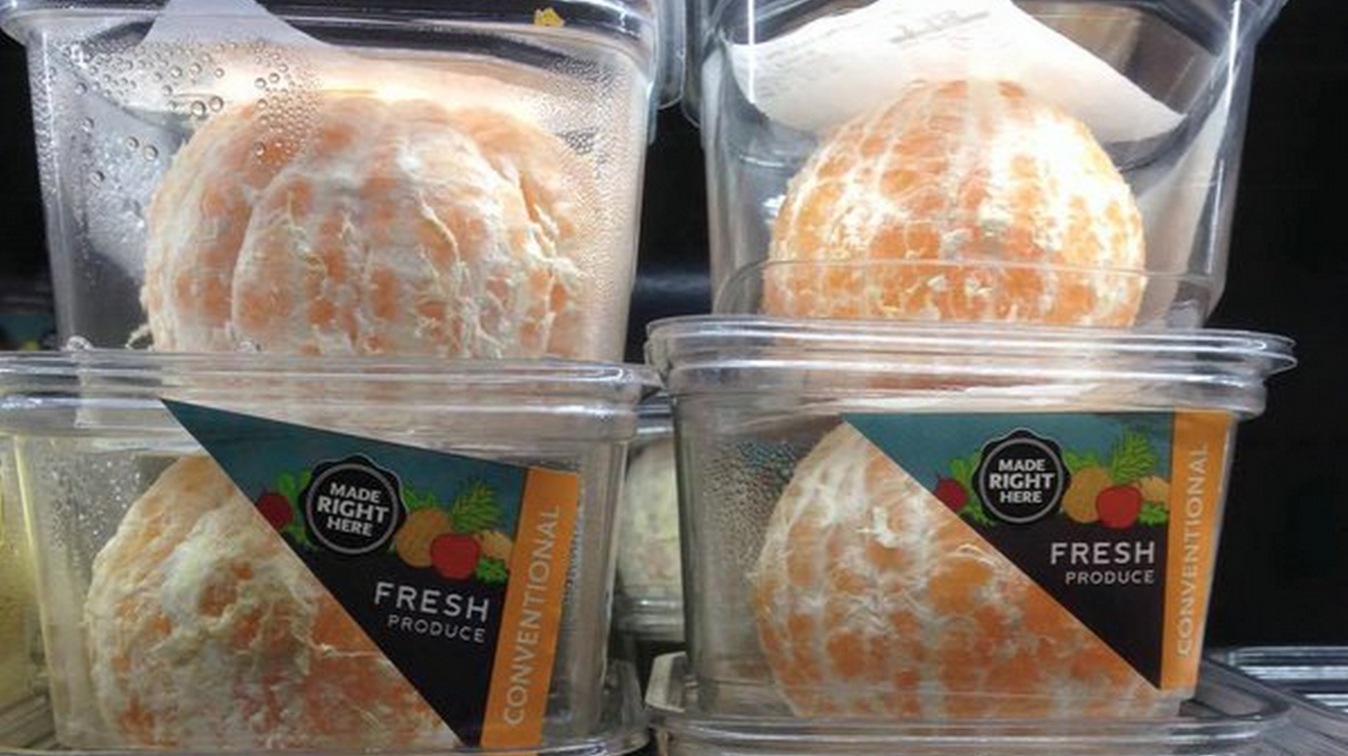 Whole Foods responds to $6 pre-peeled orange Twitterstorm
Whole Foods' attempt to sell pre-peeled oranges in plastic containers for $5.99 per pound was over before it even began.
It only took one photo of the skinless oranges to shut down the grocery chain's new seasonal test product.
"If only nature would find a way to cover these oranges so we didn't need to waste so much plastic on them," Nathalie Gordon tweeted, re-posting a photo of the shelved oranges from image-sharing site Imgur.
Hours later, Whole Foods replied to Gordon's viral tweet, apologizing for what it called a "mistake."
"These have been pulled. We hear you, and we will leave them in their natural packaging: the peel," the chain tweeted.
While some praised the chain for pulling the "lazy" product from store shelves, dozens criticized the response.
"This is terrible," one person commented. "There are a lot of people who, for many reasons (arthritis for one) would have great diff peeling an orange."
"I'm so sorry you've decided to do that. I have rheumatoid disease and it's often impossible to peel an orange," another wrote.
The grocery store giant told CBS News they recognize customers love the convenience of their cut produce, but plan to leave Sumos tangerines in their natural packaging -- the peel.
"Orange and tangerine slices have long been a staple favorite in our stores, and we'll continue to offer them along with other sliced produce options for customers who are looking for added convenience," Whole Foods Market Senior Media Relations Specialist Liz Burkhart said.
Burkhart added that Whole Foods was glad customers, like Gordon, pointed out the product.
Surprised by the Twitter firestorm, Gordon said she never expected Whole Foods to respond.
"I shared the picture because I couldn't believe that anyone could use plastic in such a wasteful manner, especially Whole Foods" Gordon told CBS News. "Point is, Whole Foods has an unhealthy relationship with plastic, and I think they need to address that as a wider point."
This isn't the first time Whole Foods has been blasted for an odd product.
Seven months ago, the chain faced scrutiny for selling $5.99 "Asparagus Water" at a California Whole Foods supermarket.
The chain called the water a snafu that was "made incorrectly," and removed it from shelves.
Unlike #OrangeGate, the majority of social media users agreed "Asparagus Water(gate)" was a joke.
For now, the debate on pre-peeled oranges continues.
Thanks for reading CBS NEWS.
Create your free account or log in
for more features.