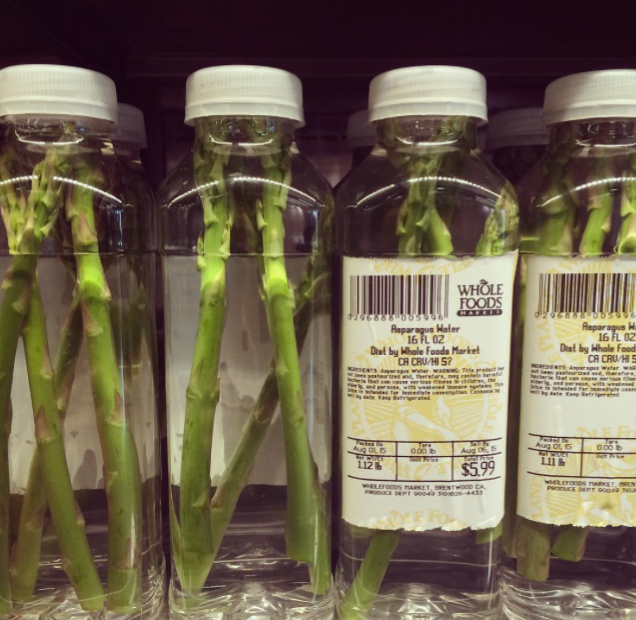 Whole Foods removes $6 "Asparagus Water" from shelves
Whole Foods selling a bottle of water with three stalks of raw asparagus inside and calling it "Asparagus Water" didn't seem real.
But it wasn't a joke -- and neither was its $5.99 price tag.
When shopper Marielle Wakim, an associate editor at Los Angeles magazine, spotted the water sitting on shelves in a California Whole Foods supermarket, she had to stop to do a double take.
"Somewhere in L.A., Whole Foods executives are laughing at all of us," she wrote on Instagram, posting a photo of the so-called "Asparagus Water" product.
More than 100 people liked the photo, which quickly spread online.
As an L.A. resident, Wakim is used to health food trends like kale soft-serve or "Swole Cakes," but this product struck her as ridiculous.
"Tap water, after all, is free, and an entire bundle of asparagus from Whole Foods costs around $5," Wakim said. "In fact, I was half-sure it was a joke."
Apparently, Twitter users did, too.
"You could buy a knitting pattern for $6 that takes HOURS of labor to produce, or you could spend same $6 on a bottle of ASPARAGUS WATER," one user tweeted.
"If any of you ever catch me buying a $6 bottle of "asparagus water" at Whole Foods - or anywhere - you are free to punch me on sight," another responded.
After thousands of people took to the Internet to discuss "Asparagus Water(gate)," Whole Foods addressed the outlandish item.
"We actually don't sell asparagus water in our stores," Whole Foods Market Senior Media Relations Specialist Liz Burkhart told CBS News. "We looked into the item as soon as it was brought to our attention."
The water was "carried briefly" in just one store in Brentwood, California, but it has now been removed.
"It was meant to be water with the essence of vegetables and/or mushrooms (similar to bone broth), which is typically made over a long period of time soaking in water," Burkhart explained. "It was made incorrectly and has since been removed."
Whole Foods has been under scrutiny for over-pricing and mislabeling ever since New York City's consumer chief released details on an investigation in June that showed the chain's supermarkets have been routinely overcharging customers by overstating the weight of prepackaged meat, dairy and baked goods.
Wakim was relieved to hear that "Asparagus Water" was just a "snafu" on the grocer's part.
"I'm sure people who saw it experienced some sort of sticker shock ($6 for a bottle of water?!) combined with disbelief that such a thing would even exist," she said.
Fortunately, for Wakim -- and other shoppers who got caught up in the great "Asparagus Water" debate -- it no longer does.
Thanks for reading CBS NEWS.
Create your free account or log in
for more features.