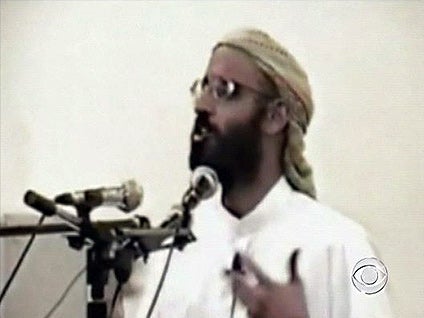 last Updated 8:17 a.m. ET
Multiple U.S. sources have confirmed that American-born jihadist cleric Anwar al-Awlaki is dead, killed in a drone strike in Yemen that comes just months after the death of Osama bin Laden.
Awlaki was near the top of the U.S. terror hit list, said CBS News Homeland Security correspondent Bob Orr, and his death is another major setback for al Qaeda.
As a charismatic speaker fluent in English, Awlaki was a leading propagandist and recruiter. His fiery sermons resonated with radicals in the U.S. and Britain, and his group, al Qaeda in the Arabian Peninsula (AQAP), is actively recruiting Westerners with an online magazine called Inspire, with the latest edition coming out this week.
Awlaki was born April 22, 1971 in New Mexico to Yemeni parents. As a child his family moved back to Yemen, where he father served as a professor at Sanaa University and as the agriculture minister.
In 1991, Awlaki returned to the U.S. to study civil engineering at Colorado State University. He also studied education at San Diego State University, and did doctoral work at George Washington University in Washington, D.C. He later became a preacher at Dar Al Hijrah Islamic Center in Falls Church, Va.
After the Sept. 11, 2001 attacks, Awlaki was interviewed several times about his ties with three of the hijackers - he had met at least two of them, Khalid al-Midhar and Nawaf al-Hazmi, at a San Diego mosque in 2000. The Sept. 11 Commission report said Awlaki was also investigated by the FBI in 1999 and 2000. None of the investigations led to criminal charges against him.
In 2002 he returned to Yemen. He was arrested by Yemeni authorities in 2006 as part of a group suspected of kidnapping a Shiite Muslim teenager for ransom. After spending a year in prison without trial, Awlaki was released following the intercession of his tribe.
After his release from prison, Awlaki moved to the Awalik tribal heartland in eastern province of Shabwa, an al Qaeda stronghold, and occasionally preaching in a local mosque.
In the past two years Awlaki had become increasingly influential at the core of the al Qaeda franchise in Yemen.
He was also linked directly to two terror attacks on the U.S. in 2009. Email exchanges between Awlaki and accused Fort Hood shooter gunman Nidal Hasan confirm that the al Qaeda leader was the inspiration for the massacre at a Texas army base that left 13 people dead.
In a May 2010 video Awlaki praised Hasan, and called the Ft. Hood shooting "an heroic and wonderful act." He also called for the killing of American civilians.
Video: Al-Awlaki: "Kill Americans"
Awlaki was also at the center of a plot to bomb a U.S. airliner later the same year. Accused "Underwear Bomber" Umar Farouk Abdulmutallab trained at camps run by Awlaki's group, Al Qaeda in the Arabian Peninsula.
Video: Who Is Umar Farouk Abdulmutallab?
Awlaki's group is also suspected in the 2010 "package plot," in which printers containing explosives being shipped via UPS and FedEx were intercepted on their way from Yemen to the U.S. , that were designed explode in mid-air.
Faisal Shazhad, the Pakistani-American who pleaded guilty to the May 2010 Times Square car bombing attempt, said he was "inspired" by Awlaki after making contact over the Internet.
"I think the United States has been quite concerned about Anwar al Awlaki and his growing operational role in the al Qaeda franchise in Yemen," said CBS News national security analyst Juan Zarate. He called the killing of Awlaki "quite significant."
"He has been part of the inner core that has been trying to target the U.S.," Zarate said. "American officials have been worried about him, not only innovating, but trying to attack the United States and being a core element of that group in Yemen."
In April 2010, President Barack Obama made al-Awlaki the first American placed on the CIA's target list.
Zarate said Awlaki's role in AQAP is unique: "He was not only an operational player as far as his external attack unit, but also a propagandist. I think his role as a propagandist, the Pied Piper for Western recruits into Yemen, actually will be very difficult to fill."
"But his sermons are still on the Internet," said Zarate, meaning his influence will continue even after his death.
"His death does not end the threat from al Qaeda in the Arabian Peninsula," said Orr. "There are other top leaders and bombmakers who present a real, ongoing threat to the U.S."
Just days after Osama bin laden was killed in May, U.S. drones took a shot at Awlaki and narrowly missed, but this morning, a U.S. strike apparently found its target. A convoy carrying Awlaki and other operatives was hit near the town of Khashef.
Anwar al-Awlaki killed in Yemen
In a statement, the Yemeni government said al Awlaki was "targeted and killed" 5 miles from the town of Khashef in the Province of al Jawf. The town is located 87 miles east of the capital Sanaa.
The statement says the operation was launched on Friday around 9:55 a.m. local time. It gave no other details.
The Yemeni Defense Ministry also reported the death, without elaborating, in a mobile phone SMS message.
Tribal sources say he was killed by missiles fired by U.S. drones, but U.S. officials will not confirm that level of detail.
Yemen, the Arab world's most impoverished nation, has become a haven for hundreds of al Qaeda militants. The United States has been deeply concerned that militants will take advantage of the country's political turmoil to strengthen their positions. In recent months, militants have seized control of several cities in Yemen's south.
Thanks for reading CBS NEWS.
Create your free account or log in
for more features.