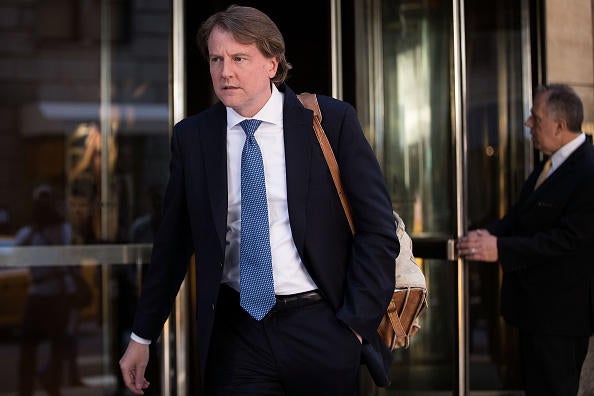 White House counsel Don McGahn threatened to resign in June
White House counsel Don McGahn threatened to resign from his position in June 2017-- but it was not a direct response to President Trump's discussion about firing newly appointed special counsel Robert Mueller. Two sources directly involved in the deliberations tell CBS News chief White House correspondent Major Garrett that McGahn's threat was not communicated directly to Mr. Trump, but adjudicated by senior staff, principally then-chief of staff Reince Priebus and then-chief strategist Steve Bannon.
Garrett reports that while Mr. Trump talked about firing Mueller, he never issued a direct order to do so in any written form, though he did say he favored this action in the presence of senior staff.
Soon after Mueller's appointment, Mr. Trump brought up three possible areas that could pose conflicts of interest for the special counsel. The president expressed confusion and anger over these areas as well as the general scope of Mueller's investigation into Russian meddling in the 2016 U.S. presidential election.
Sources tell Garrett that White House senior staff viewed Mr. Trump's talk of firing Mueller skeptically, since he has frequently mentioned firing people in his administration, but often quickly forgets about it. In the Mueller's case, as well as others, senior staff acknowledged the president, but took no action in the matter, in hopes that Mr. Trump would simmer down.
Because of this, the discussion about firing Mueller was never acted upon or moved from the White House to the Department of Justice. McGahn, other White House counsel attorneys, and other senior staff talked Mr. Trump to back him off the notion of firing Mueller, pointing out the risks and the lack of legal basis for ousting the special counsel.
Sources tell Garrett that McGahn threatened to resign over the accumulation of stress and frustrations with the president, rather than for issues related to Mueller's potential firing.
McGahn's primary stress was occupying the role of the "no" voice for Mr. Trump. He served as the principal lawyerly voice intervening to explain the legal limits to the president regarding some of his intentions or desires. This role put McGahn at uneasy odds with Mr. Trump.
McGahn never directly threatened Mr. Trump with his resignation, but he did communicate his frustration -- brought to a head by the Mueller situation -- to senior staff, primarily Priebus and Bannon.
In response to McGahn's complaints, more White House counsel lawyers were brought into interactions with Mr. Trump. Legal advice would then be communicated to the president by Priebus and eventually, by current White House chief of staff John Kelly.
With the beginning of Mueller's investigation, McGahn became a figure in the firing of former National Security Adviser Michael Flynn and FBI Director James Comey. That meant McGahn had to severely limit interactions with Mr. Trump, a practice he has adhered to since, sources tell Garrett.
Other advisers and attorneys, including Ty Cobb, John Dowd and Jay Sekulow, have successfully persuaded Mr. Trump to let Mueller do his job. Any discussion of firing the special counsel quickly died down. In late December, Mr. Trump allowed Cobb, Dowd, and Sekulow to begin negotiating an interview by Mueller with the president, one which the president said days ago he would "love to do as soon as possible."
Thanks for reading CBS NEWS.
Create your free account or log in
for more features.