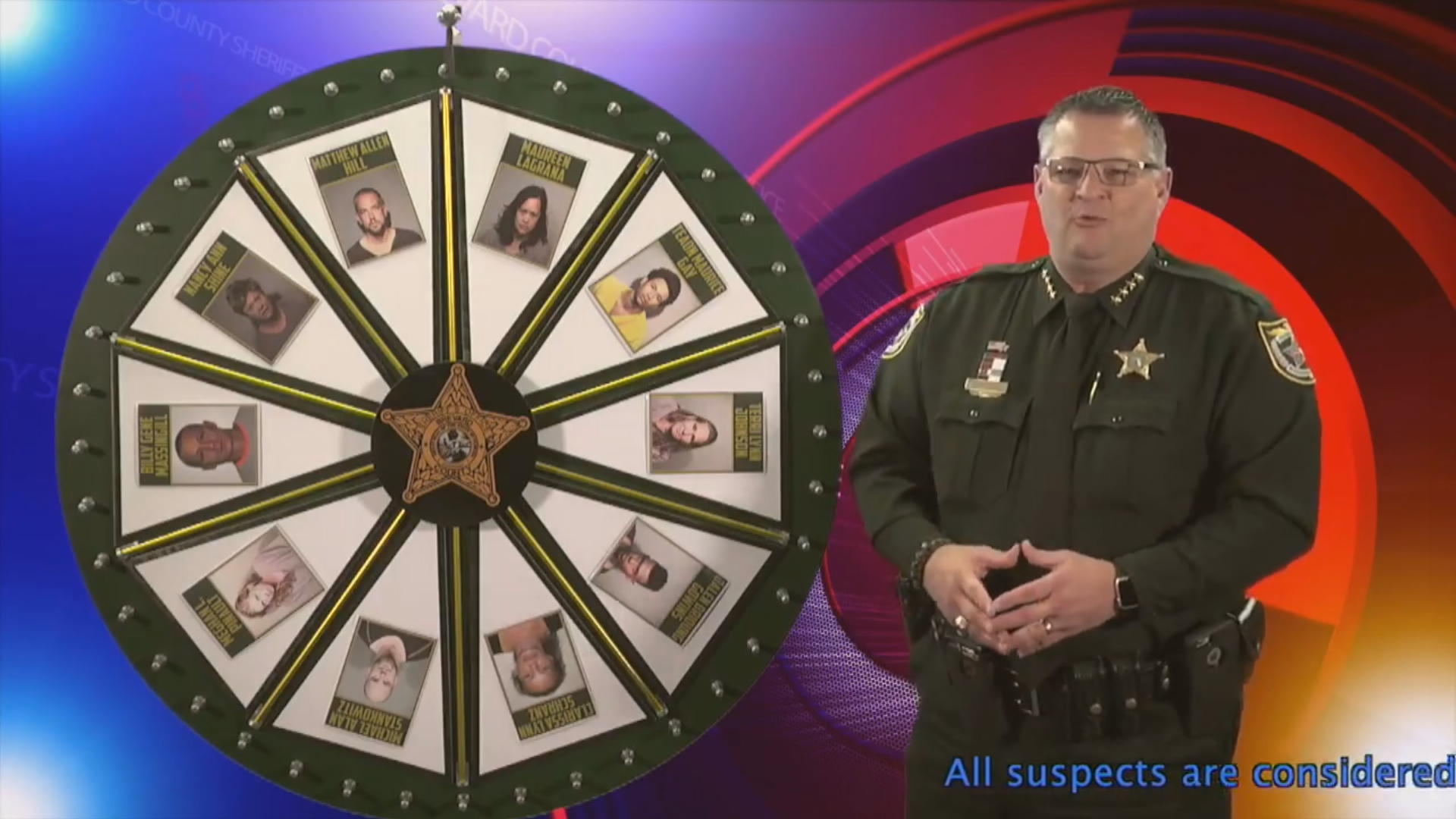 "Wheel of Fugitive" becomes new weapon for law enforcement
TITUSVILLE, Fla. -- A sheriff's office in central Florida is giving the search for criminals a creative spin. The game show-style videos feature the most wanted local fugitives, and a new episode is added to the sheriff's Facebook page every week.
The videos have been viewed hundreds of thousands of times, and have led to dozens of arrests.
For the last 18 months, a studio at the sheriff's office has become must-see viewing in Brevard County, reports CBS News correspondent Mark Strassmann.

Sheriff Wayne Ivey, the show's Pat Sajak, had the idea and the personality to host it.

"When we put someone up on the 'Wheel of Fugitive," our citizens start sending us messages and contacting us right away," Ivey said.
Ivey spins a wheel with the names and photos of 10 wanted fugitives and highlights an unlucky "winner."
Dozens of fugitives have been arrested or turned themselves in. Last month, the wheel picked Teaon Gay. He was in custody within a day.

"The fugitives watch it. It's amazing how many of them, when they're arrested, say, 'Yeah, I saw it' or 'my family notified me about it.' In fact, we've had fugitives that say, 'Yeah, I watch it every week to see if I'm on the wheel,"' Ivey said.
Fugitive Alicia Pack posted on Facebook that she saw herself on the show but added she was going to the beach -- where police tracked her down.

"They ended up having to Taser her. So we put up on our Facebook page, tanned, Tased and arrested all on the same day," Ivey said.
"What about this connects with people?" Strassmann asked.
"One, there's a little bit of humor mixed in it," Ivey said. "Two, people, at least in our community and I think in most communities throughout our country in law enforcement, want to be engaged with law enforcement. … It reaches out to them and gives them an opportunity to do it."
Social media present a new weapon for law enforcement.

In Louisiana, Capt. Clay Higgins, nicknamed the "Cajun John Wayne," talks directly to criminals.

"We're going to identify you, arrest you and put you in a small cell. After that, I'm gonna have a cheeseburger here," Higgins said on "St. Landry Parish Crime Stoppers."
The YouTube sensation led to multiple arrests.

Ivey's favorite show was "Ladies Night." But critics object that his approach is nothing more than public shaming.

"It reinforces the public's blood lust for seeing people punished. It also reinforces the offenders' sense of being rejected and excluded from society," Jeffrey Butts of John Jay College of Criminal Justice said.
Strassmann asked Ivey if there's public shaming involved.
"If you don't want to be on the 'Wheel of Fugitive,' don't commit a crime in Brevard County. Don't be a fugitive in Brevard County, because our team is going to come after you, our community is going to come after you," Ivey said.
Thanks for reading CBS NEWS.
Create your free account or log in
for more features.