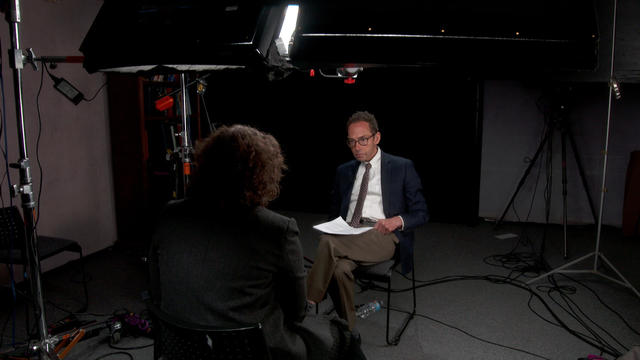 What's "fake news"? 60 Minutes producers investigate
What does the phrase "fake news" mean? It depends who you ask. The term has become so loaded that when a team of 60 Minutes producers began to investigate fake news, the producers first had to agree on a definition.
"We weren't interested in doing a story about the 'fake news' that is invoked by politicians against the media for stories that they don't like or for comments that they don't like," explains producer Michael Radutzky in the 60 Minutes Overtime video above. "We're using the term 'fake news' to describe stories that are provably false, have enormous traction in the culture, and are consumed by millions of people."
"What we are talking about are stories that are fabricated out of thin air," says 60 Minutes producer Guy Campanile. "By most measures, deliberately, and by any definition, that's a lie."
The 60 Minutes team found that people who fabricate stories do it for different reasons. For Jestin Coler, the man behind the fake news sites National Report and Denver Guardian, making up the news was "fun."
One of his successful stories was about an Ebola outbreak in Texas that never happened. He admits he was trying to get readers to believe it actually occurred — and wound up acquiring 6-8 million page views on a series of related stories, which he referred to as the "Fearbola campaign."
For Coler, watching his audience grow and the website hits accumulate was gratifying.
"He said he did it because it was like an addiction," Radutzky says. "The more hits he got, the more of a rush it was."
"I kinda get a rush from watching the real-time analytics on Google," Coler told Pelley in the 60 Minutes interview.
"It's powerful, right?" Radutzky says. "To create something out of whole cloth and have people believe that it's true."
If writing about things that never happened sounds like writing fiction, Coler would agree. He compared his stint as a fake news writer to the work of fiction writers.
"You know, there are a lot of people that sell fiction," he tells correspondent Scott Pelley. "Writing fiction is not a crime. What I was doing was not a crime." But, ultimately, Coler decided to leave the fake news business, and he said he agreed to tell his story to 60 Minutes as a cautionary tale for unsuspecting readers.
The 60 Minutes team also paid a visit to Michael Cernovich.
Cernovich is a southern California lawyer who runs the website Danger & Play. He describes himself as "right of center politically," and 60 Minutes reported that Cernovich has become "a magnet for readers with a taste for stories with no basis in fact." Cernovich's online articles include a bogus report that Hillary Clinton has Parkinson's disease and a fake sex cult story about Hillary Clinton's "inner circle."
Cernovich told 60 Minutes, however, that he believes everything he publishes is true.
"They're definitely not fake," he tells Pelley of his stories. "One hundred percent true."
During the interview with Cernovich, the 60 Minutes team realized that the very definitions of words like "true" and "false" were not agreed upon by everyone in the room.
"Getting into an argument about it is like going down the rabbit hole," Radutzky says. "And it wasn't our job to go down the rabbit hole. It was our job to interview him and understand how he makes the decisions he makes."
The editorial decisions Cernovich makes apparently have a broad influence, thanks to his daily commentary streams and social media posts. He reached Twitter users 83 million times last month alone.
"One of the issues with this story, with this topic, is that there is a basic fundamental disagreement right now in the country about what is false information," Campanile says. "And that is a place where really we haven't gone before."
The video above was produced by Ann Silvio and Lisa Orlando, and edited by Lisa Orlando.
Will Croxton and Rebecca Chertok Gonsalves contributed to this report.
Thanks for reading CBS NEWS.
Create your free account or log in
for more features.