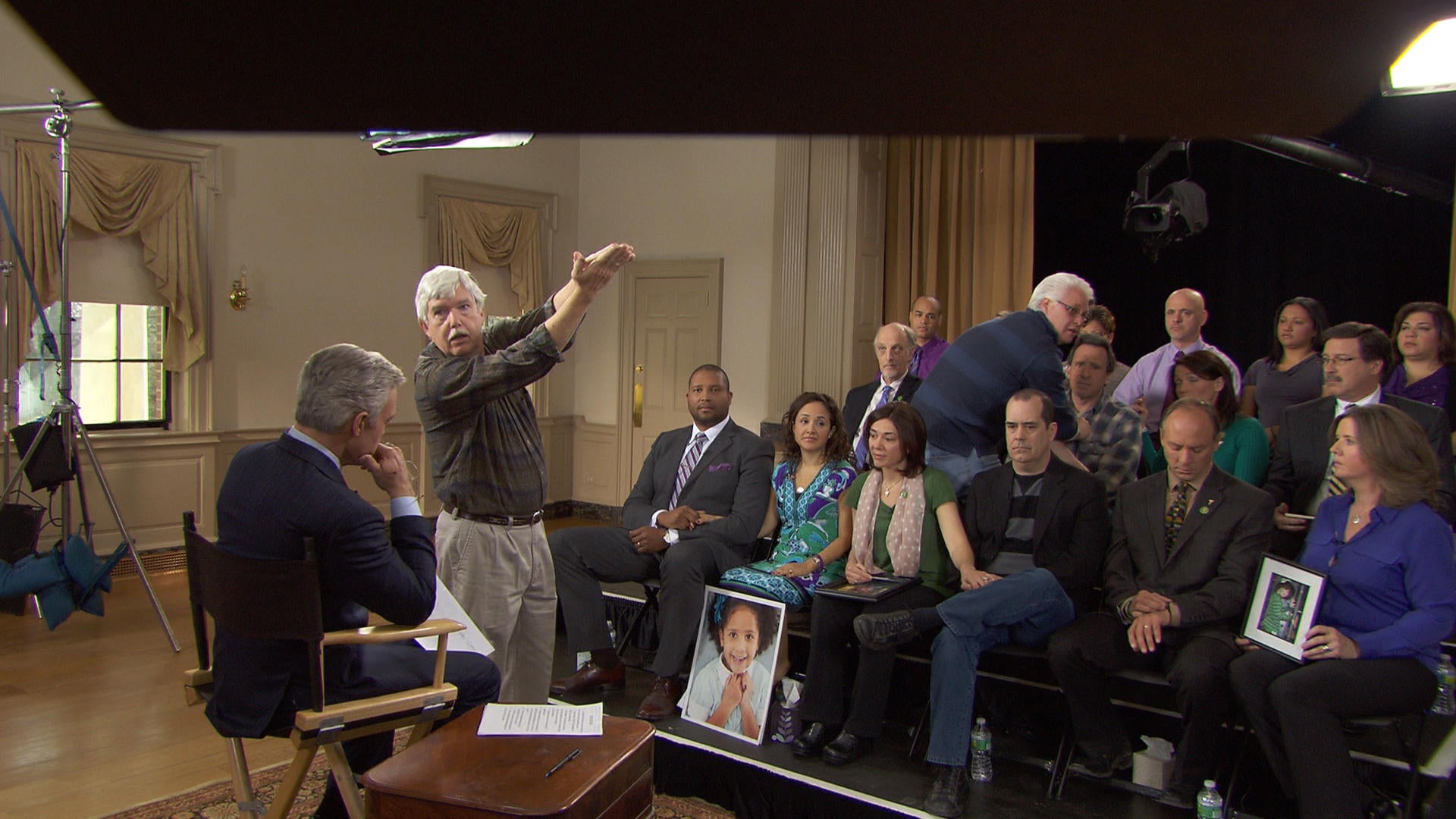 What we learned about grief from Sandy Hook parents
Why go back to Newtown, Connecticut, this week on 60 Minutes? Because, Scott Pelley says, he and his colleagues haven't been able to get the parents of Sandy Hook Elementary School out of their minds.
Four years ago, in December 2012, Pelley was at the fire station next to the school when some of those parents were told for the first time that their 6-year-old children had been shot to death. He says it was one of the "most wrenching" scenes he's ever witnessed as a journalist.
"I was at the World Trade Center when the towers came down," he says in an interview with 60 Minutes Overtime. "I covered Iraq and Afghanistan and many other wars. Somehow this had a bigger impact on me."
Pelley returned to Newtown several months later to meet some of the families for a 60 Minutes story. The families had just convinced the Connecticut legislature to pass universal background checks for gun purchases and to limit the capacity of ammunition. The parents were headed next to Capitol Hill, where they supported a more modest proposal for the entire country — close the loopholes so that all firearm purchases would require a background check.
"When we talk ban and confiscate, it becomes a political argument," explained Jimmy Greene in the 2013 piece above. Greene's 6-year-old daughter, Ana Grace, was killed. "It's so much bigger than a political debate. It's so much bigger than Democrats versus Republicans, conservatives versus liberals. I believe, in my humble opinion, this all transcends that."
But as Pelley reports this week on 60 Minutes, not even the Sandy Hook parents could win a gun fight on Capitol Hill. In the Senate, they needed 60 votes; they got 54.
Pelley returned to Newtown for this week's story to check in with the parents at the suggestion of producer Henry Schuster and associate producer Rachael Morehouse, with whom he had worked on the 2013 interviews, "and I guess, like me, you just can't get these families out of your mind," Pelley says.
Reconnecting with the Newtown families four years later showed the 60 Minutes team that grief doesn't always lessen with the passage of time.
"One of the things that I learned from them — maybe the most profound thing that I learned — is that even after the passage of years, every single one of them was adamant that they had not moved on," Pelley says. "They had moved forward in many ways in their lives, but they all felt that they would never recover or begin to recover from the loss of their child."
Ana Grace's mother Nelba Márquez-Greene told Pelley she's leaned on a sermon given at her daughter's funeral that compared grief to a long, hard winter. But Márquez-Greene has come to realize that this winter is unrelenting.
"I can't imagine a day that it will be spring," she tells Pelley on the broadcast.
What do you say to a parent who has experienced such a profound loss?
"The perfect thing to say is, 'Tell me about your child,'" Pelley explains. Avoiding mention of a deceased child when speaking to a bereaved parent is often the worst response, Pelley has learned, because the child's life isn't acknowledged. Asking about a lost child may bring a parent to tears, but the question is an important gesture.
"It's counterintuitive unless you've lived this as a parent who's lost a child," Pelley says. Many parents told the 60 Minutes team that the one thing they want to do is to talk about how wonderful their son or daughter was.
"We do have a responsibility," Pelley says of telling Sandy Hook stories, "because these parents don't want their children to be forgotten."
The video above was originally published on April 16, 2017, and produced by Lisa Orlando, Ann Silvio and Will Croxton. It was edited by Lisa Orlando and Will Croxton.
Thanks for reading CBS NEWS.
Create your free account or log in
for more features.