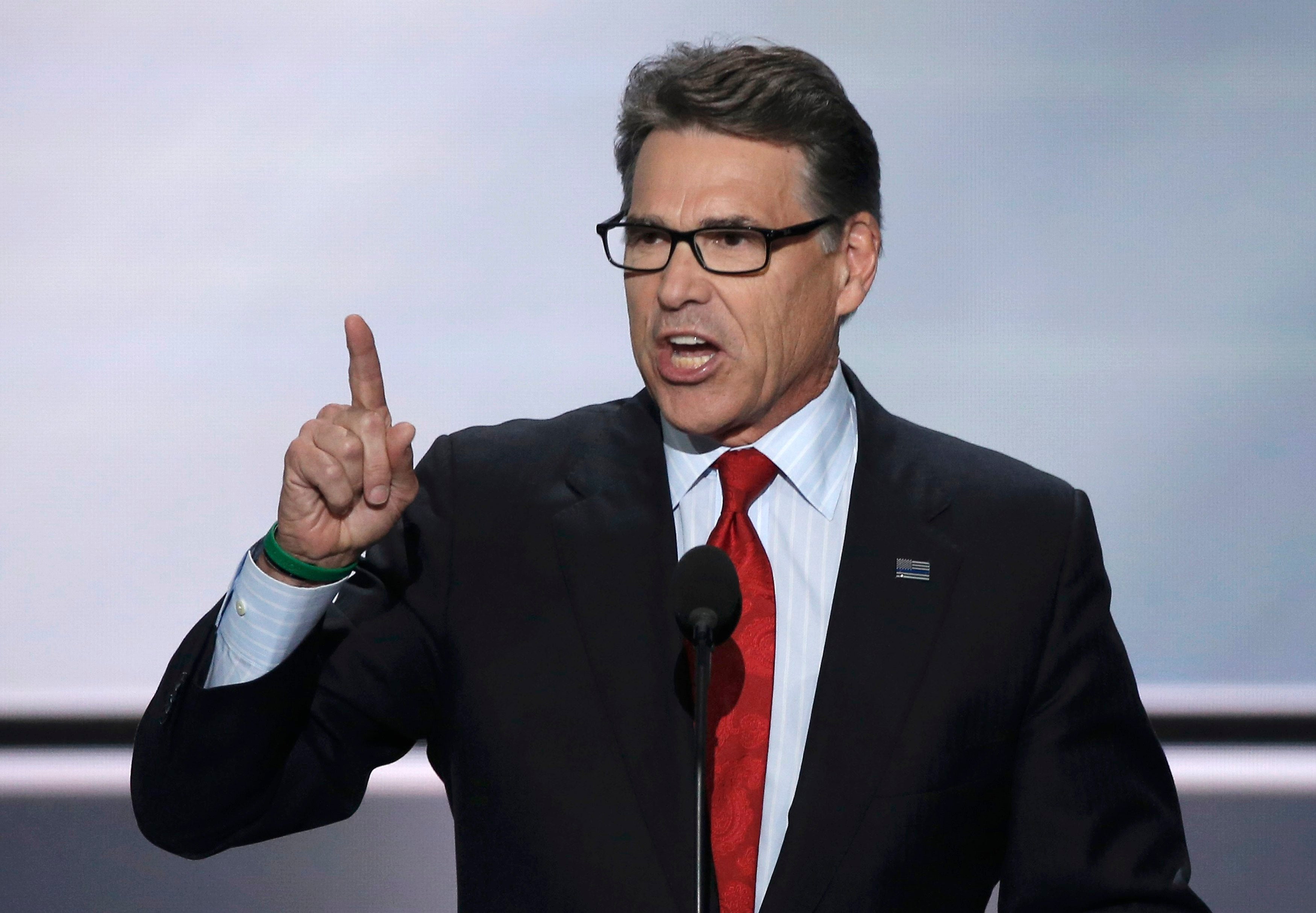 What exactly does the Energy Department do?
Donald Trump's nomination of Rick Perry as energy secretary has drawn considerable blowback from Democrats, with questions mounting over the former Texas governor's qualifications to helm an agency he once famously said he'd shutter.
His transition team Wednesday praised Perry -- Texas' longest serving governor -- for heralding economic growth by developing the oil-rich state's energy resources and infrastructure.
But the Energy Department is also charged with more than just energy policy: It's also charged with security and with maintaining and securing the nation's nuclear weapons stockpile.
According to the White House, the agency's long roster of responsibilities includes "advancing the national, economic, and energy security of the United States; promoting scientific and technological innovation in support of that mission; and ensuring the environmental cleanup of the national nuclear weapons complex."
This year, the Department of Energy had a budget of about $27 billion -- about 65 percent of which was allocated to national defense efforts, according to the White House's Office of Management and Budget. That's largely reserved for "atomic energy defense activities" like the semi-autonomous National Nuclear Security Administration. (NNSA is charged with managing the country's nuclear weapons, nuclear nonproliferation initiatives, and naval reactor programs.) About 21 percent of the Energy Department's overall budget is is allocated to energy-related functions like conservation, emergency energy preparedness, and the energy supply. Another fifth is saved for general science, space, and technology research.
The president determines the department's priorities. For President Obama, clean energy and research and development were high on his agenda, along with national security, specifically, nuclear weapons.
Mr. Obama's selected energy secretaries with exceptionally strong scientific backgrounds. For instance, the current energy secretary, Ernest Moniz is a nuclear physicist, with an extensive background in nuclear weapons stewardship. Moniz, from MIT, helped broker the Iran nuclear deal, and he was frequently seen with a seat at the international negotiating table alongside Secretary of State John Kerry.
Steven Chu, a Nobel laureate for his work in physics, was also a strong advocate for shifting the nation's energy profile towards more renewable fuels -- a goal he also led in his post prior to the energy secretary appointment. (He was the director of the Energy Department's Lawrence Berkeley National Lab and focused on developing alternative and renewable energy technologies.)
But politicians with scant scientific background have also served in the post. Spencer Abraham, energy secretary under President George W. Bush, had been a U.S. senator from Michigan prior to his appointment. Before his stint in the upper chamber, he was co-chair of the National Republican Congressional Committee.
In a New York Times interview, Abraham praised Mr. Trump's choice of Rick Perry, saying his qualifications included "running a big bureaucracy, the state of Texas." Abraham, too, once called for the elimination of the agency, and even sponsored legislation in the Senate that would have shifted Energy Department funds into other departments or into private sector investment.
Samuel Bodman, the Bush appointee who followed Abraham, had a background in chemical engineering, but was most known for his work in the financial sector -- first, at a venture capital firm called American Research and Development Corporation and then at Fidelity Investments, where he would go on to be president and chief operating officer. He also served in the Bush administration as deputy treasury secretary and deputy commerce secretary.
Bill Richardson, another former energy secretary (under President Bill Clinton) with more government experience than scientific expertise, believed Perry could do the job, given his political background.
"Governor Perry is a sound choice, because you need a strong leader with political stature and a megaphone for the job, and Rick has both," Richardson, a former governor of New Mexico, told the Times.
Thanks for reading CBS NEWS.
Create your free account or log in
for more features.