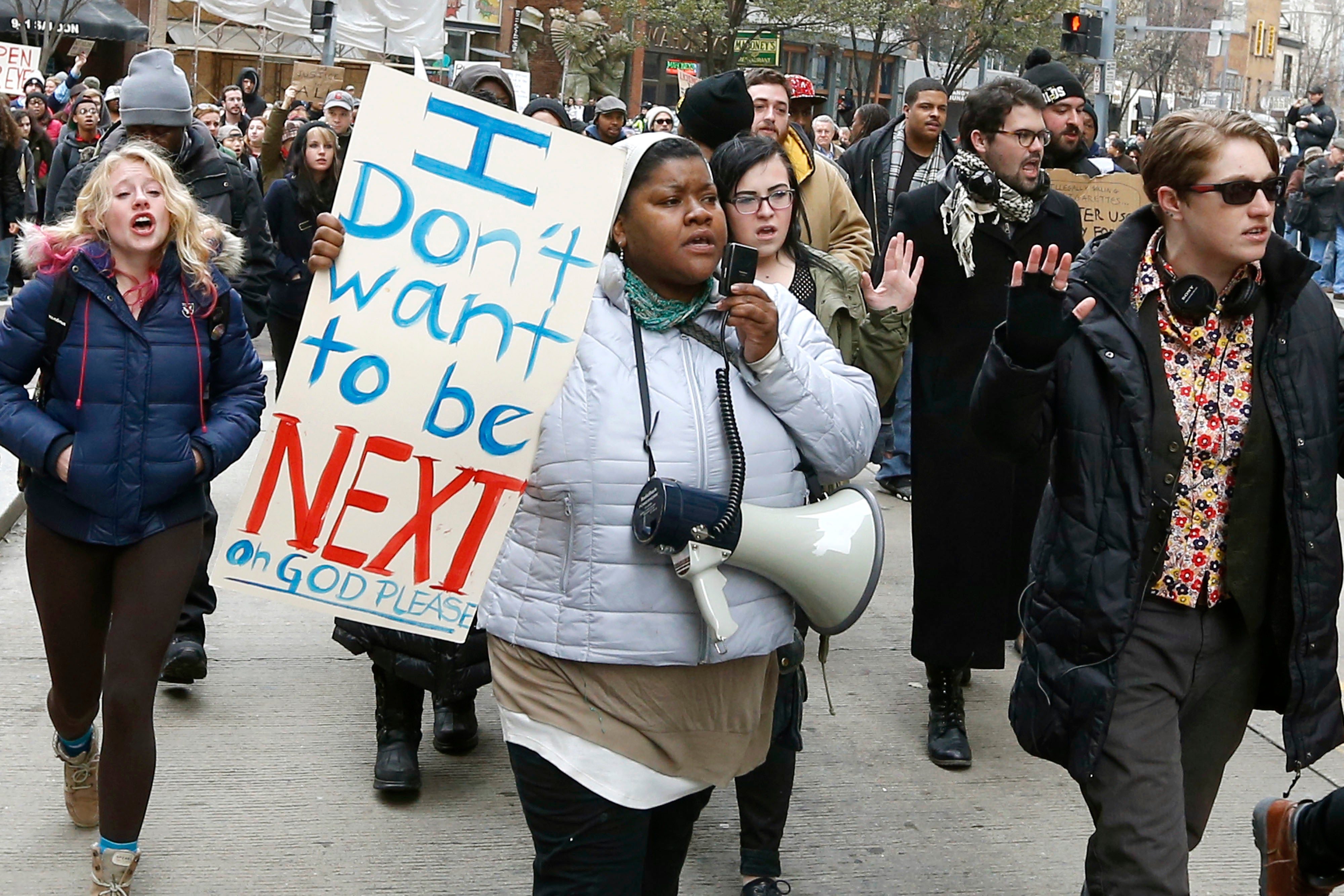 What can the Justice Department do to improve local police departments?
On an icy winter night in 2010, 18-year-old Jordan Miles was walking from his mother's house in Pittsburgh to his grandmother's house around the block. He made it just about halfway down the block when he was stopped by three plainclothes police officers.
What exactly happened that night is disputed -- the officers said Miles looked suspicious, and they thought he might have had a gun on his person. Miles said there was no reason to believe he had a gun -- he was simply walking down the street. Whatever the case may be, the officers beat Miles and arrested him. A jury ruled last year that the officers falsely arrested Miles but that they did not use excessive force -- in spite of the serious injuries the teenager suffered.
"I was hurt throughout my entire body," Miles, now 22, told CBS News. "It was a pain I had never felt before, I couldn't move a finger, I couldn't walk straight....It was just the worst pain that I have ever felt in my entire life."
Miles said he grew up viewing officers as trustworthy authorities, but the incident made him realize that "there are some of them that do, to a degree, extend their power and overstep their boundaries and do stuff to harm people that do not deserve it... I don't think it's necessarily completely racist or anything like that, but it needs to stop."
Miles' story reveals how Pittsburgh has struggled to build positive relationships between its police bureau and the communities the police serve -- even after an intensive, five-year reform effort led by the Justice Department.
In 1997, Pittsburgh was one of the first cities where the Justice Department directly intervened to put an end to unconstitutional policing practices. Since then, the federal government has stepped in to help improve dozens of other police departments, and some attempts have been more successful than others. The Pittsburgh case was actually considered a success, but when leadership changed, the improvements receded -- to the point where the police chief landed in prison for corruption. Now the city is trying once again to reform its bureau -- this time with a solid buy-in from the officers themselves.
"The easiest way to get a negative reaction from a police bureau is to tell them what to do," Pittsburgh Mayor Bill Peduto told CBS News. "It doesn't matter if it's coming from the fed, if it's coming from the community, if it's coming from a politician -- policing is a profession, and it requires a lot of training, and those within it don't want to hear from somebody" outside.
Now by working directly with the police bureau's lieutenants, sergeants, and officers walking community beats, he said, Pittsburgh is "finding out ways to become a more transparent, open, community-driven police bureau."
There's nothing that unique about Pittsburgh's challenges. Last year, the deaths of Michael Brown in Ferguson, Missouri and Eric Garner in New York City underscored the prevalent tension across America between local police forces and minority communities.
This week, Loretta Lynch -- President Obama's attorney general nominee -- promised Congress that if confirmed, she would make improving relationships between police forces and citizens a "key priority."
"Few things have pained me more than the recent reports of tension and division between law enforcement and the communities we serve," she said.
Congress first granted the Justice Department the power to investigate local police departments in 1994, in the wake of the Rodney King beating. Most recently, the department started investigating the Ferguson, Missouri police department. The 1994 Violent Crime Control and Law Enforcement Act also gives the Justice Department the authority to file civil lawsuits against jurisdictions for patterns of unconstitutional conduct, such as the repeated use of excessive force, biased policing or unlawful stops and searches.
Not surprisingly, most cities don't feel like going up against the Justice Department -- the world's largest law office -- in court. There are four jurisdictions currently in litigation with the Justice Department: Maricopa, Arizona; Alamance, North Carolina; Colorado City, Arizona; and Meridian, Mississippi.
But in most cases, jurisdictions cooperate with the Justice Department as it investigates and decides how to proceed. Rather than go to court over its policing practices, a jurisdiction can enter into a settlement process known as a consent decree.
During Eric Holder's tenure as attorney general, the Justice Department has entered into 15 agreements with law enforcement agencies, including nine consent decrees. The department is currently negotiating its latest consent decree with Cleveland.
When the Justice Department was investigating Pittsburgh in the 1990's, then-Police Chief Bob McNeilly viewed the effort as a positive development -- one that could help him implement reforms that weren't necessarily popular. The city and the federal government spent years building a computerized performance review system that helped bring accountability to the bureau. For a while, performance seemed to improve.
However, Peduto said that many officers perceived the reforms as punitive.
"With an outside force basically saying this is how you have to do it, and the will not being there, grudgingly, Pittsburgh moved forward," he said. When a new chief came in, "there was an immediate draw to move away from the reforms that were put into place."
Over the next seven years, the police bureau became more corrupt and saw a rise in the sort of biased policing that initially caught the Justice Department's attention.
In the meantime, the Justice Department refined its efforts to help local police forces.
"We have designed our investigations to create buy-in by all stakeholders in a range of ways," Mark Kappelhoff, deputy assistant attorney general for the Justice Department's Civil Rights Division, told CBS News. To keep an open line of communication with a jurisdiction, he said, "we identify problems as we go and do not wait until the work is completed to make suggestions on reform strategies. This allows a department to begin the hard work of revising policies, training, supervision, etc."
The department's investigative teams also make a point of meeting with everyone with a vested interest in their investigations, Kappelhoff added, including command staff, rank and file officers, union officials, advocates, civil rights victims, neighborhood associations, business leaders and faith leaders.
"By listening to stakeholder concerns and by reflecting ideas in our findings and agreements, we build support for reform," he said. "For example, after meeting with Albuquerque Police Department members and their families, a section to address their concerns about officer safety was included in the settlement agreement."
Even so, it can be challenging to make the reforms lasting. The consent decree process was effectively designed for police departments "that either can't or won't pull themselves into compliance with the law and the Constitution," University of Pittsburgh Professor David Harris, a law enforcement expert, explained to CBS News.
A key element of the process, Harris said, is hiring an independent monitor to make sure the police department is moving in the right direction.
"In terms of how to sustain these arrangements, the best possible thing looking forward would be for a police department and city to agree to an independent monitor or monitoring body, even after the consent decree is over," Harris said. "That can assure compliance with best practices and professional standards."
There's only so much the Justice Department can do to force reforms, since the U.S. policing system is decentralized -- the department has no direct control of any state or local law enforcement agency.
However, for a city like Pittsburgh, which has found the political will to change, there are Justice Department resources available. For instance, Pittsburgh recently received a $1.87 million grant from the Justice Department to hire 15 new community-oriented police officers. The grant specifically came from the department's Community Oriented Policing Services (COPS) program.
Peduto said the city is going to "start fresh" with its new police chief, Cameron McClay. They're using accreditation models to reform the way the city recruits officers, its procedures for arrests, and other protocol. They're also embracing new technologies like body cameras. And critically, Peduto said, they're "allowing the officers themselves to be part of the reform."
Thanks for reading CBS NEWS.
Create your free account or log in
for more features.