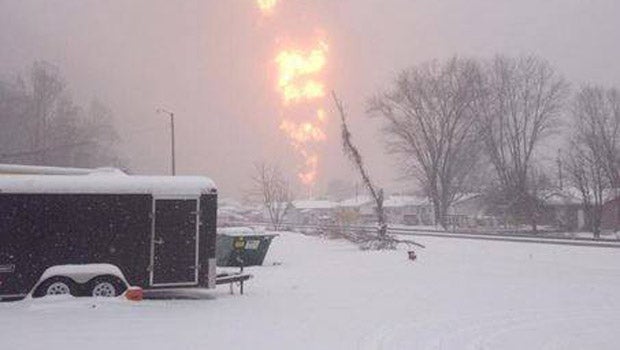 West Virginia train derailment sends oil tanker into river
CHARLESTON, W.Va. -- A train carrying crude oil derailed in southern West Virginia on Monday, sending at least one tanker into the Kanawha River and sparking a house fire, officials said.
There were no immediate reports of injuries. State emergency response and environmental officials headed to the scene about 30 miles southeast of Charleston.
West Virginia Governor Earl Ray Tomblin declared a state of emergency for Fayette and Kanawha Counties and several shelters were opened to accommodate those who live in the area.
CBS affiliate WOWK reports that West Virginia State Police expanded the evacuation order for the area to include anyone with half of a mile of the fire.
The state was under a winter storm warning and getting heavy snowfall at times, with as much as 5 inches in some places. It's not clear if the weather had anything to do with the crash.
Public Safety spokesman Lawrence Messina said responders at the scene reported one tanker and possibly another went into the river. Messina said local emergency responders were having trouble getting to the house that caught fire. He did not know if anyone was inside the house.
Dan Toney told CBS News that he was home when the train derailed and described the explosion as sounding like an "atomic bomb." He said his father was one of the people that rushed to assist.
The train had two locomotives and 109 rail cars and was traveling from North Dakota to Yorktown, VA carrying crude oil. Firefighters say the largest explosion happened near a house that was between the railroad tracks and the Kanawha River. They don't believe anyone was in the home at the time, according to WOWK.
West Virginia American Water spokeswoman Laura Jordan said the company shut down a water treatment plant, located about 3 miles away, at about 2:30 p.m. The plant serves about 2,000 customers.
"Customers in the Montgomery area are asked to conserve water and only use it for essential functions at this time," the company said in a statement.
State health officials said another water plant downstream in the town of Cedar Grove also closed its intake.
The National Transportation Safety Board says that they are aware of the train derailment and are monitoring the situation. They have no plans to send a team at this time but say" "We may asses the cars involved at a later date."
Improving tail tank car safety was one of the NTSB's "most wanted" items on their 2015 safety list.
The U.S. Transportation Department is weighing tougher safety regulations for rail shipments of crude, which can ignite and result in huge fireballs.
Responding to a series of fiery train crashes, the government proposed rules in July that would phase out tens of thousands of older tank cars that carry increasing quantities of crude oil and other highly flammable liquids. It's not clear how old the tankers were on the derailed train.
Thanks for reading CBS NEWS.
Create your free account or log in
for more features.