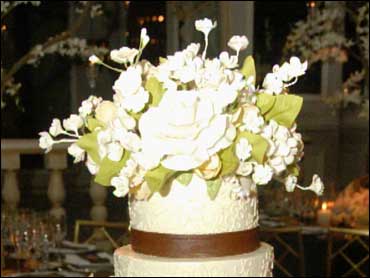 Weinstock's Wedding Cakes For The Wealthy
Bigger-than-life wedding cakes have been around for a long, long time. In the 1700s, French royalty dined on what were known then as "extraordinaires."
The British followed suit and got out the ladders for their royal confections, such as Queen Elizabeth's wedding cake.
Sylvia Weinstock and her husband, Ben, started their cake business 25 years ago in New York City. She has baked cakes for high profile weddings such as Sen. Ted Kennedy's marriage to Victoria Reggie and Michael Douglas's marriage to Catherine Zeta Jones
Weinstock likes talking about her celebrity customers, but what she likes even better is talking about her superstar cakes.
"Baskets. It's a fall wedding, second wedding," she said as the showed off one of her creations to Sunday Morning correspondent Serena Altschul. "Someone who wanted something different."
"Here's a wedding cake that's pink. The word is pink," she said as she pointed to another.
"Isn't that a grand cake? Look at it," she said referring to another cake. "It's sort of an art deco feeling. And it had to be bigger than life."
Weinstock used to teach kindergarten where she said she liked to do crafts such as finger-painting and play dough with her pupils. But today, she doesn't use play dough — instead, she uses sinfully delicious sugar dough.
Weinstock doesn't use cake decorators, but artists. They make hundreds and hundreds of sugar dough flowers each week — a technique Weinstock mastered by an intense study of the rose.
"How I start was I took the rose apart," she said. "And you put it down in a sequence so that you see exactly how it grow together, and you'll notice, as you get down to the center, we're dealing with the smaller petals."
When she met with Altschul, Weinstock's projects were for Jennyfer Rahill's wedding in Orlando, Fla. — she wanted a very tall cake — and Bobbie Wax of New York City, who wanted some embroidering on her cake.
Since every cake is custom made, the bakery creates only about 15 cakes a week. It all starts simply enough: eggs, butter, sugar, flavorings. They're mixed together, baked and built, but it truly is a design-it-yourself cake. The clients come in with a design and their needs are met from the flavor of the cake and filling to how it is decorated.
But this all comes at a price. A basic Weinstock cake costs about $15 a person, or $3,000 for 200 guest. A more elaborate cake with loads of flowers, extra height or unusual shapes can cost as much as $50,000.
"It's a luxury. But it's an affordable luxury," Weinstock said. "So that I think wedding cakes are a focal point. I think cakes in general are a focal point of an event, whether it's public relations or a christening or a birthday or for a wedding or any celebration. The cake is always in the forefront."
Thanks for reading CBS NEWS.
Create your free account or log in
for more features.