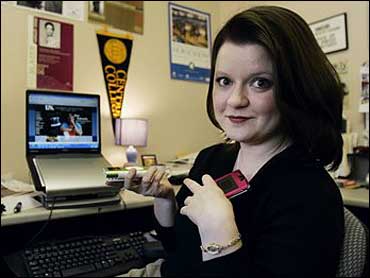 Allison Elliott occasionally wears the delicate gold windup watch that belonged to her grandmother. But it's really just for show.
Elliott, who's 27, is much more likely to get the time from the clock in her car, the one on her cable TV box or cell phone or from the bottom right-hand corner of her computer at the University of Kentucky, where she works.
Paul Dryden is much the same. "To be honest, I can't remember the last time I wore a watch — I'm guessing early in high school," says the 21-year-old senior at Connecticut College. The busy student's cell phone often doubles as an alarm clock because "it goes everywhere I go."
In other words, the way we track time is changing with the times.
Market researchers say more people are carrying electronic devices that also tell time, whether a phone, an iPod or a BlackBerry. They're also finding that young people, in particular, are more interested in spending their money on other kinds of accessories, such as shoes and handbags.
In a survey last fall, investment bank Piper Jaffray & Co. found that nearly two-thirds of teens never wear a watch — and only about one in 10 wears one every day.
Experian Simmons Research also discovered that, while Americans spent more than $5.9 billion on watches in 2006, that figure was down 17 percent when compared with five years earlier.
In response, some watchmakers have begun to add more functions to their timepieces, with models that have everything from heart rate monitors to GPS trackers.
Luxury watches, such as Rolex, remain popular. But even then, the watch is often more about fashion than function, says Max Kilger of Experian Simmons.
"It really is an anchor point — and that's the end of it," says Kilger, the research firm's chief behavioral scientist. "A cell phone is one step up from that; it begins to help you manage your time. And a BlackBerry is one level up from that."
Some have found the trend convenient, if a little stressful.
"I don't check my watch anymore. My watch checks me," says Sean MacPhedran, a 27-year-old from Ottawa, Ontario, who works in advertising. He's referring to the beeps and vibrations his BlackBerry makes to remind him of his obligations.
"On the one hand, I've become a slave to its beeps," he says. "But on the other hand, it automates a lot of things that I would have to do manually otherwise — like try to remember when I'm supposed to go learn how to cha-cha or call a client."
MacPhedran does wear a watch when he wants to look "put together." But it's become so much more an accessory than a necessity that he's developed a habit of taking it off unconsciously and leaving it places.
"When I was little, I took off my socks because they were constraining," he says. "I think I take my watch off for the same reason."
Before she joined the ranks of telecommuters and stopped wearing a watch, 35-year-old working mom Jeannine Fallon Anckaitis also thought of her watch as "a handcuff" that she'd immediately remove when returning home.
"Even if I went out to dinner straight from work, I'd dump the watch into my purse to free my wrist," says Anckaitis, who lives in Swarthmore, Pa., and now works from home for an online auto site. "Taking off the watch symbolized being done with the pressure-filled commitments of the day and settling into a pace where the time matters far less."
Indeed, the watch is a symbol of stress for many people. But it's not really time itself that's the problem, says historian James Hoopes.
"It's that we live in an increasingly synchronized world," says Hoopes, a professor in the division of history and society at Babson College in Massachusetts. "You don't really relieve all the stress unless you get out of the world where time synchronization is so important."
He notes that, historically, the obsession with synchronization took hold in the railroad era, when watches were often kept in a pocket.
By World War I, watches began moving to the wrist, as a means of efficiency.
"The wrist watch was really a response to stress — the stress of battle," Hoopes says.
In today's age of globalization, he says, synchronization has only increased in scope.
Glen Stone gets a sense of that every working day at the World Trade Centre Toronto, as he walks by a wall of clocks that show times from around the world.
But as important as time is at the busy Toronto Board of Trade, even he has given up on wearing his own watch.
The 48-year-old Canadian says every timepiece he's owned — including the first one he got at age 8 — has either broken or irritated his skin, whether they were cheap or expensive watches, digital, leather-strapped or metal.
He asks: "Know anyone who wants a drawer full of broken watches?"

Thanks for reading CBS NEWS.
Create your free account or log in
for more features.