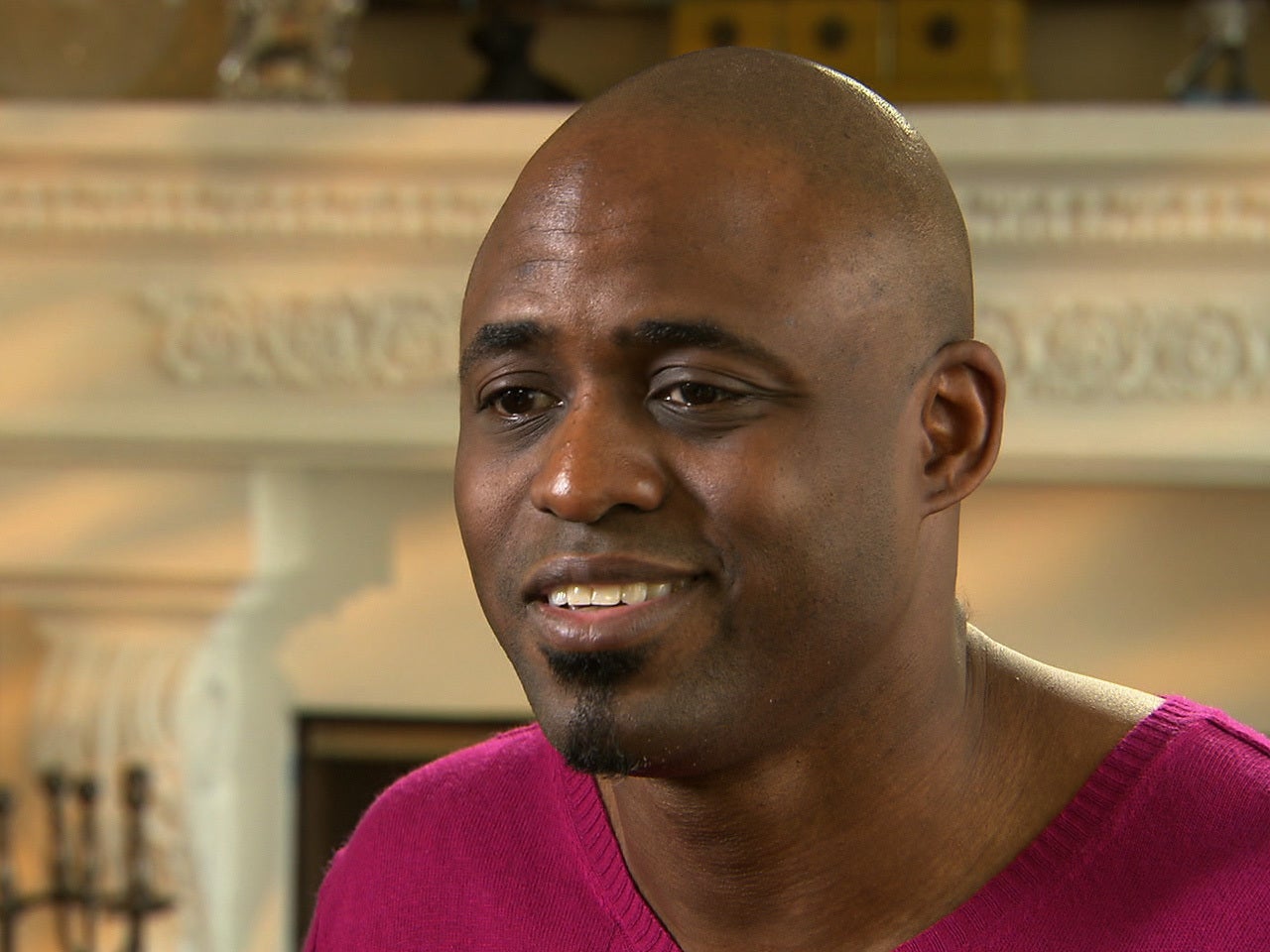 Wayne Brady: Just getting warmed up
(CBS News) Wayne Brady -- the Emmy-winning improv comic, singer and host of "Let's Make a Deal" -- is never lacking in ways to grab our attention, and bring a smile to our faces. Lee Cowan offers this Sunday Profile:
To sit across from Wayne Brady is like getting a ticket to a one-man show.
You might get a little James Brown; perhaps a little Sammy Davis Jr., too.
"He had this way of speaking that he was very, very dignified. He'd talk to the audience -- and then all of a sudden when he would start singing, his voice would change and he would just get bigger!"
And if you have kids, you might recognize Clover, the rabbit from Disney's "Sophia the First."
With all those voices in his head, you might think Wayne Brady's a bit schizophrenic, but there are few entertainers who are more single-minded about success than him.
So how does he see himself? "I see myself as the guy that can do whatever you want him to do," Brady said.
This 40-year-old father of one has shown he can do just about anything he's asked to do. He's won an Emmy for his comedic improv skills. He won two more Emmys for best talk show host.
He's been nominated for a Grammy, wants to win a Tony . . . and he says he's just getting warmed up.
"There are so many things that I cannot do. But this stuff? The entertaining, the singing, the improv, the dancing, the comedy, the drama, the writing music, the being able to perform it, the sketch writer, I've got those," he said.
He got them, he says, from watching his heroes: the Dean Martins, Frank Sinatras and Carol Burnetts of the world.
And it's that same kind of old-school versatility Brady hopes to bring to his current performance, as the host of "Let's Make a Deal."
The game show turns 50 years old this month, perfect for an entertainer who sees himself as a throw-back. The more outlandish and unexpected the audience, the more Wayne feels alive and on his toes.
"I'm in the middle of the audience, thinking on my feet, changing people's lives, and making some comedy along the way," he said.
He's got big shoes to fill. It was Monty Hall who first put "Let's Make a Deal" on the air back in 1963. He made guessing what's behind Curtain Number 1 a national pastime.
Hall is now 91, but he's still in the game -- as Wayne Brady's creative consultant.
"What's the first thing you told him when he was taking over the show?" asked Cowan.
"Love the people," Hall said. "Love the people, because they're coming to your party. I once said to Wayne when we were starting the show, 'If a woman is going for a car, and she loses it and still kisses you, you've done something right.'"
Did Brady feel he had a tradition to live up to?
No, he replied. "And that that was very freeing, because all I needed to do was entertain, and the rest would fall into place."
Not bad for a kid from Orlando, Fla., who grew up reluctant to even open his mouth because of a debilitating stutter. "It was bad enough to where I really did not want to talk to too many people," Brady said, "because I would get so worked up.
"If I shut up, then you can't make fun of me."
He was raised largely by his grandmother, so much so he calls her Mom. But even she couldn't stop the teasing.
"Either you break under that pressure as a kid, 'cause bullying is no joke, or you learn to take it and give it back, and do it in a way that gets a positive response," he said. "That what acting was for me."
That ability to come up with a quick comeback to those who tormented him was what eventually landed Brady in the spotlight.
He broke onto the national scene on the improv comedy hit, "Whose Line Is It Anyway?" He was so good many thought there just had to be a script. But there wasn't -- he made everything up on the spot.
"If you can't keep this space, if you're not getting a laugh every time you open your mouth, then you have no business being on that show," he said.
Soon other opportunities came his way, everything from hosting the Miss America pageant in 2002 (the first black host ever, by the way), to getting his name on a talk show.
"I had my own show - 'The Wayne Brady Show'! That was the biggest thing in the world to me," he said. "I thought that I'd arrived."
But with the notoriety came the critics -- some claiming Brady wasn't black enough, others that his act was just too squeaky-clean.
Until, that is, Wayne Brady showed another side -- surprising audiences with a comedy sketch he helped write with comedian Dave Chappelle. Wayne Brady "the thug" became an Internet sensation -- which was flattering, he says, but only to a point.
"When people go, 'But that's just not you,' that's why it's so funny. You don't know me. 'Till the day that I die, I will constantly say, 'Do not define me by that.'"
Label's aren't Wayne Brady's thing. Just when he was getting recognized for his acting talents, he turned to music -- his first love, he said.
He's currently in the studio working on an R & B album, and expectations are high. Why? Because this isn't his first album.
"A Long Time Coming" was released back in 2008. It landed him a Grammy nomination for Best Traditional R&B Vocal Performance, for the Sam Cooke classic.
"When a Grammy nomination of all things my first CD out, dropped in my lap, I cried," he said. "I cried to myself. I called my mom and I cried. I knocked on my little girl's room and said, 'Daddy whaa whaa whaa!' Big deal in my household."
"So if everything else were to go away and you still had music, you'd be happy?" asked Cowan. "Yeah, yeah, I would," he replied.
There are few worries about anything going away yet. After all, he remains a regular as a headliner in Vegas.
True to form, his show offers a little bit of everything -- just the way he likes it. No labels.
"I've always consistently just been me," he told Cowan. "I'm 40 now, so I hope I'll have this conversation with you when I'm 80, and be able to say the same thing."
For more info:
Thanks for reading CBS NEWS.
Create your free account or log in
for more features.