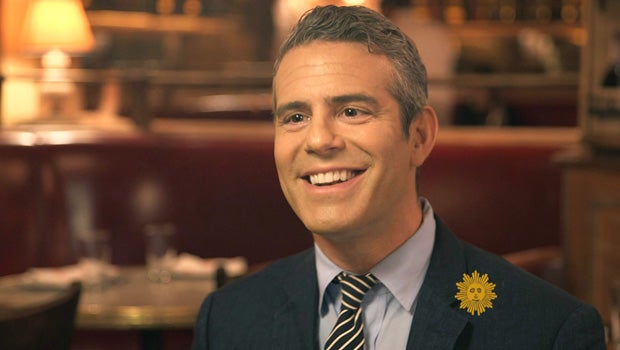 ​Watch what happened to Andy Cohen
Just what happened to Andy Cohen over the years that he wound up hosting an uninhibited late-night talk show? Andy Warhol once predicted everyone would be famous for fifteen minutes . . . and it's a message THIS Andy has taken to heart. Here's Erin Moriarty of "48 Hours":
Forty-six-year-old Andy Cohen is the Peter Pan of late-night television. If, by some chance, you've never heard of him, he's the host of "Watch What Happens Live" on Bravo TV . . . a talk show sorely in need of adult supervision.
There's blush-worthy language . . . inappropriate touching . . . and we should probably mention that he drinks on-air. So do the guests!
The show even has a bartender. Moriarty's recent appearance in that position may seem strange to you until you hear why:
"A few years back, when I was in college, I interned at CBS News for an incredible reporter named Erin Moriarty," said Cohen on his show. "How is this for a full-circle moment? She is doing a profile on me right now for CBS' 'Sunday Morning,' and she's here with a camera crew in tow. It's tonight's guest bartender, Erin Moriarty!"
Yes -- Andy Cohen started his television career at CBS News, as Moriarty's 21-year-old intern.
After college, Cohen became for a time a CBS News producer. But his real dream was to be as famous as the people we interview.
He's not only done that; he's a bestselling author, with a new book, "The Andy Cohen Diaries." It's patterned after "The Andy Warhol Diaries," published 25 years ago, in 1989.
"I've always been fascinated by celebrity, from a young age," said Cohen, "and I think that's why I connected to Warhol's diaries, because it's a pop culture time capsule."
Like the pop artist who loved bold-faced names, Cohen took notes on a year in his own fabulous life.
"November 18, 2013: Britney Spears' people asked me to interview her onstage at her album release event this Thursday in L.A."
We were with Cohen one day as he recorded his audiobook.
"June 15, 2014: Cher called today . . . "
Many of those A-list names visit him in his "clubhouse" (which is what he calls his tiny stage set).
There may be only 22 people in his studio audience, but in homes there are more than 900,000 viewers each night who know that he was born in St. Louis, and that his family ran a food business there.
He showed Moriarty a box of teabags produced by Allen Foods, Inc. "So you could be selling teabags?" asked Moriarty.
"I could be selling teabags, among other things!"
"Are you living the life you always dreamed of living?"
"I am," he replied. "One-hundred percent. I mean, it's great. There couldn't be a more pure iteration of who I am than what I'm doing every night live at 11 o'clock."
"And what does that mean? When you say that, what is that?" she asked.
"It means I am being 100 percent myself on TV."
So who is he, and how did he get here? Like his idol, Andy Warhol, Cohen hit a pop culture nerve. Warhol did it with soup cans and faces. Cohen? He brought us the "Housewives"!
He asked, "Do you blame me for it, Erin?"
"Well, we'll get to that," she laughed.
While working as a programming executive at Bravo, Cohen helped create the immensely popular "Real Housewives" reality series. Cohen still watches over the shows, and interviews the most controversial couples every week.
Moriarty asked, "Why would they want to share these very private moments? Divorces? Fights with their children? Why would they want to share that with America?"
"That I have not entirely figured out," he replied.
"It isn't for the money?"
"I think sometimes it's for the money," said Cohen. "I think sometimes it's for the fame. They get speaking gigs, they get books, they get jewelry lines, they get other things."
Cohen says the shows aren't scripted, but the stars know they're not likely to survive without drama.
He writes in his book, "This is the world we live in and I'm just feeding the beast."
"Yes, it's true," Cohen said. "And sometimes I think that's great. And sometimes I shake my head at myself."
But you still do it? "I do. I love it. And I really -- I'm proud of the show."
And particularly proud that he is late-night TV's only gay talk-show host, so he can openly complain about the only thing lacking in his life.
From "The Andy Cohen Diaries":
"So why don't I have a boyfriend? Pick one or two: I am shut off, I am happy as I am, I am selfish and set in my ways, I put my job first, I meet people that I'm more attracted to physically than mentally, I use my friends and job to replace a relationship."
And, he told Moriarty, "It's a part of the show. It doesn't define me, but it's part of who I am. And so, yes, the idea that I can be wholly myself on television probably didn't exist ten years ago."
"Or 25 years ago. 'Cause you once told me that you were afraid, you didn't know how I would react.
"Of course, I was in the closet when I was as your intern."
Cohen has yet to find the right man, but he did gain a best friend: his adopted rescue dog, Wacha, named after Michael Wacha, pitcher for Andy's beloved St. Louis Cardinals.
"Erin, I couldn't look at myself in the mirror anymore," he said. "I was just ready to take care of something else, you know? And I feel like he's opened my heart up, so I feel like a guy is coming."
There's something else Cohen's "Diaries" make clear: It's a lot of work to be a celebrity . . . a lot of time on red carpets . . . a lot of time at the gym.
But there may be no one who enjoys it more.
"Look, I'm all about high and low," he said. "I love The New Yorker and I love US Weekly. I love having Meryl Streep on my show, and I love having any 'Real Housewives' on my show. I don't feel that different from the kid that I was when I was your intern, I really don't."

For more info:
Thanks for reading CBS NEWS.
Create your free account or log in
for more features.