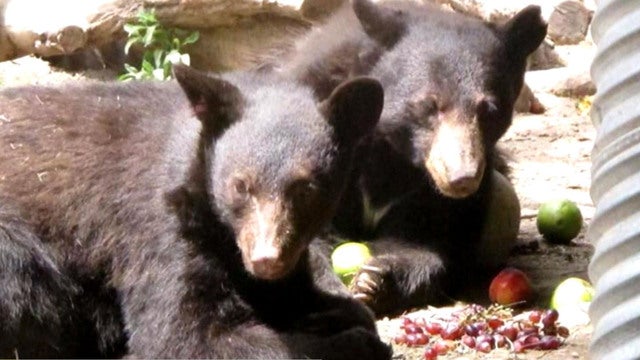 Cinder the bear's storybook rescue
The worst wildfire in Washington state history raged for days and burned more than a quarter-million acres. One victim was a little bear cub named Cinder by those who found and rescued her.
Over 300 homes were destroyed, and the toll on nature was catastrophic, CBS News' Carter Evans reports.
"Deer, bear, cougar, cows, goats, sheep, lots of wildlife. I couldn't even count," said Rich Beausoleil of the Washington Department of Fish and Wildlife. "Thousands."
But there was a survivor -- a cub that found its way to Steve Love's home, one of the few in the area left standing.
"She came up limping, walking on her forearms," Love said.
All four paws were badly burned, so he fed the cub and tried to sooth her.
"I said, 'You'll be OK, little bear,'" Love said, "'everything's gonna be OK.'"
But she wasn't.
"When the bear was delivered to me," Beausoleil said, "I said, 'I'm not sure she's gonna make it through the night.'"
Beausoleil named the cub Cinder and brought in Wenatchee veterinarian Randy Hein.
"It was bad," Hein said. "It was the worst burns I've ever seen. My gut feeling was that the bear would live, but I didn't know if she'd ever be able to be released into the wild because of how badly damaged and burned her paws were. They were charcoal."
Cinder was flown first to a California Wildlife Center that specializes in treating burns and then in early December to a rehab center in Idaho where she found a friend.
"The most important part of rehabilitation for bears is socializing with other cubs," Beausoleil said. "They rely less on people and the handlers and the caretakers, and that's when they become wild bears."
Both bears were driven back to their native Washington state. The other cub was not a fire victim; he was orphaned and physically in good shape. The word on Cinder was that she had improved, but Beausoleil had no idea by how much.
Beausoleil thought Cinder's recovery was amazing.
"Of these claws in front, there was only two. And now there's all five again," Beausoleil said. "Incredible!"
Her appetite was also incredible. The day she was found, Cinder weighed just 34 pounds. Now, she weighs 124 pounds.
After being fitted for a tracking device, the moment came to say goodbye.
Beausoleil said it's important to have a bear's last human contact be a bad one with as much chaos as possible.
When they opened the gate, Cinder did not hesitate. She bolted straight and deep into the forest.
"Here was a hapless little animal that was so severely injured, and we helped that little animal," Hein said. "We saved her."
"This little spark of life coming out of the desolation," Love added. "She was so determined to survive, that helped my morale, and I think it helped a lot of people who had been going through the fire, to hear about her. It was inspirational for me."
Her story was so inspiring that a local author just published a children's e-book called "Cinder the Bear: A True Story of Rescue, Recovery, Rehabilitation and Return."
Cinder has now done all of that, and even scripted the ending, happily ever after.
Thanks for reading CBS NEWS.
Create your free account or log in
for more features.