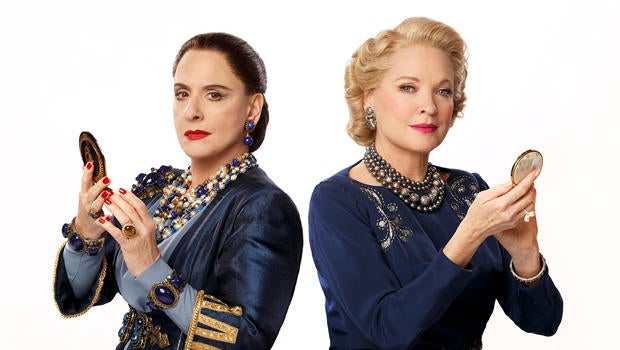 "War Paint," the ugly fight over the business of beauty
A new musical ON BROADWAY brings to life a historic rivalry that was anything but pretty. With Richard Schlesinger, we take a look:
"All of my life's work lost.
All because of her: Second-rate imposter.
She appropriated half my line.
I'm the scientist behind her design."
The Broadway show "War Paint" tells the story of an unlikely fight between two successful women, in an unlikely time for women to be so successful.
In the early 1900s, before women could even vote, the flames of the feud between cosmetic queens Helena Rubinstein and Elizabeth Arden had already been ignited.
"They did really some vicious things, there was no question," said author Lindy Woodhead, who wrote the book "War Paint" about the ugly fight over the business of beauty.
In the new musical, Christine Ebersole plays Elizabeth Arden. "She was very driven and very committed, and nothing deterred her," she said.
"Was she mean?" Schlesinger asked.
"Yeah!" she laughed. "But she could, of course, put on the charm."
And Patti Lupone plays Helena Rubinstein. "I think their similarity is what's so interesting, because they were enemies, but ambitious, ruthless, creative. And I also think very lonely."
"My sons don't call. My husband cheats.
Now they can pay their own receipts.
I'm back on top."
The real story of Arden and Rubinstein is dramatic enough even without the music and the costumes. They might well have been friends. But in the case of these two powerful, wealthy women, similarity bred contempt.
"They were enormously talented. They respected beauty," said Woodhead. And, "they were tyrannical."
And they both came from very little, and made very, very much.
Elizabeth Arden was born Florence Nightingale Graham outside of Toronto in 1878, or 1884 (records conflict).
Her father was a peddler. In the show, as in reality, her arch-rival Rubinstein knew that. ("Pedigree? What, she stepped off the pilgrim boat in her Chanel pumps? I know the truth: She's Canadian!")
Helena Rubinstein was born Chaja Rubinstein in 1872 in Krakow, Poland. Her father sold kerosene. And in the show, as in reality, Arden knew that. ("Royalty? Chaja Rubinstein? Her father pulled an egg car to the slums of Krakow!")
"He couldn't even afford the donkey!" laughed Ebersole.
"That's very mean," said Schlesinger.
"But they're also speaking the truth," said LuPone.
And the truth hurt. As the money piled up, so did the resentment.
They opened salons around the corner from one another. According to Doug Wright, who wrote the script for the show, Arden stole Rubinstein's favorite marketing director away, and then Rubinstein retaliated by stealing Arden's husband and bringing him to her company. "That was a feud!"
There's no record that they ever met. "Never spoke to each other, never referred to one another by name," said Wright. "Rubinstein called Arden 'The Other One' in her Polish accent, and Arden called Rubinstein 'That Dreadful Woman.'"
But in the midst of all the no-name calling and all the fighting, they created an industry by making makeup respectable. When they started, the only women using cosmetics were hookers and show-girls. Today it is a multi-billion-dollar business, after Rubinstein and Arden laid the foundation for cosmetics departments in stores like Bergdorf-Goodman.
"So they not only invented the product, they invented how it was sold?" Schlesinger asked.
"The branding, the customer service ... it never existed," Woodhead replied.
The fight that propelled these two women has largely been forgotten, until now -- perhaps, argues the show, because they were women. The two stars sing a duet called, "If I'd Been a Man."
Theirs was one of the great feuds in American business, like Macy's and Gimbal's. "But those were men, too," said LuPone. "And I wonder whether we were a feud or simply a 'catfight' -- whether they diminished the importance of this particular feud because they were women."
In the end, there was no real winner of this feud … but no real loser, either. "The reality is that they needed each other," Woodhead said. "They fed off each other. It was very sparky. And it was great for business."
Helena Rubinstein and Elizabeth Arden died within 18 months of each other.
And it would probably pain them both to know that they are being remembered together, as two women who produced all that makeup -- but never made up.

For more info:
Thanks for reading CBS NEWS.
Create your free account or log in
for more features.