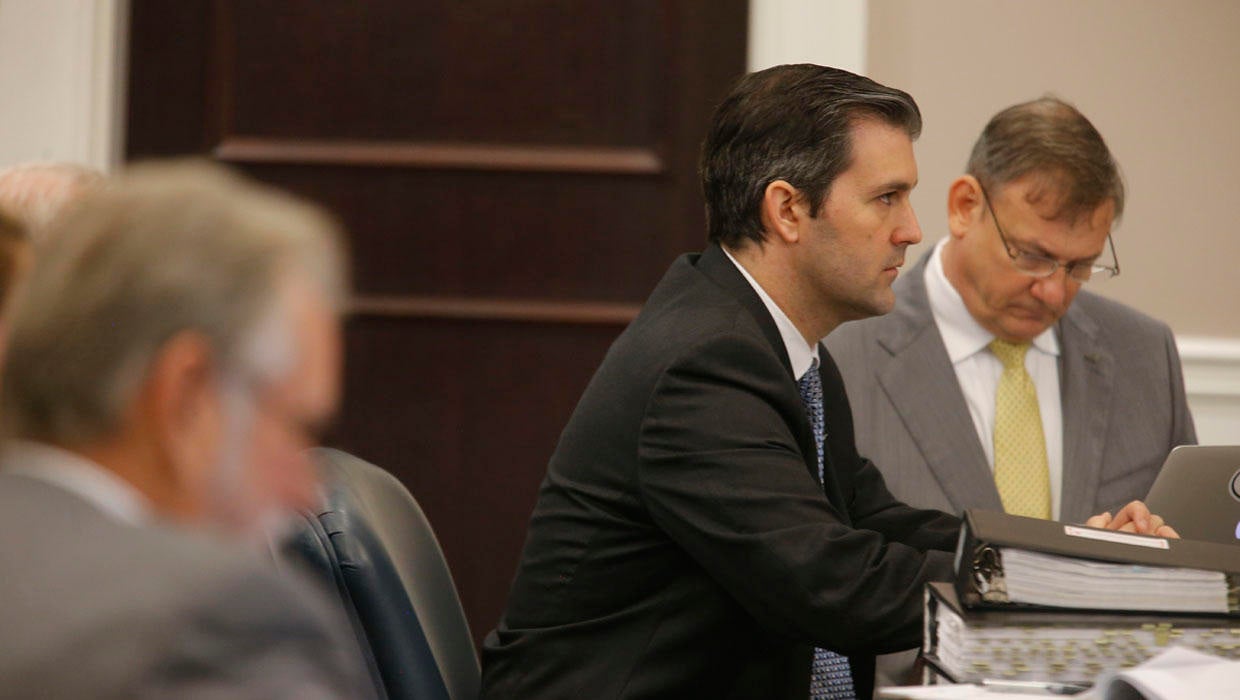 Prosecutor: Officer's shooting of unarmed man in back "flat out wrong"
CHARLESTON, S.C. -- The murder trial of a white former police officer who shot an unarmed black motorist eight times as he ran away from a traffic stop opened on Thursday against a backdrop of violence by and toward police across the nation.
In her opening statement, Solicitor Scarlett Wilson told the jury of 11 white people and one black man that former North Charleston officer Michael Slager may have been provoked if Walter Scott wrestled his stun gun from him, but that doesn't justify shooting Scott in the back as he tried to run away.
"If Walter Scott had not resisted arrest, he wouldn't have been shot. He paid the extreme consequence for his conduct. He lost his life for his foolishness," she acknowledged. But Slager is on trial for murder because of what he did after Scott broke away from the officer, she said.
Wilson told the jury Slager's actions were "flat out wrong."
"We are here," she said, "... to bring accountability to Michael Slager for his actions."
Slager, 34, faces 30 years to life if convicted of murder in the April 2015 death of Scott, 50, whose shooting was captured on a bystander's dramatic cellphone video and stunned the nation as it spread on social media. Slager has pleaded not guilty to a murder charge, saying he shot Scott in self-defense after Scott tried to grab his Taser.
Slager was fired shortly after the video was released.
Defense attorney Andy Savage sought to pin responsibility on Scott, who tried to run away after Slager pulled him over for a non-functioning tail light on his car.
"Why did he choose not to respect the request to stay where he was? That's something that I hope you consider," Savage told the jurors. "It wasn't Mr. Slager who was angry and full of animosity."
Savage reportedly said Scott was alone patrolling alone in North Charleston's "No. 1 crime-ridden area" when he stopped Scott. He said Scott escalated the situation because he ran away, reports CBS affiliate WCSC.
Before opening statements launched, Judge Clifton Newman ruled Slager would be allowed to remain out on bond during the trial, according to WCSC.
Newman reportedly hasn't yet ruled on a motion to prevent the cellphone video from being shown in court. The defense calls it unfairly prejudicial.
As Slager's trial began in state court in Charleston, a similar trial is underway in Ohio in which a white campus police officer is charged in the death of a black man. And on Wednesday, authorities apprehended a white man suspected in the deaths of two white Iowa officers shot while sitting in their patrol cars.
Just how much the broader issues of race, violence and law enforcement should be raised during the Slager trial was discussed by attorneys as Newman heard some final motions in the case.
"It's important we not go down the slippery slope of every officer-involved shooting," prosecutor Wilson argued. "The only thing that is relevant is what the defendant did that day and what was going through his head at the time."
Don McCune, one of Slager's defense attorneys, said the case is a bellwether for many people.
"We can't carve Charleston County out of the rest of the world," he said.
The judge said the case is not a referendum on what has occurred in other places.
During jury selection, the defense struck nine potential jurors, including seven minorities. The prosecution challenged whether race was being used as a basis for disqualifying those potential jurors and the defense provided detailed reasons for its strikes.
Some of those reasons were not having a good understanding of English, expressing anti-gun sentiments and, in one case, being a friend of the medical examiner, who is expected to testify.
Figures released by the clerk of court in Charleston County show that of the pool of 75 qualified jurors from which the jury was selected, 16 were black, or just more than 20 percent. The black population of the state and the county is about 28 percent.
Slager also faces trial next year in federal court on charges including violating Scott's civil rights.
Thanks for reading CBS NEWS.
Create your free account or log in
for more features.