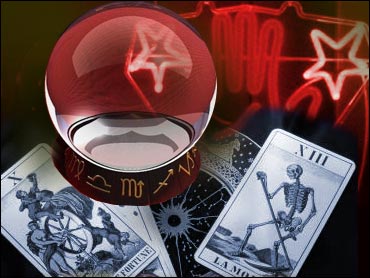 Visiting The Psychic Capital Of The World
We're all wondering what's going to happen in the year 2008. Well, as CBS Sunday Morning's Bill Geist found out, there's no better place to find out than in Cassadaga, Florida, the psychic capital of the world.
It's is a little town where about half the residents are psychics…of one kind or another.
Why Cassadega? Well, you know how cell phone contacts are better in certain places? Well, spiritualists settled here in 1894 because contact with the other planes, if you will, was clearer to them here. Psychic entrepreneurs, like Dr. Rob, later opened for business around the religious settlement.
Dr. Rob says it's a psychic Disneyland…where Mayberry meets the Twilight Zone.
No barbers, grocers or bankers...just scores of psychics. No waiting. Major credit cards accepted.
So, what does Cassadega's psychic industry foresee in 2008?
For the economy…
Good news, from Reverend Dawn Cassaday, a clairvoyant and clairaudient.
"I feel that the economy could actually be turning around in a very positive direction. I feel a great strengthening of the stock market," Cassaday told Geist.
And good news from tarot card reader Matthew Greene, "So probably around April, May, I feel as though you're going to see the crunch start coming up and lifting."
What do they predict for the presidential election?
"I think it will be Hillary," predicted Jamie Tolaver Ruiz. "And I'm not saying that that's my choice. But I do feel that Hillary will be the one."
"I do feel female energy coming into the White House," agreed Greene.
But like Washington political pundits these psychics are not all talking to the same celestial sources.
"I feel the office is gonna be held by a Republican," predicted Reverend Cassaday.
Matthew Sekunna of the Universal Centre, tapped into a similar psychic plane.
"I will predict that our next president more than likely will be a Republican," Sekunna said, adding, "I have a feeling this one's also gonna be decided by the courts."
"Oh no…," reacted Geist.
Say it isn't so! Let's talk about something more pleasant, like hurricanes.
"I don't feel like we're going to have a big hurricane season this year," said Dr. Rob. "What I feel this coming year, there will be a lot of earthquakes this year. And of course with earthquakes come tsunamis."
Taking a poll of psychics is not for the claustrophobic. Small rooms, small tables, small decorating budgets. And…some rather small questions.
"Will we be able to get an Egg McMuffin at McDonalds after 11:00? I don't think that'll ever happen," predicted Sekunna.
And what about Brangelina??
"Brad Pitt and Angelina Jolie?" asked Greene, as he prepared his tarot cards. "Okay. What, what kind of year is it gonna be for them?"
A moment later, he had his answer.
"I think they'll hang in there one more year."
"One more year, and then it's over?" Geist asked.
"And then the divorce card comes out," Greene answered, laughing.
And of course there's the cosmic question we ask every year...will Elvis come back?
Greene consulted his cards again, "Will Elvis…come back? Nope."
Elvis is not coming back.
And baseball?
"My team the Chicago Cubs haven't won a world series in a hundred years," Bill told Cassaday.
No matter how many times he asked, Geist's Cubs never came up winners.
"I just feel like they need more strong players. Do you understand?" Cassaday asked him.
"I understand…completely," Geist answered.
No question was too great or small.
"In my personal life, it's kind of an odd thing that's happened is…all my major appliances have broken down," Geist told Cassaday.
"Yes," she told him. This is an astrology vibration right now. Mars is in retrograde…as these planets begin to start to turn and go backwards, that sometimes…it affects the energy of the earth and the energy of the earth affects small appliances, large appliances. And so you'll find that. And that'll be an affect probably until the middle of January."
"So, I could lose more major appliances?" Geist asked, worried.
"Yes," she answered, "You could."
The message from Cassadega is that things should be more stable and happier for all of us in 2008.
"So you think 2008's going to be a good year?" Geist asked Cassaday.
"I think it's going to be an awesome year," she said.
"Good year for you and your cat," predicted Jamie Tolaver Ruiz.
By the way Jamie is also a pet psychic.
And how's this for good news? We're all going to be thinner in 2008!
"I predict less obesity," said Tolaver Ruiz. "You need to stop saying, "I want to lose 10 pounds." You want to say, "I've lost 10 pounds already," as if it has already happened."
"And you say that, and it will be so?" asked Geist.
"If you really believe it," she said.
Some predictions seem just too incredible believe.
"And do you think…our flights out tomorrow will be on time?" asked Geist.
"Yes," predicted Dr.Rob.
But shockingly, even that came true. Maybe these guys are onto something.
Thanks for reading CBS NEWS.
Create your free account or log in
for more features.