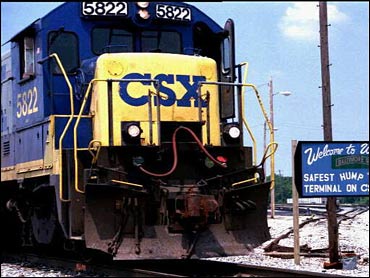 Virus Disrupts Train Signals
A computer virus was blamed for bringing down train signaling systems throughout the East on Wednesday.
The virus infected the computer system at CSX Corp.'s Jacksonville, Fla., headquarters, shutting down signaling, dispatching and other systems at about 1:15 a.m. EDT, CSX spokesman Adam Hollingsworth said.
"The cause was believed to be a worm virus similar to those that have infected the systems of other major companies and agencies in recent days," Hollingsworth said.
The signaling outage briefly affected the entire CSX system, which covers 23 states east of the Mississippi River.
A virus known as "Sobig" has in the last few days become the fastest-spreading e-mail epidemic ever, according to security company Messagelabs, adding to havoc caused by the "Blaster" worm, which debuted last week.
A derivative of "Blaster" brought down Air Canada's check-in systems Tuesday.
Although the problem at CSX had been largely corrected Wednesday afternoon, there were some residual delays in Amtrak service from Washington to Richmond, Va., and points south, Amtrak spokesman Dan Stessel said.
"Most of the delays are in the 15 to 30-minute range on trains that travel through CSX territory," Stessel said.
Ten Amtrak trains were affected in the morning, Stessel said. Trains between Pittsburgh and Florence, S.C. were halted because of dark signals and one regional Amtrak train from Richmond, Va., to Washington and New York was delayed for more than two hours. Long-distance trains were delayed between four and six hours.
More than a dozen commuter trains in the Washington area were canceled.
CSX will work to protect its computer systems from further intrusion, Hollingsworth said.
By Marty Niland
Thanks for reading CBS NEWS.
Create your free account or log in
for more features.