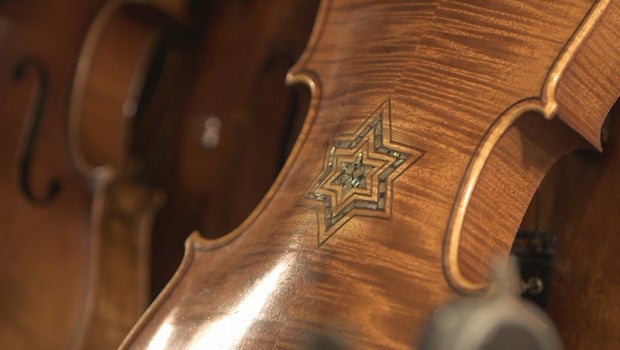 The "Violins of Hope" we're about to hear are from a time when hope seem to be all but lost. Serena Altschul has the story:
When members of the Cleveland Orchestra recently sat down to perform, they faced a daunting task. This would be no ordinary concert: It would take place in an historic synagogue, and it would be played on instruments that had rarely been touched in more than 70 years.
[Music: Mendelssohn's Violin Concerto in E Minor.]
The goal was not just to make beautiful music, but to give voice to millions who were silenced in one of humanity's darkest chapters.
"It's for music," said Israeli craftsman Amnon Weinstein. "It's for violin. It's for survivors. It's for the Holocaust."
The concert was the culmination of decades of work by Weinstein, a second-generation luthier -- a builder of stringed instruments. His father escaped Europe before World War II, but the rest of the family perished.
To honor their memory, and those of everyone who died in the Holocaust, he and his son have collected and restored dozens of instruments that survived.
"I had a guy who came over to me, he played on the way to the gas chamber," said Weinstein. "And he gave me his violin. He wanted to restore it. And when I opened the violin, there was black powder inside. And for me, this is coming only from one place."
Many of the instruments in Weinstein's collection were used in concentration camp orchestras organized by the Nazis.
"And before the orchestra, in front of them, there was a pile of all these dead people," said Weinstein. "And yet, they played. So the moment that the war was finished, they never touched the instrument again, most of them."
In the camps, the violin could also be an instrument of defiance.
"It was forbidden to the Jewish to pray," said Weinstein." So, "the violin was praying for them."
"So, it's sacred," said Altschul.
"Yeah. And to be out of this horrible place for five minutes. You know the value of that? For five minutes in a free world? Some people say that always when he played the violin, he was in a concert hall. You opened the door, you see the barbed wire."
"Transports you somewhere else."
"Completely," said Weinstein. "That's the power of music."
Music is deeply rooted in Jewish tradition. Persecuted throughout European history, Jews were often on the move, in search of a safe place. Music became a refuge, and a source of joy.
"Have you seen Chagall painting? This was a part of the culture," said Weinstein. "It was a cheap instrument. Everybody could afford it.
"Always when people asked Isaac Stern why so many Jewish people are playing the violin, his answer was very simple: 'It is the easiest instrument to pick it up and to run away!'"
Besides portability, the violin has another unique quality: Its design originated in 16th century Italy, where it was created to emulate the range of a female soprano voice.
So it was no accident that when the Cleveland Orchestra performed, guest soloist Shlomo Mintz played notes that literally cried out for the silenced.
"An instrument becomes part of the person which plays it," said Cleveland Orchestra conductor Franz Welser-Möst. "It's the voice of that person comes through the instrument. And just knowing that some of these people who have owned these instruments did not survive, but their personality is still within these instruments, I find that very moving."
Welser-Möst and violinist Peter Otto were keenly aware of the history of the instruments.
Altschul asked, "What happens to an instrument if it isn't played?"
"After a while, it just loses the sound," said Otto. "It sounds tight. It just loses its spirit, so to speak."
"So an instrument that's well-played and loved and used sounds richer?"
"It sounds richer, it sounds more open. It's like a really good singer singing freely and using everything they got, you know, in their body. I can only suspect what this violin would sound like if it was played for, let's say, a year every day."
Which is why a museum display of Weinstein's instruments, called "Violins of Hope," at Cleveland's Maltz Museum of Jewish Heritage, includes regular performances.
Richard Bogomolny and Milton Maltz are the driving forces behind the exhibit and concert.
"When Amnon created the Violins of Hope, it wasn't to put them on a table and have somebody look at them," said Bogomolny. "It was that they had to be played, because that's the only way the voices of the voiceless could be heard."
"So how did it feel to be in that incredible space and have this project finally come together?" asked Altschul.
"Well, I'm fairly short -- I'm about five foot five," said Maltz. "I felt like I was ten feet tall."
The audience was uplifted as well. The Violins of Hope were no longer silent.
"Violin is talking, violin is singing," said Weinstein. "And if you have good way to listen, you can listen to all the stories."
For more info:
Thanks for reading CBS NEWS.
Create your free account or log in
for more features.