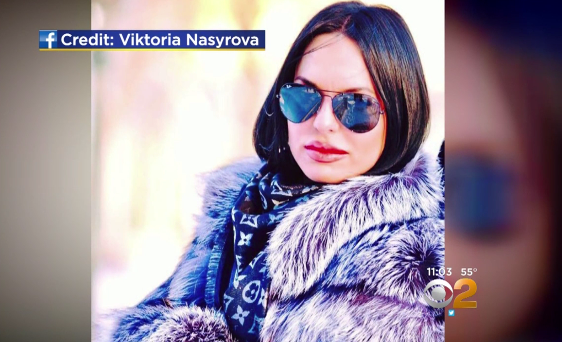 International search for Russian murder suspect ends in Brooklyn
NEW YORK -- An international manhunt for a Russian murder suspect ended on a street in Brooklyn this week, CBS New York reports.
Authorities said a woman arrested in a covert operation killed another woman in Russia. She is also accused of preying on men in New York.
Viktoria Nasyrova, a 41-year-old who appeared to have been living a carefree life in Sheepshead Bay, Brooklyn, and was secretly surveilled by a private investigator, found herself arrested Monday on grand larceny charges.
Nasyrova had been wanted in a Russian murder case. Nadezda Ford said her mother, Alla Aleksenko, mysteriously disappeared in 2014, her remains found months later.
Nasyrova, the prime suspect, was allegedly after the victim's cash inheritance.
"My mom in grave, and she's just enjoying her life," Ford said.
Soon after the murder, investigators say Nasyrova fled from Russia and moved to New York as a wanted woman. Interpol even released a flier in hopes that someone would turn her in.
Taking on the new life of a fugitive in the United States, pictures posted to social media showed Nasyrova living a glamorous lifestyle.
"She was not living the life of somebody that was on the run, or in hiding. She was very, very out there just like any normal Brooklynite," said private investigator Herman Weisberg.
Weisberg, who tracked Nasyrova down, was working with the NYPD when sources say they realized Nasyrova was wanted for allegedly drugging men she met on dating sites and robbing them while they were unconscious.
"She cares a lot about money, apparently, because that's what motivated her," Weisberg said.
"She took everything from me -- everything. Like, everything" Ford said. "My mom was everything to me."
Now, Ford hopes the arrest finally means justice.
"Any person who actually took a life, they have to be punished," Ford said. "They cannot just walk in our society and continue to do stuff, whatever they want to do."
Nasyrova was expected to appear in Brooklyn Criminal Court on grand larceny charges late Tuesday night or on Wednesday. At some point, she will be handed over to federal authorities to face extradition on the murder charge.
Thanks for reading CBS NEWS.
Create your free account or log in
for more features.