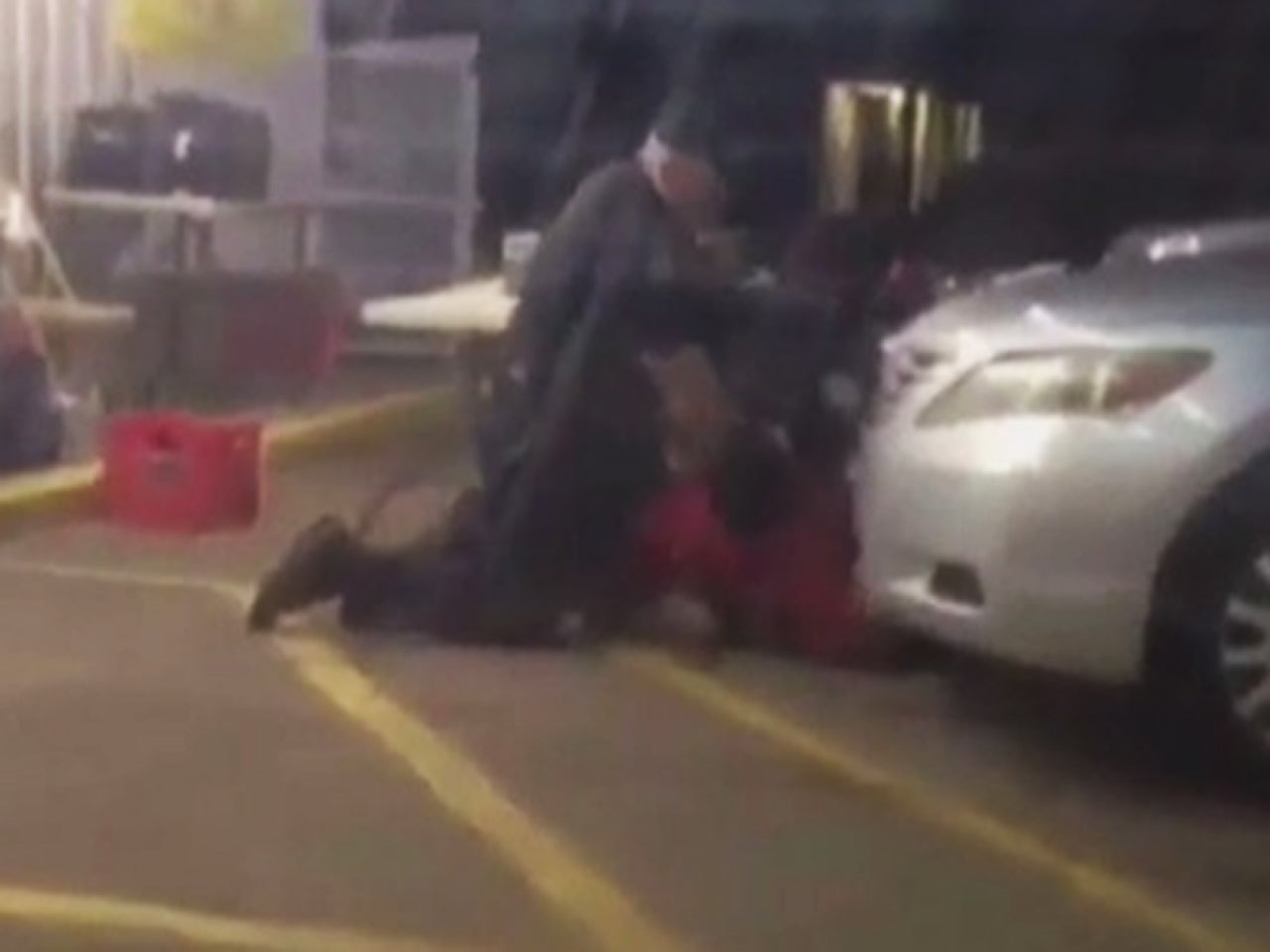 Video stokes tensions after fatal shooting by Baton Rouge cop
BATON ROUGE, La. -- A Louisiana police officer shot and killed a man following a confrontation outside a Baton Rouge convenience store early Tuesday, authorities said, and protests at the scene grew after cellphone video surfaced apparently showing the shooting.
An autopsy shows Alton Sterling, 37, of Baton Rouge, died Tuesday of multiple gunshot wounds to the chest and back, said East Baton Rouge Parish Coroner Dr. William Clark.
Officers responded to the store about 12:35 a.m. Tuesday after an anonymous caller indicated a man selling music CDs and wearing a red shirt threatened him with a gun, Baton Rouge police said in a statement on Facebook.
Two officers responded and had some type of altercation with the man in the parking lot, and one officer fatally shot the suspect, the statement said. Both officers have been placed on administrative leave, which is standard department policy, the statement added.
The store's owner, Abdul Muflahi, told CBS Baton Rouge affiliate WAFB-TV the first officer used a Taser on Sterling and the second officer tackled him. Muflahi said that, as Sterling fought to get the officer off him, the first officer shot him "four to six times."
The owner said Sterling didn't have a gun in his hand at the time but he saw officers remove a gun from Sterling's pocket after the shooting.
Baton Rouge police told The Associated Press late Tuesday they couldn't confirm Muflahi's description of the alleged event or any other details of the investigation. WAFB says police haven't confirmed whether Sterling had a gun.
CBS Baton Rouge affiliate WAFB-TV reports protestors came to the scene Tuesday and more arrived late in the day after cellphone footage circulated on social media that seems to show the deadly confrontation.
The station posted the video on its website with this a warning in bold font saying, "Some may find the cellphone video disturbing and graphic."
The video appears to show Sterling on the ground with two police officers over him.
One of the officers appears to be yelling that Sterling has a gun. After that, a series of gunshots is heard.
Sterling was dead when paramedics arrived at the scene, WAFB says.
The video surfaced hours after the coroner released the cause of death, the station adds.
WAFB's Elizabeth Vowell reported from the scene Tuesday night that the "graphic video ... has only added fuel to the anger and frustration felt by many in this neighborhood. ... The crowd has only grown by the hour, some protesting and sometimes spilling into the street, blocking traffic. So far, things have been peaceful, but tensions are rising."
Sterling's 15-year-old son sobbed during a Wednesday morning press conference, crying, ""I want my dad," as the boy's mother talked about Sterling.
"The individuals responsible for his murder took away a man with children who depend on him," Quinyetta McMillan said. "As a parent, one of the greatest fears is to see your child hurt and know that there is nothing to do about it."
"As this video has been shared across the world, you will see with your own eyes that he was handled unjustly and without regard for the lives that he had helped raise," McMillan said.
Community leaders at the press conference also called for the local police department to release more video of the incident, and to turn over the investigation to state police. They also called for the firing or resignation of Baton Rough Police Chief Carl Dabadie Jr.
Sterling's sister, Mignon Chambers, told WAFB she hadn't seen the video but, "My brother didn't deserve it. He didn't deserve it at all. Not one bit. ... He didnt deserve to be shot like that. Period. At all."
A calm Chambers said Sterling "was a kind-hearted person. Everybody enjoyed being around him. There was nothing ever negative about him that you could say."
WAFB reports State Rep. C. Denise Marcelle, who was briefed by the Baton Rouge police chief, said the officers were wearing body cameras but they fell off during the struggle and didn't capture the shooting.
She added that detectives also have video of the shooting from at least one convenience store surveillance camera and from the dash-cam of at least one police patrol car that hasn't been released.
"What I said to the chief is he has to have transparency in this matter because, as you can see this is getting out of hand. People are clearly upset and they want transparency," Marcelle said.
At the scene of the shooting Tuesday evening, people were wanted answers, WAFB reports.
"The worries are that we are not going to get the information we need to cool the situation down and this may definitely be the next Ferguson right here in Baton Rouge. That's the worries," said Silky Slim, a community activist.
"It just didn't make sense for someone to become so angry that's suppose to protect our lives and take this young man's life. It just doesn't make sense," said Vereta Lee, a family friend.
Rev. Jesse Jackson reacted to the shooting death on Twitter:
Thanks for reading CBS NEWS.
Create your free account or log in
for more features.