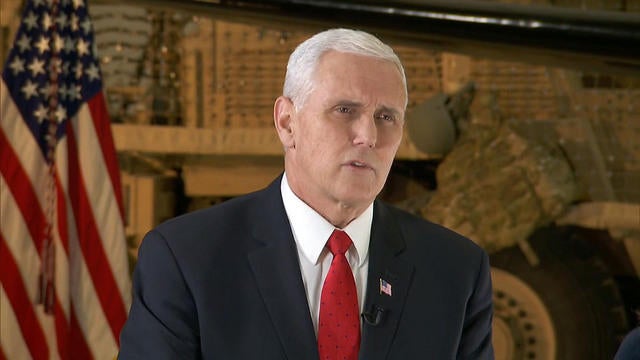 During Afghanistan visit, Mike Pence addresses 2018 agenda, Russia probe and Mike Flynn
In an exclusive interview with CBS News' Margaret Brennan at Bagram Air Base in Afghanistan, Vice President Mike Pence vowed the U.S. would stay in Afghanistan for American security.
Pence spoke to Brennan during his unannounced visit to Afghanistan Thursday for key meetings with its leaders and to visit to U.S. troops. He reassured them the Trump administration is committed to the war the U.S. has fought for 16 years.
Pence also spoke to Brennan about Mr. Trump's legislative agenda and the ongoing investigation into Russian meddling in the 2016 presidential election.
"The president made it clear that we're going to stay in this fight for our security and to achieve a victory here in Afghanistan, but he asked me to develop a relationship with President Ghani," Pence said.
The vice president told Brennan he speaks with President Ghani "at least once a month."
"I met with President Ghani today….Heard about the parliamentary elections that we're supporting and encouraging next year, the presidential elections," he said. "He told me that they're moving forward with their election commission and the plans are on track for parliamentary elections next year, presidential elections in 2019."
Pence also discussed Mr. Trump's legislative heading into 2018 and on the heels of a major legislative win in tax reform.
"To see the Congress of the United States come together, pass the largest tax cut in American history was deeply inspiring to me," he said. "You're going to see this administration move on vigorously to an agenda which will include infrastructure and welfare reform."
He addressed the ongoing Russia investigation that continues to overshadow Mr. Trump's presidency.
"My view of all these matters is that the special counsel has a job to do. We're fully cooperating," Pence said.
Pressed on whether he's personally willing to cooperate Pence said, "We've been fully cooperating... with the special counsel's office, and we'll continue to."

Brennan also spoke with Pence about former national security adviser Michael Flynn, who plead guilty to lying to the FBI earlier this month.
"When he was fired, did you know he had lied to the FBI?" Brennan asked
"What I can tell you is that I knew that he had lied to me, and um, and I know the president made the right decision with regard to him," he responded.
Due to security concerns Pence's visit was a closely-guarded secret with reporters in a total media blackout until just before his departure. He is the highest ranking U.S. official to visit Afghanistan since the Trump administration decided to intensify its military engagement there earlier this summer.
Thanks for reading CBS NEWS.
Create your free account or log in
for more features.