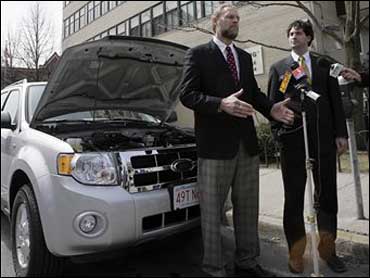 Vermont Wins Legal Victory Over Automakers
Vermont and other states scored a victory on Wednesday in their battle to get automakers to comply with rules aimed at reducing global warming.
State rules on greenhouse gas emissions don't conflict with federal mileage standards and automakers should be able to develop the technology to meet them, a federal judge ruled.
"There is no question that the GHG (greenhouse gas) regulations present great challenges to automakers," Judge William Sessions III, sitting in the U.S. District Court in Burlington, wrote at the conclusion of his 240-page decision.
He added, "History suggests that the ingenuity of the industry, once put in gear, responds admirably to most technological challenges. In light of the public statements of industry representatives, (the) history of compliance with previous technological challenges, and the state of the record, the court remains unconvinced automakers cannot meet the challenges of Vermont and California's GHG regulations."
During a 16-day trial that concluded in May, auto industry executives testified that the regulations - adopted by California and 11 other states and pending in three others - would not stop global warming but would impose devastating new costs on the industry.
Vermont Attorney General William Sorrell, whose office represented the state in the trial, called Wednesday's ruling "a major victory. They (automakers) will appeal, probably. But for folks who are concerned about global warming and environmental quality in this country and in the world, this was a good day."
Slated to start phasing in as of 2009, the limits would require a 30 percent reduction in carbon dioxide emissions from cars and trucks by 2016, a standard the car makers have maintained would require average fuel economy standards for cars and the lightest category of trucks of 43.7 miles per gallon.
For the rules to take effect, the Environmental Protection Agency still must grant a waiver applied for by California under the federal Clean Air Act. California has won several such waivers in the past, allowing it to set up more stringent vehicle anti-pollution standards than the federal government's and then for other states to piggyback on them.
David Doniger, senior climate lawyer with the Natural Resources Defense Council, one of several environmental groups that sided with Vermont, said the waiver request was given a big boost by an April 2 U.S. Supreme Court decision saying carbon dioxide was a pollutant worthy of regulation.
Doniger said the EPA could deny the waiver if it finds that achieving the carbon reduction standard was not technically feasible. But he said automakers "threw everything they had," providing copious documents and experts to try to persuade the judge that was the case, and he didn't buy it.
Gov. Jim Douglas hailed the court's ruling. "We were up against a very strong adversary in the auto industry, but the law and the facts were clearly on our side," he said. "Most of Vermont's greenhouse gas emissions are from motor vehicles, so if we're going to reduce our carbon footprint, we need to set high but achievable standards for automobiles."
Automakers maintained that cutting carbon requires improving fuel economy, since carbon emissions are proportional to the amount of gasoline burned. And they said fuel economy, under a 1975 federal law, is solely under the jurisdiction of the U.S. Department of Transportation.
The states argued that they can regulate carbon emissions as a tailpipe pollutant under the Clean Air Act.
California upped the ante in 2005 by adding carbon dioxide to its list of regulated tailpipe emissions. Other states were required either to apply the enhanced California rules or revert to the federal standard.
Automakers filed suit in California, Vermont and Rhode Island. Vermont's case was the first to go to trial, after a federal judge in California put a similar case there on hold pending the outcome of the April U.S. Supreme Court decision.
Dave McCurdy, president and CEO of a main plaintiff in the Vermont suit, the Alliance of Automobile Manufacturers, said in a statement, "It makes sense that only the federal government can regulate fuel economy. Automakers support improving fuel economy standards nationally, rather than piecemeal, and will continue to work with the Congress, NHTSA (National Highway Traffic Safety Administration) and EPA to reduce our oil dependence while increasing fuel economy."
McCurdy said his group may appeal the decision.
A hearing is set for Oct. 22 in a similar case in California. But Matt Pawa, a lawyer who represented three national environmental groups in the Vermont trial, said the Vermont ruling makes it likely the California case will be dismissed.
"The persuasiveness of Judge Sessions' decision, we expect, should carry the day" in California, Pawa said.
He called the ruling "a historic win for the planet, for Vermont, for the cause to curtail global warming, and for the right of states to set more stringent limits on all kinds of pollution, including greenhouse gas emission standards."
Thanks for reading CBS NEWS.
Create your free account or log in
for more features.