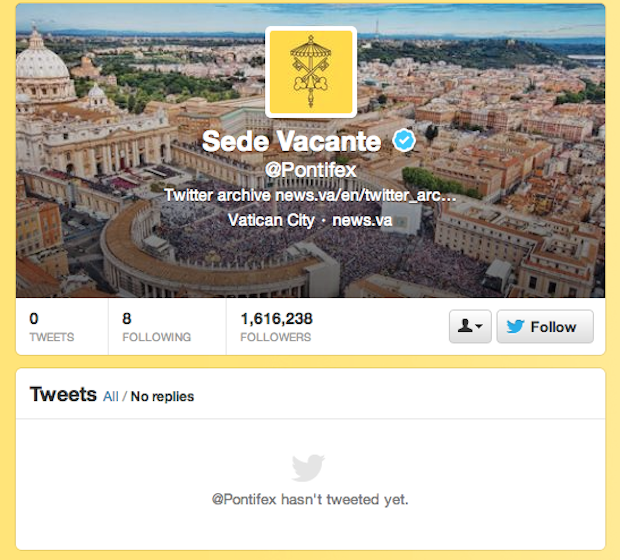 Vatican deletes Pope Benedict XVI tweets from @Pontifex
The Vatican has deleted all tweets posted under Pope Benedict XVI on the @Pontifex Twitter account.
Benedict's tweets have been archived on the Vatican's website and the @Pontifex account holder's name has been changed "Sede Vacante" -- an expression to signify the papacy is currently vacant. The tweets will be filed under the name Pope Benedict XVI -- his official post-retirement title is Pope Emeritus.
Benedict posted his last tweet at 11 a.m. ET as he prepared to leave the Vatican for Castel Gandolfo, where he will spend the next chapter of his life. Benedict's final message to fans said: "Thank you for your love and support. May you always experience the joy that comes from putting Christ at the centre of your lives."
The Vatican reported earlier that Benedict would send his last tweet as pope around 5 p.m. Rome time (1600 GMT, 11 a.m. EST). That's also about the time he left the Vatican by helicopter to the papal retreat at Castel Gandolfo.
Vatican spokesman the Rev. Federico Lombardi says the pope's Twitter handle @Pontifex will then be "in abeyance" until the next pontiff is selected. He says it'll be up to the next leader of the Catholic Church as to whether or not he will use it
The pope sent his first tweet in 2011 from a Vatican account to launch the Holy See's news information portal. But in the wake of the Church's maligned handling of the child sexual abuse scandal, the Vatican hand-picked Fox News journalist Greg Burke to be its new communications adviser, and with his guidance, it launched Benedict's own account.
Burke told a press conference in December 2012 -- announcing the new social media initiative as an effort to reach out to a younger audience -- that @Pontifex was chosen for the pope's account because it not only means pope in Latin, but also bridge-builder, suggesting unity.
Benedict garnered some 1.5 million Twitter followers in just six weeks. Vatican officials have acknowledged the pope did not actually type the Twitter messages and that someone in the Vatican's secretariat of state writes them on his behalf.
In January, the pope used the account to give a shout-out to an anti-abortion rally in Washington, tweeting that politicians should protect the unborn and "promote a culture of life."
Thanks for reading CBS NEWS.
Create your free account or log in
for more features.